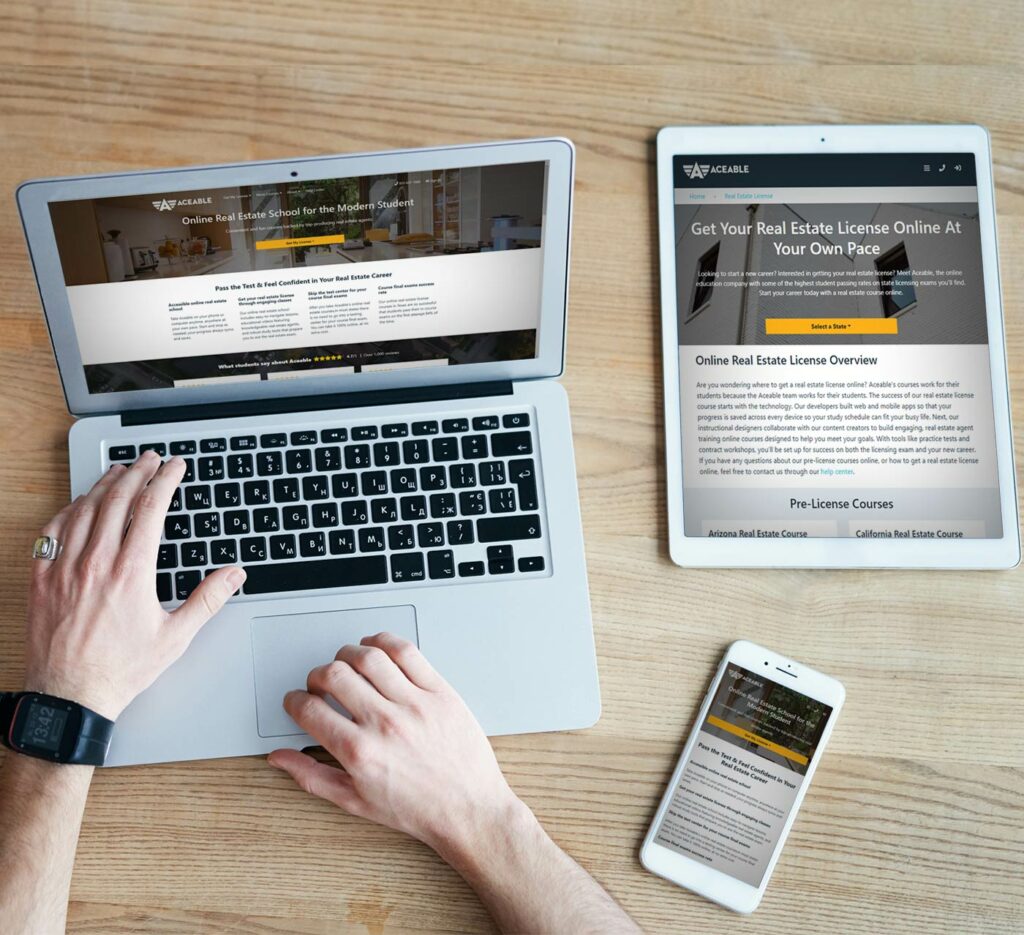 Aceable Agent is our top choice among all of the top online real estate schools in Florida. When you visit their site, right off the bat, you know your investment is worthwhile due to their "Pass or don't pay" promise. Of course, that alone does not mean a school is the best. You can work at your own pace and schedule and take all the time you need to master the material before testing. But that's not all.
Aceable Agent Florida Reviews

4.9/5 AceableAgent Average Course Rating
4800+ Total Reviews
Even though it is one of the new schools, Aceable Agent a fantastic rating of 4.9 from thousands of students who are satisfied with their results. It's not hard to see why Aceable is our top pick for online Florida real estate schools.
Pass or Don't Pay Guarantee
Aceable Agent's Pass or Don't Pay guarantee is a promise that if you do not pass the final exams, you will not be throwing your money away.
Online FL Real Estate School on Your Schedule
Working people need the ability to study on their own time. Aceable Agent lets you complete class material and coursework when you have the time.
Take Your Florida Real Estate Exam Online
There's no need to travel, find and pay for parking, and disrupt your life to take the final exam. Simply take it online from your location of choice when you are ready.
Aceable Agent Pass Rate Florida Real Estate Exam
Aceable Agent's 96% pass rate is the highest among Florida real estate schools. It's so high, that their pass or don't pay guarantee is almost unnecessary.
Aceable Agent Florida Real Estate Courses
Aceable Agent gives you a choice of class levels, with different levels of student support. No matter which you choose, their overall 96% pass rate still stands, as does their guarantee.
Basic Course
At just $129.00 $116.00, the basic course is the most affordable real estate course on the market. It includes:
Florida Pre-License Courses
+ Practice Exam Questions
FREC-Approved
Fully Narrated Courses
Lite Exam Prep
Instructor Support
Deluxe Course
For $229.00 $183.00 the Deluxe course offers additional student support and is still less than half the price of the average competing real estate course. It includes:
Florida Pre-License Courses
Florida Pre-License Courses
+ Deluxe Real Estate Exam Prep
Everything Included in The Essentials Package
75 Videos, 70 Audio Lessons, Plus Digital Flashcards
Deluxe Real Estate Exam Prep
Real Estate Exam Prep E-book
Premium Course
Still less than half the cost of the average comparable Florida real estate course, the Premium course offers the following features for $329.00 $230.00:
Florida Pre-License Courses
+ Deluxe Real Estate Exam Prep
+ Live Webinars & 1:1 Tutoring
Everything Included in the Ace the Exam Package
One Hour of Private Tutoring With a Real Estate Expert
Live Webinars 5x/Week
Access to Webinar Archive
Live Q&A
Aceable Agent Florida Real Estate Course Features
Aceable Agent goes above and beyond to ensure students have everything they need to succeed and achieve their 96% pass rate. Here's how they do it.
FREC Approved
100% Florida Real Estate Commission approved, Aceable Agent course materials and student support are guaranteed to be complete, correct, up to date, and provide everything the student needs.
Narrated Courses
Aceable Agent narrated courses help ensure students understand the material they are presented with and can absorb the course material in accordance with their preferred learning style.
Lite Exam Prep
Students can access Aceable Agent lite exam prep features which prepare them for the questions and challenges they will face on the exams making time spent studying worthwhile.
Instructor Support
All three of the course package levels come with personalized instructor support, ensuring that the student's questions are answered and materials are fully clarified.
Videos, Audio Lessons, & Digital Flashcards
Students can access complete course materials in video, audio, and flashcard form. This ensures that students can study the way they learn best using materials that suit their schedules, technology, and ability.
Deluxe Real Estate Exam Prep
The Deluxe level exam prep all but guarantees that the student will be exposed to and master the information needed to pass that test. Of course, no test can 100% guarantee a pass, which is why the 4% of students who do not pass, do not pay.
Real Estate Exam Prep E-Book
The exam preparation e-book contains full exam prep materials in a format that can be viewed on any device online or offline, ensuring the student can study anytime, anywhere.
Private Tutoring with a Real Estate Expert
Students who want or need additional personalized instruction can get live, private tutoring from a proven, qualified real estate expert and teacher.
Live Webinars 5X Week
The five live webinars (classes) each week cover all the material students need to succeed. Students can watch the webinars in their own time and as many times as they want.
Webinar Archive Access
The webinar archive gives students access to the complete list of live class sessions. It is easy to navigate with pause, rewind, and other common video features so that students can gain clarity on each and every point.
Live Q&A
Live question and answer sessions give students the opportunity to have their questions answered along with the rest of the class.
Aceable Agent Florida Real Estate Exam Answers
Exam answers are straightforward and sensible. Aceable Agent has gone to some effort to ensure that the questions are clear and that the correct answers are relevant, correct, and clearly expressed.
Is Aceable Agent the Best Florida Real Estate School?
Offering multiple ways to study, flexible course material, complete FREC-approved materials, and their money-back guarantee, it's difficult to see how another online Florida real estate course could improve on Aceable Agent.
Is Aceable Agent Accredited in Florida?
Aceable Agent is fully accredited and approved by the most authoritative Florida real estate officials.
How Much Does AceableAgent Florida Course Cost?
Respectively, their course packages cost $116, $183, and $230, all of which are less than the average cost of the competition.
Is Aceable Agent The Best Real Estate School in Florida?
All things considered, yes. Other online real estate schools might be equally good in content, but few, if any, have a money-back guarantee.
How Long Does it Take to Finish Aceable Agent Florida Real Estate?
The average Florida online real estate course takes up to 8 weeks to complete the 63 hours of work. Aceable Agent students are able to complete the materials in their own time.
How Many Chapters in the Aceable Agent Florida Real Estate Course?
There are approximately 75 video lessons, which students could complete in just seven weeks if they watch 2 per day.
How To Sign Up For Aceable Agent in Florida
Signing up is easy. Simply visit their enrollment page and enter your information.