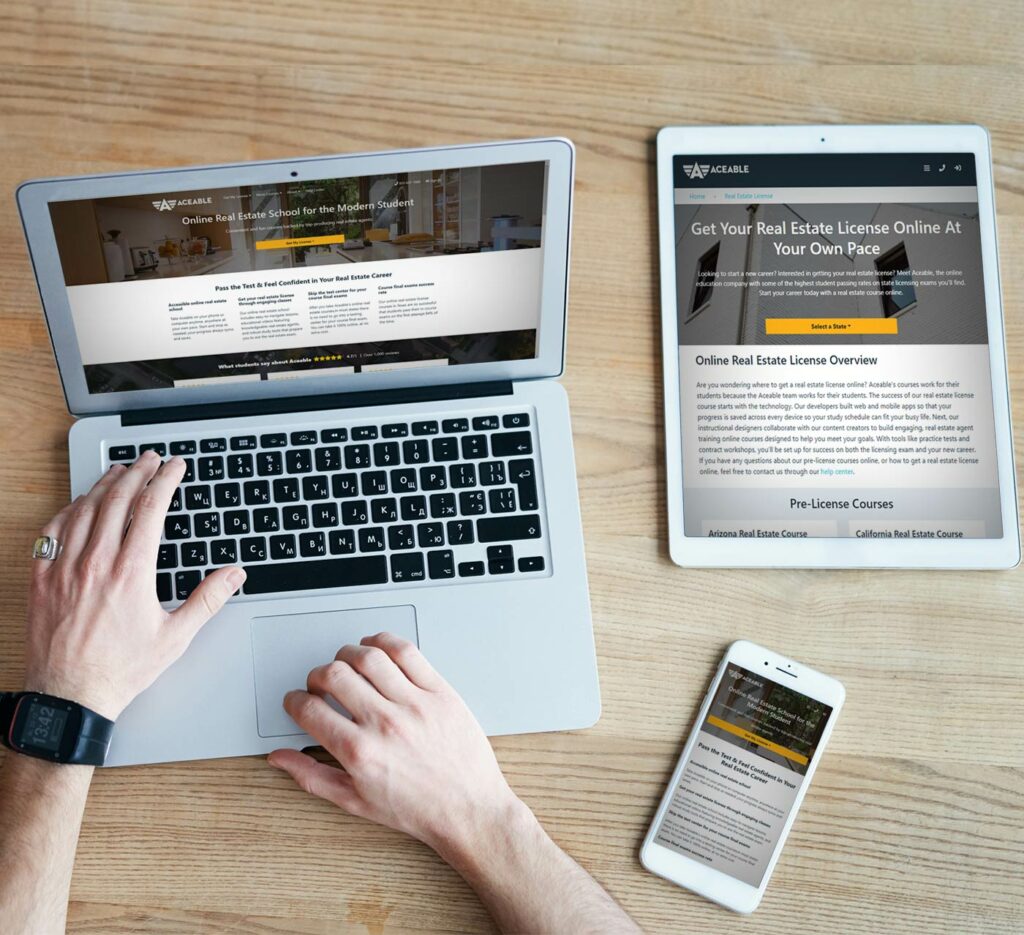 Aceable Agent is our top pick for real estate school in New York. The world of real estate opens doors for people who are looking to make this profession their lifelong dream. Aceable Agent is LeadAgent's top pick by students across the state where you can get the education you want, when you want it, and pass with an exceptionally high passing rate. With thousands of reviews and high review ratings, let this accredited online school help you prepare to pass your real estate exam with ease.
Aceable Agent New York Reviews
When it comes to satisfaction, both new agents and veteran real estate pros have given their praise about Aceable Agent. We have thousands of reviews from people who are enthusiastic about finally getting their real estate license.

4.9/5 AceableAgent Average Course Rating
4800+ Total Reviews
Our students have given high praise regarding our program courses, including the ability to select different course packages based on your existing level of experience and budget, expert instructors who are well versed in the real estate industry, and online prep tools which allow you to learn over any connected device. Our students were so thrilled with the program that they have consistently scored us with a 4.9/5 rating.
Pass or Don't Pay Guarantee
With Aceable Agent, we stand behind effectiveness of our program courses and instructors 100%. We are so sure that you will pass the real estate exam that we offer a Pass or Don't Pay guarantee. It means that if you don't pass the exam within 3 tries after completing our programs, you'll be issued a refund. Our refund policy is available for many students although some state regulations and laws may make specific students ineligible for the refund. Also, additional terms and conditions may apply.
Online NY Real Estate School on Your Schedule
The advantage of using Aceable Agent is that classes are completely online. Whether you are working a regular job or are raising a family, you can take the classes at your own pace in your home. Simply use any device; tablet, smartphone, or computer — and log into the courses at your time. If you need to stop and take a break, or get back to the program later that day, you can at any moment.
Aceable Agent Pass Rate New Your Real Estate Exam
When it comes to taking the courses to prepare for your real estate exam, Aceable Agent covers the entire exam. We prep you on every detail and help you memorize the lessons so that you can easily remember the answers you need to ace the exam. In fact, we have a 94% New York pass rate for our students. With the majority of the students successfully passing, potential students have the confidence they need to also succeed with their lessons.
Aceable Agent New York Real Estate Courses
No matter which program course you select, you'll have the tools and lessons you need to help ace the real estate exam. In fact, students are so confident about getting through the exam that we have a 94% New York pass rate. There are several different courses you can select based on your budget and level of knowledge.
Basic Course
The Basic course is a 75-hour course that is NYREC approved and costs $269.00 $215.00. It offers instructor support, a mini course on how to find the right sponsoring broker, and a lite exam prep featuring 200+ unique test questions.
Deluxe Course
The Deluxe course offers everything that is included in the Basic package (75-hour courses, instructor support, lite exam prep, and mini course). In addition, we also feature a deluxe real estate exam prep with over 1,500+ unique test questions, a real estate exam book, 75 videos, 75 audio lessons, and digital flash cards. You get all of this at the price of $419.00 $312.00.
Premium Course
The Premium Course has everything you need to succeed. It features all the Deluxe course features with added course resources at the price of $569.00 $398.00. You receive the New York pre-license courses, deluxe real estate test prep materials, live webinars 5 times a week, and a 1-hour private tutoring session with a real estate expert. In addition, you have access to a live Q&A webinar every Friday and can visit the webinar archive which has educational videos.
Aceable Agent New York Real Estate Course Features
NYREC Approved
Aceaable Agent has NYREC approval, which means that we are accredited by the NYS Board of Real estate. It also means that real estate professionals, general contractors, and developers look at our students as having the professional training needed to become professional real estate agents. We open the doors to many career opportunities.
Instructor Support
All instructors are real estate experts. They have spent years in the field working in the industry and also understand what it takes to pass the real estate exam. They are ready to offer the support you need about the course content anytime Monday through Friday.
Lite Exam Prep
The lite exam prep features 200+ practice questions. By going through the practice questions, you can fully understand the answers and apply this knowledge when taking the actual real estate exam.
Videos, Audio Lessons, & Digital Flashcards
With videos, audio lessons and digital flashcards, the course program becomes fun and entertaining to learn. Teaching the real estate course in this manner helps you better memorize and retain the information.
Deluxe Real Estate Exam Prep
With the Deluxe Real Estate Exam Prep, obtain even more practice questions that reinforce what you have learned throughout the program.
Real Estate Exam Prep E-Book
The Exam prep book has over 100 pages that further assist you in preparing to take the real estate exam.
Private Tutoring with a Real Estate Expert
You get the pick the topics that you need extra help while having a real estate expert available to help teach you valuable real estate lessons.
Live Webinars 5X Week
Live webinars allow you to have virtual sessions that go over the 9 core real estate concepts.
Webinar Archive Access
We have an extensive webinar archive access featuring hundreds of hours of educational videos for viewing at any time.
Live Q&A
Our Live Q&A takes real estate questions from all over social media and provides answers to students.
Aceable Agent New York Real Estate Exam Answers
Is Aceable Agent the Best New York Real Estate School?
From my experience, Aceable Agent provides versatility to students by offering online courses. This feature will appeal to people of all ages and who are in different stages of their lives. It also allows students to work at their own pace while taking part in a program that has a 94% passing rate.
Is Aceable Agent Accredited in New York?
Yes. Aceable Agent is accredited in New York and is approved by the department of state to offer online courses.
How Much Does Aceable Agent New York License Course Cost?
When reviewing the course programs, they offer 3 different program costs based on the amount of resources students would want. They are separated into Basic Course at $269.00 $215.00, Deluxe Course at $419.00 $312.00, and Premium Course at $569.00 $398.00.
Is Aceable Agent The Best Real Estate School in New York?
In my opinion, Aceable Agent offers tons of resources, instructor support, and other program features to satisfy students. It allows students to work at their own pace and select the program that best fits their needs.
How Long Does It Take to Finish Aceable Agent New York Real Estate?
Students can work at their own pace. So you can work as quickly or slowly as you want until gaining the full knowledge you need to pass the real estate exam.
How Many Chapters in the Aceable Agent New York Real Estate Course?
When reviewing the Real Estate Exam Prep E-Book in the Deluxe package, it features over 100 pages with chapter summaries to help you glean the necessary information.
How to Sign Up For Aceable Agent in New York
Sign up is simple. Go to the Aceable Agent page for NY and select the course package that most interests you.