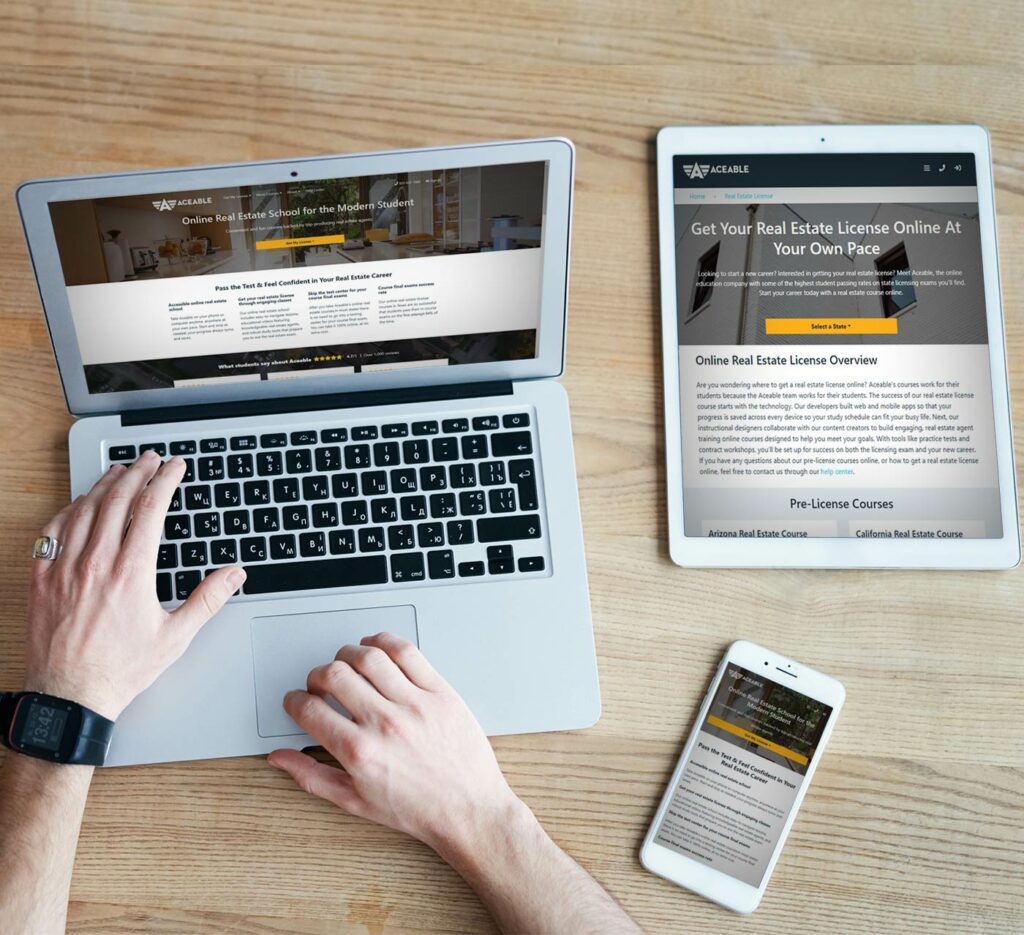 Aceable Agent offers a 75-hour online real estate course approved by the Pennsylvania Real Estate Commission. It allows you to study at your own pace and take your state exam as part of the course. We love that they offer a Pass or Don't Pay Guarantee that promises to get you over that finish line – and 92% of their students get their PA real estate license. Lead Agent's top pick for real estate school in Pennsylvania is Aceable Agent.
Aceable Agent Pennsylvania Reviews
Aceable Agent provides courses for states all over the country, including the Keystone State. Aceable Agent has over 4,800 reviews with 4.9 out of five stars.

4.9/5 AceableAgent Average Course Rating
4800+ Total Reviews
Reviewers say that this course makes learning something they can do anywhere and anytime. The Pennsylvania students also point out the mobile app is the perfect study solution.
Pass or Don't Pay Guarantee
At Aceable Agent, students don't just sign up and get videos and reading resources peppered with the occasional quiz. They get a promise that this real estate school will provide support until their state license. That's the Pass or Don't Pay Guarantee.
You'll take a proctored, cumulative final exam with 100 questions after the course. You'll have 3 hours to finish it. A passing score is 75% or above. Everyone passes, or they don't pay.
Aceable Agent Pennsylvania's real estate license courses are so practical that we promise you'll pass the state licensing exam. If you do not pass the PA online real estate license course exam after three attempts, or you get the money you paid for the course back.
Online PA Real Estate School on Your Schedule
We think the beauty of an online course is flexibility. You go through the modules and do the assessments on your schedule and any device. You can work throughout the day as you have time or do all your study in the evening after work or once the kids are in bed. Aceable Agent puts it in your hands.
Take Your Pennsylvania Real Estate Exam Online
Pick your most comfortable place to take your exam instead of sitting in a classroom. You can do it online at your favorite coffee shop, in your living room, or any place else where you can concentrate and relax.
Aceable Agent Pass Rate Pennsylvania Real Estate Exam
When researching real estate courses, we looked for one with a high national pass rate. That tells us their students are learning what they need to know to pass their tests and succeed in this career. Aceable Agent has a national pass rate of 92%.
Aceable Agent Pennsylvania Reviews
Aceable Agent Pennsylvania has over 4,800 reviews with 4.9 out of five stars.
Reviewers state that this course makes learning manageable whether you work a full-time job or sneak in a few hours of study while the kids are at school. The mobile-friendly environment makes it easy to study anywhere at any time.
Aceable Agent Pennsylvania Real Estate Courses
With a 92% national pass rate, it is clear that Aceable Agent students are learning with this course. They also offer different tiers of study, ensuring potential students precisely the level of training they need at an affordable price.
Basic Course
The Basic Course covers the essentials you need to pass the exam and work in real estate. The cost is an affordable $289.00 $231.00, and it includes Pennsylvania Pre-Licenses Course plus practice exam questions. You have lite exam prep and email access to instructors at this level.
Deluxe Course
The deluxe learning tier takes it to the next level by offering everything you get in the Basic Course but with deluxe real estate exam prep. You also get additional study resources such as videos, audio lessons, and digital flashcards for the price of $469.00 $349.00.
Premium Course
The top-tier learning option combines everything you get in the Basic and Deluxe courses but will add bonuses that include live webinars and one-on-one tutoring. Each student receives one hour of private tutoring with a real estate expert, and you pick the topics. It is like having a digital mentor.
You will also appreciate the live webinars that focus on critical topics, including math and terminology. If you can't attend, you still have access to the webinar archive for even more learning resources. Premium tier also offers live Facebook Q&A every Friday. The Premium Course is the top of the line at just $659.00 $456.00.
Aceable Agent Pennsylvania Real Estate Course Features
The features available at Aceable Agent make this option stand out.
DOS Approved
DOS approval indicates that the Department of State approves the Aceable Agent course.
Lite Exam Prep
Aceable Agents Pennsylvania offers more than 200 questions specific to the state.
Instructor Support
There is always a real estate expert available to answer questions.
FREE Online Exam Proctoring
You take your final exam at home.
Videos, Audio Lessons, & Digital Flashcards
Sign up for the Deluxe or Premium course to get even more learning resources.
Deluxe Real Estate Exam Prep
The Deluxe and Premium courses offer 1,600 plus additional practice test questions.
Real Estate Exam Prep E-Book
A powerful learning resource to help you pass your exam.
Private Tutoring with a Real Estate Expert
Premium-level students enjoy private tutoring sessions with real estate experts.
Live Webinars 5X Week.
Learn more at the Premium level with live webinars.
Webinar Archive Access
Premium students also have access to past webinars for extra study material.
Live Q&A
Every Friday, Premium students have the option to take part in live Q&A.
Aceable Agent Pennsylvania Real Estate Exam Answers
Is Aceable Agent the Best Pennsylvania Real Estate School?
We think it offers features that guarantee your success, such as their Pass or Don't Pay guarantee. You won't necessarily find that in other schools, so, yes, we believe this is the best option.
Is Aceable Agent Accredited in Pennsylvania?
Aceable Agent is DOS accredited, critical if you want a PA real estate license.
How Much Do Aceable Agent Pennsylvania Classes Cost?
Depending on what course you choose to take, you can expect to spend anywhere from $231.00 to $456.00. Very affordable compared to other real estate schools. Other providers can cost as much as $620.
Is Aceable Agent The Best Real Estate School in Pennsylvania?
If you are looking for an online real estate course that focuses on the laws in PA, then we think this is the best option out there.
How Long Does it Take to Finish Aceable Agent Pennsylvania Real Estate?
That is the beauty of this course. You finish it on your own time. There are 75-course hours included.
How Many Chapters in the Aceable Agent Pennsylvania Real Estate Course?
There are 30 hours of fundamentals and 45 hours of practice.
If you are looking to start your career in real estate, we recommend Aceable Agents Pennsylvania as your best learning option. You can sign up today at AceableAgent.com.