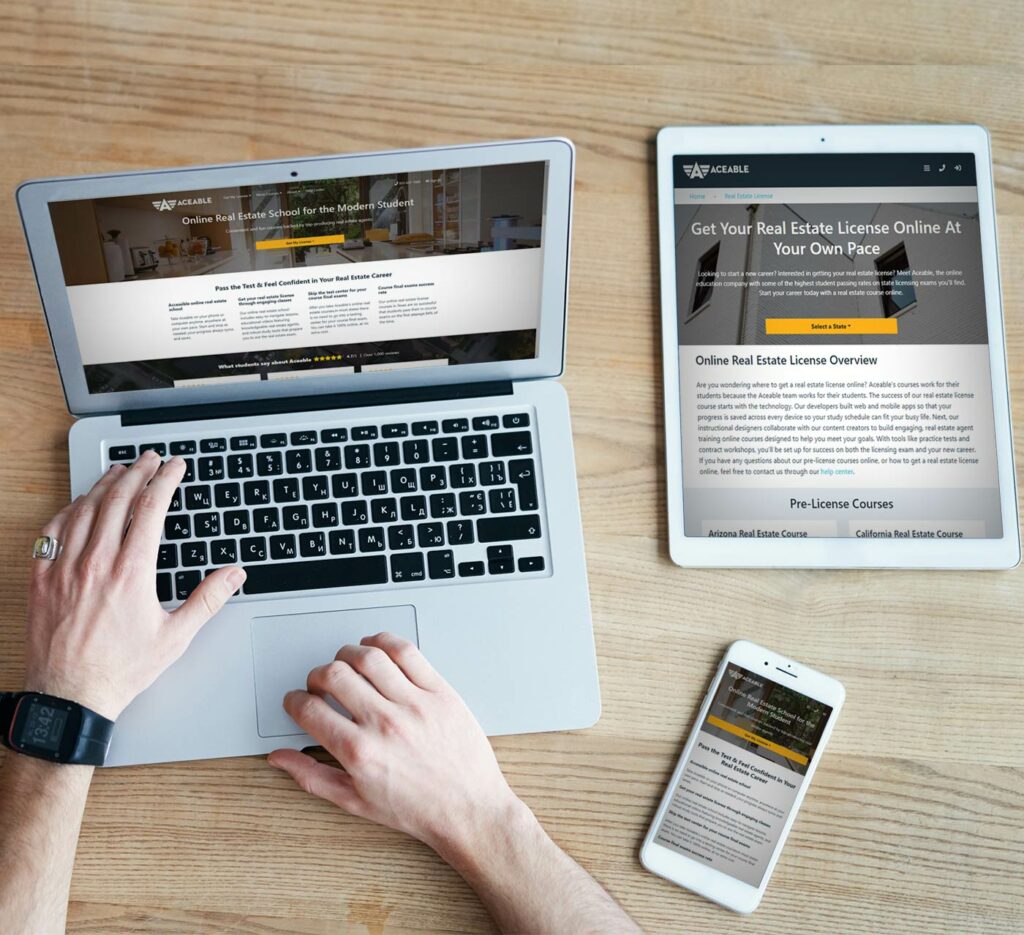 Did you know that AceableAgent is our top pick for real estate school in California? It's true! Why is AceableAgent the best? Many reasons. They offer a "pass or don't pay" guarantee, so your investment is safe when you're attending AceableAgent's training. Their online classes are available on-demand, and with a 92% pass rate, students can be confident of their success when they attend classes with Aceable.
AceableAgent California Reviews

4.9/5 AceableAgent Average Course Rating
4800+ Total Reviews
AceableAgent enjoys a 4.9 out of 5 star rating, and has been reviewed by thousands of happy customers. This fact alone says a lot about the benefits of using AceableAgent.
Pass or Don't Pay Guarantee
One of the things that draws potential real estate professionals to AceableAgent over other training courses is the "pass or don't pay guarantee." It's important to work with a school that will really help you achieve your goals, and AceableAgent clearly does that by offering a promise that students who don't pass can get a refund.
How does it work? Take your training with Aceable. If you don't pass the state licensing exam in three tries after graduating from Aceable's training, you can get your money back!
Online CA Real Estate School on Your Schedule
AceableAgent trains future real estate agents with an at-home PDF format. This format lets students take courses at their own pace, and because the PDF is available on-demand, students can take the course on their time. If two-o'clock in the morning is a good time for you to take the real estate license training, you can do that! There's no classroom and there's no need to take classes at a specific time of day.
Aceable Agent Pass Rate California Real Estate Exam
Students who take the CA training with AceableAgent have a 92% pass rate. That that means that nine out of ten AceableAgent students who take the California Real Estate test are able to pass the exam. You can too!
Aceable Agent California Real Estate Courses
AceableAgent California real estate courses come in three different levels, so you can choose the level of learning that makes the most sense for you.
Basic Course
The most affordable of AceableAgent's California courses, the Basic Course, is CA DRE-Approved and includes a 135-hour real estate course that comes in a PDF format that reads like a textbook. The course fee comes with instructor support and a 30-day money back guarantee allows students to try the class risk-free.
$149.00 $119.00
Deluxe Course
The Deluxe course includes everything from the Basic package, plus 75 videos, 70 audio lessons, digital flashcards, practice test questions, and a 100-page long e-book.
$229.00 $171.00
Premium Course
The premium course includes everything in the Deluxe course, plus an hour of private tutoring, live webinars, Access to the webinar archive and access to a live Q&A session.
$369.00 $257.00
Aceable Agent California Real Estate Course Features
AceableAgent courses are designed to help students succeed.
CA DRE Approved
All 270 hours of AceableAgent's courses have been approved by the California Department of Real Estate (DRE).
PDF Format – Self Paced
The self-paced format allows students to take the class at their own speed, so they can complete their studies on their own timeline. Maybe you've got a full-time job, or perhaps you've got kids at home. Either way, using the self-paced format allows you to pursue your real estate license in California at your own pace.
Instructor Support
The instructor support option allows students who need extra support to get help on topics they find tricky or confusing. Students are allowed to email course experts any time to get a helpful response to their questions.
30 Day Money Back Guarantee
The 30-day money back guarantee allows students to try their hand at a real estate career without taking the risk of losing money. This makes AceableAgent a safe investment.
Videos, Audio Lessons, & Digital Flashcards
Videos, audio lessons and digital flashcards provide support to students who have different learning styles, and like to get their information in many formats.
Deluxe Real Estate Exam Prep
The Deluxe Real Estate Exam Prep is an affordable option that packs a punch, with extra learning materials and practice test questions to help students decide they're prepared for the test.
Real Estate Exam Prep E-Book
If you need more information beyond the PDF self-guided book, the real estate exam prep book can provide that back-up information.
Private Tutoring with a Real Estate Expert
Private tutoring with a real estate expert helps students know when they're on the right track.
Live Webinars 5X Week
Live webinars five times per week gives students extra information to supplement their learning and prepare them for the test.
Webinar Archive Access
The webinar archive access is an invaluable resource that helps students develop deeper understanding of real estate topics.
Live Q&A
The Live Q&A provides extra help to students who need answers to important questions.
Aceable Agent California FAQ's
Is AceableAgent the Best California Real Estate School?
AceableAgent is listed in LeadAgent.com's website as being one of the top real estate schools in California!
Is AceableAgent Accredited in California?
AceableAgent is approved by the California Department of Real Estate CA DRE).
How Much Does AceableAgent California School Cost?
Packages come in three levels: $119.00 for basic, $171.00 for Deluxe and $257.00 for the Premium package.
Is AceableAgent The Best Real Estate School in California?
AceableAgent is listed in LeadAgent.com's website as being one of the top real estate schools in California!
How Long Does it Take to Finish Aceable Agent California Real Estate?
Each course takes a minimum of 45 hours. The exam takes about two hours. You must wait at least 18 days between purchasing the course and taking the exam.
How To Sign Up For Aceable Agent in California
Want to sign up for AceableAgent CA? Check out the AceableAgent CA page for information about signing up for the best real estate school in California.