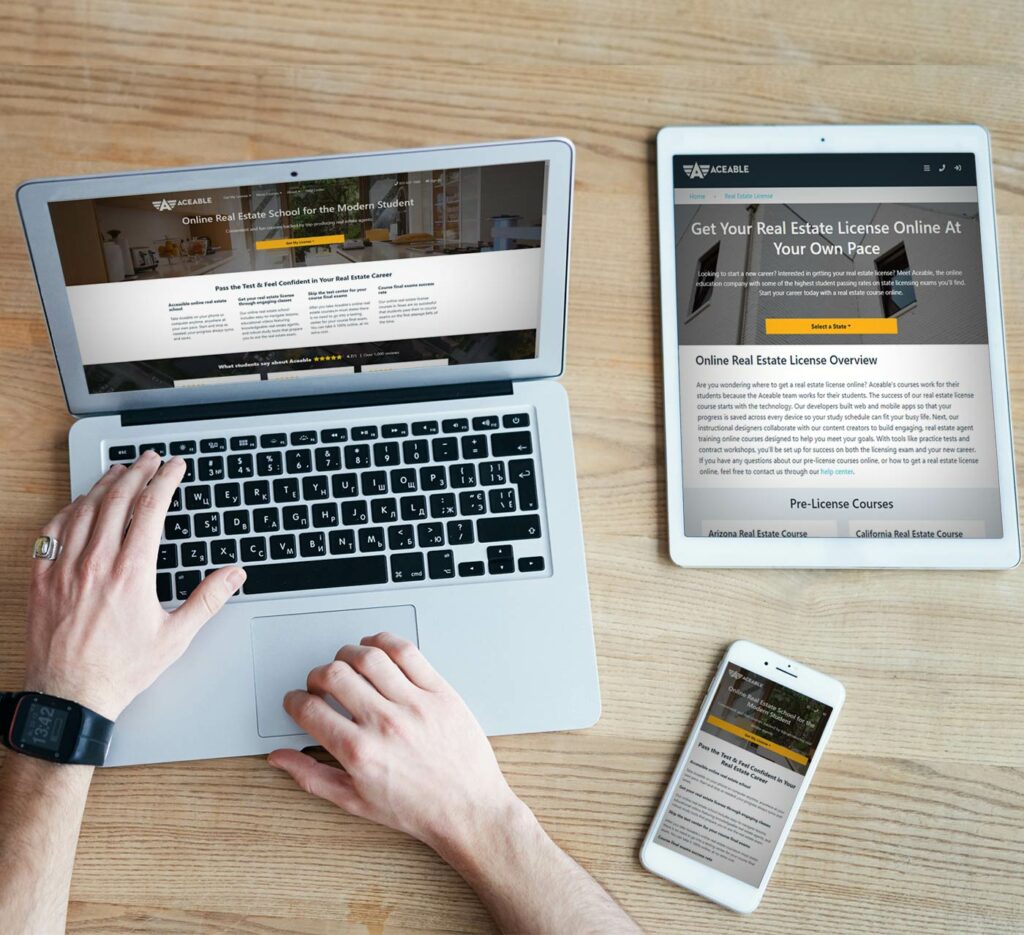 Why do we consider Aceable Agent to be the best Texas real estate school online? Even though they are one of the newest providers of real estate courses, Aceable has quickly established itself as an authority and leader in the space.
Audio and video lesson accessibility allows you to take advantage of your particular learning style.
Several course options (basic, deluxe, and premium) are available to accommodate your budget and time concerns.
All courses have been approved by the Texas Real Estate Commission (TREC).
Aceable Agent attracts more people wanting to earn their real estate license than any other Texas online real estate school. Features and benefits we offer that are not typically provided by other online real estate schools include:
Fully narrated courses
Assistance with getting started on your real estate career
Support from professional instructors
Exam preparation for the deluxe real estate course
Real estate exam preparation instructions in E-book form
Live webinars five times per week
Private tutoring with real estate experts
Access to archived webinars
Live Q&A sessions
If your current job is a boring, dead-end position leading nowhere, why not learn more about the exciting profession of being a Texas real estate agent? Visit Aceable and choose the right online course package for you.
Aceable Agent Texas Reviews

4.9/5 AceableAgent Average Course Rating
4800+ Total Reviews
Aceable has garnered thousands of stellar reviews and achieved a 4.9/5 rating on the most-visited online review sites. Excerpts from reviews on Indeed.com include "Very affordable and convenient to study using your phone or laptop", and "Fun, easy courses that I would recommend to anyone who doesn't want to be stuck in a classroom. I especially love the videos"!
Pass or Don't Pay Guarantee
Aceable is so sure you will pass your Texas real estate exam the first time you take it that we will forfeit payment if you don't pass. That way, we guarantee all our students can afford to retake the online course until they acquire their real estate license.
Online TX Real Estate School on Your Schedule
You can continue working your present job and take our online real estate courses at your own pace, in your own time, and in your own home. No commuting to a community college, no extra gas or vehicle expenses, and no sitting through lectures that put you to sleep. Take as long as you need to complete courses. There's no pressure to finish classes within a restricted time frame and our instructors are always available to assist you in any way.
Take Your Texas Real Estate Exam Online
If you're like so many other people, the idea of taking a test in a crowded, stuffy classroom with an instructor watching is nerve-wracking. When you feel prepared enough and ready, Aceable Agent allows you to take the TX real estate exam online instead of in a classroom.
Aceable Agent's Pass Rate for the Texas Real Estate Exam
Potential Aceable Agent students in TX should be confident when they begin our online courses. Aceable has a 77% pass rate that exceeds most real estate course programs in TX. In addition, Aceable Agent offers a "pass" or "don't pay" guarantee to our students.
Aceable Agent Texas Real Estate Courses
Basic Course
Total cost: $529.00 $419.00
Complete 180-hour real estate courses
Lite exam prep includes over 1000 questions
Experts available for support via email
Deluxe Course
Total cost: $699.00 $519.00
Includes everything contained in the Basic Course
Bonus 70 audio lessons, 75 videos, and digital flashcards
Over 1650 practice test questions
Real estate exam prep E-book
Premium Course
Total cost: $889.00 $619.00
Live webinars and Q&A sessions
One on one tutoring
Access to hundreds of hours of educational videos
Aceable Agent Texas Real Estate Course Features
TREC-approved
To work as a Texas real estate agent, you must take courses that have been approved by the Texas Real Estate Commission (TREC). In addition, you have to submit your application for a real estate license through TRC and pass their licensing exam.
Fully Narrated Courses
Listen to courses at your convenience and as many times as needed to fully absorb information.
Instructor Support
Instructors are always available to answer questions you have about real estate topics explored in courses.
Career Help
Aceable Agent offers assistance with getting started on your exciting real estate agent career upon graduating from the program.
Videos, Audio Lessons, and Digital Flashcards
We understand everyone's learning style is different. That's why we provide course information in a variety of media to help you understand and retain information.
Deluxe Real Estate Exam Prep
Prepare for the final test with our deluxe exam practice questions that mimic the actual test questions.
Real Estate Exam Prep E-Book
Download our real estate exam prep E-book on your iPad or cellphone and study for the test in your spare time anywhere.
Private Tutoring with a Real Estate Expert
For help with particularly difficult subjects, Aceable Agent provides private tutoring assistance with someone who knows the ins and outs of the real estate field.
Live Webinars 5X Per Week
Live webinars are like being in a real classroom while remaining in the comfort of your home.
Webinar Archive Access
If you miss a live webinar – no problem! Just find the one you want to watch in our webinar archive.
Live Q&A Sessions
Save all your questions for live Q&A events featuring our real estate experts.
Aceable Agent Texas FAQ's
Is Aceable Agent the Best Texas Real Estate School?
With course options available to suit any budget, a "no pass, no pay" guarantee, and a work-at-your-own-pace curriculum, Aceable Agent has earned 5-star ratings from 77 percent of its students.
Is Aceable Agent Accredited in Texas?
Yes, Aceable Agent is TREC-approved in Texas.
How Much Does Aceable Agent Texas Real Estate Courses Cost?
Aceable Agent has three different types of courses available at competitive rates, with the basic course starting at $419.00.
Is Aceable Agent the Best Real Estate School in Texas?
Aceable Agent is so sure their students will pass the exam that they offer a "no pass, no payment" guarantee. Only the best TX real estate schools could offer such a guarantee.
How Long Does It Take to Finish the Aceable Agent Texas Real Estate Course?
There is no set time that you must complete the 180 hours of courses. Online real estate courses can be finished at your own pace.
How Many Chapters are Included in the Aceable Agent Texas Real Estate Course?
Six chapters comprise our TX real estate course.
How to Sign Up for Aceable Agent in Texas
You can get started today by visiting AceableAgent's Texas real estate course page. Choose the course that best suits you and in just a few minutes you'll be registered and ready to start!