Working in real estate is an exciting career. The people part is unparalleled, and as an agent, you get to meet folks from all walks of life. But the best yet, placing someone in a new home is as exhilarating as it gets. People save money for years, and finding that next great property for them is a gratifying career path.
Traditional real estate schools will prepare you to be an agent. However, online real estate schools are growing in popularity for a reason. In Georgia, especially, the real estate market is varied but highly lucrative. There are a plethora of million-plus properties and a large segment of medium-priced homes as well. Online schools work well because many people either study while they work or are seeking a flexible alternative to going to a physical school. The demand for agents continues to be great, and online schools can accept and graduate them at record paces.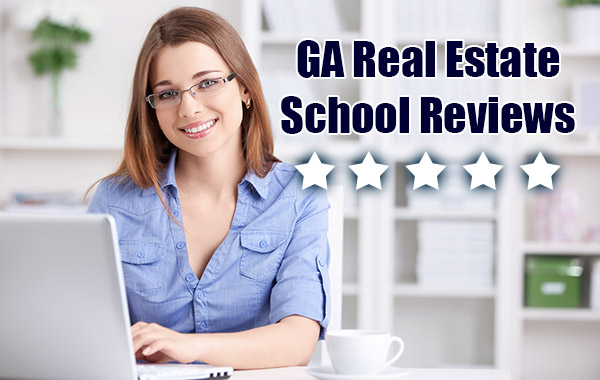 4 Great Tips
Enrolling in an online program takes discipline and good study habits. The following four tips are tested and proven. Follow them and a great career awaits.
1. Find a Quiet Space – A necessity for achieving success online is a quiet space. Our home environments are replete with distractions. They're around every corner and can consume us if we're not careful. However, finding a calm area to hunker down and plug into the courses daily is possible. This place will be your safe, study haven.
2. Be Mentally Engaged – A quiet space will lead to higher mental engagement. However, unless you also free yourself of distractions, being mentally engaged might as well be a mantra hung on your refrigerator. Make sure you don't have any additional windows open on the computer and keep all other electronics out of reach while in class.
3. Stay Healthy – This one sounds rather common-sense. Yet, when people go online and accomplish just as much, if not more, you sometimes forget to move around. This is when bad eating habits set in. Staying healthy, getting daily exercise, and eating responsibly will lead to more significant achievement in an online program, guaranteed.
4. Reward Yourself – Finally, when you get a good score on a test or nail a concept, reward yourself. Nobody is saying for every above-average grade you need to take ten shots and pass out on your best buddy's lawn. Those kinds of shenanigans could come after your fist million-dollar sale. Instead, keep yourself energized and rewarded with treats now and again for a job well done.
Evaluating Georgia Real Estate Schools Online Reviews
Online schools thrive on reviews to survive. The reason being – many of us trust reviews and make decisions accordingly. However, retrieving all your reviews from one site about a real estate school will result in a skewed analysis of that school. Peruse different sites and then make a decision based on those.
Georgia Real Estate Schools Online Reviews

4.83/5 Average Rating of Georgia Schools
12803 Total Reviews
Using online reviews to judge a real estate school works in the same manner as nearly everything else. If you were looking into buying a new car, you'd read the specs on the vehicle, but you'd jump headfirst into customer reviews. We can't help it. We're a social species and enjoy feedback. Yet, research also tells us that reviews are the best way to judge something. If you're able to collect a good sampling, removing the extremes will likely lead you to the truth.
This last point is critical. Many folks looking for an online real estate school will make the mistake of concentrating on the outliers. These could be extremely positive, over-the-top reviews, and end-of-the-world, the "apocalypse is upon us" reviews. These extremes exist in the online real estate sphere as well as nearly every other industry. Sometimes folks get a little too excited about something, or worse, conspire to destroy it.
The key here though is to focus in the middle. You can get a great sense of whether a school is a quality choice by focusing on the reviews in the middle. If they tend to trend to good, that's a good sign. But, if they're trending more average to negative, that tells you something as well.
Using Different Websites for Georgia Online Real Estate School Reviews
Do not trust reviews from a site you do not recognize. These sites will often provide clickbait and trick people into remaining there with salacious commentary. Most of these reviews are false and do not represent the school. Only trust reviews from reputable sites, and again, try and gather as many as you can from multiple, legitimate sites.
Top 2 Georgia Real Estate Schools Online
Georgia is brewing with excellent online real estate schools. They are at the top of their game when it comes to preparing students for that next, great leap into a six-figure universe. Graduates of the schools we are about to mention don't come out earning six-figures. But they are well-positioned, and that's all you can ask for out of life!
---


4.87/5 Rating (11888 Reviews)
We typically start with the positives first. It's only natural, as these three schools are the cream of the crop. And while AceableAgent has a host of positive commentary, the written instruction on-site and in-class was mentioned regularly as a negative. It's worth noting that many of these are older reviews. AceableAgent has recently invested in industry veterans and career mentors to instruct and guide students.
Now on to the positives. AceableAgent has one of the best platforms, technologically speaking, of all the online Georgia real estate schools. Their video quality is second to none, as is the ever-changing content. AceableAgent also receives some of the highest overall scores for student satisfaction in the industry. This is a top-notch choice and one you frankly can't go wrong with.
---


4/5 Rating (147 Reviews)
If you feel you might venture outside of merely real estate and move into other subjects or areas of interest, Mbition (formerly OnCourse Learning) might be the best fit. Their real estate course catalog is vast, and students love the variety with Mbition. Now, we should have detailed the negative comments first, as we did in the previous two. So, staying in line, the biggest knock on Mbition was the inability to easily withdrawal from the program. This is common, and nothing to focus on intently. Many schools discourage withdrawals, but Mbition appears to discourage and even upset folks when they want to move on to parallel pastures.
But, on the positive, if you're happy with Mbition, the course catalog is outstanding. Nobody wants to enroll in anything and then think about leaving. But things happen in life, and it is comforting to know you can exit from somewhere or something quickly. Only time will tell if Mbition can remedy this side of things.
---
Next Steps After You're Done Georgia Online Real Estate School
While it's exciting to throw your hands in the air, finally turn off your laptop, and bask in the glow of a promising real estate career – the first thing you need to do upon finishing is apply to get your license. From there, your mentor broker is vital. This person or firm will orient you on the best marketing materials to use, how to position yourself in the Georgia market, which neighborhoods hold the most value, and how to build a portfolio.
Above all, the real estate business is a relationship business. Successful realtors form friendly, working relationships. Good mentor brokers communicate how to do this and place you on a path for success.