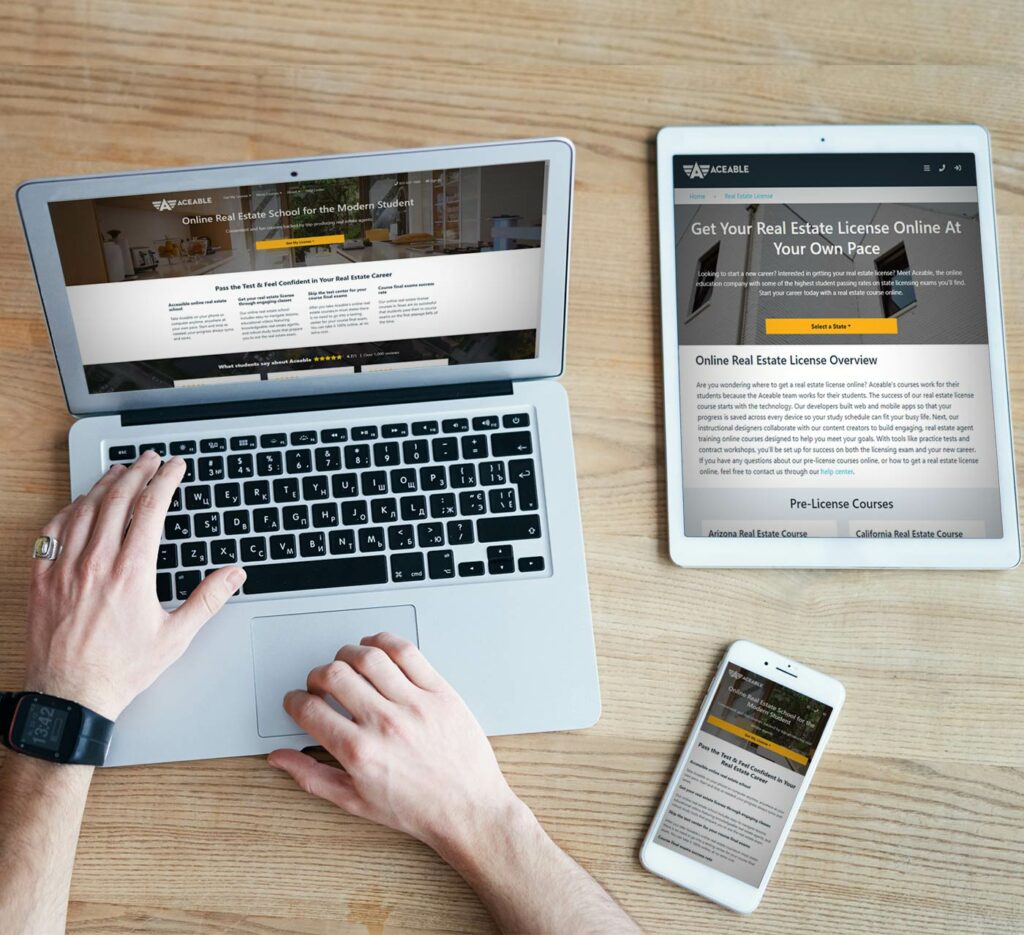 For anyone looking for a real estate school in Washington, Aceable Agent is LeadAgent's top pick. There are a lot of reasons why this school stands out for people who want to get their real estate license. Aceable Agent has great reviews, a "pass or don't pay" guarantee, and a 92% nationwide pass rate. You can get through school on your schedule and take your exam right online, for convenience. Here's what you need to know about everything Aceable Agent has to offer.
Aceable Agent Washington Reviews

4.9/5 AceableAgent Average Course Rating
4800+ Total Reviews
With nearly 5,000 reviews it's easy to see that Aceable Agent is a popular choice for Washington State residents who want to get their real estate license. The school has a 4.9/5 rating, and the vast majority of students are happy with the quality of their education and the experience they have with Aceable Agent.
Pass or Don't Pay Guarantee
Aceable Agent has a pass or don't pay guarantee, so you know you'll be getting a quality educational experience you can rely on. If you work through the material and complete all of it, but you don't pass the exam to get your real estate license, you can get your money refunded for the course.
Online WA Real Estate School on Your Schedule
With Aceable Agent, you can take courses at your pace, and at a time that works for you, right from home. You don't have to drive to a classroom, and spend hours listening to lectures. Instead, learn when you have time, and move through the class as quickly or slowly as you need to.
Take Your Washington Real Estate Exam Online
The state exam is proctored online, so you don't have to worry about where you're going to take it and if the schedule is one that works for your needs. Instead, you can take the exam from your home, just like you did with the coursework, and get started on your real estate career.
Aceable Agent Pass Rate Washington Real Estate Exam
Students who take the Aceable Agent real estate course for Washington can be confident in passing their exam. With a 92% national pass rate, most students who take these courses end up with their real estate license.
Aceable Agent Washington Real Estate Courses
There are three different options for courses you can take with Aceable Agent, depending on how much guidance and information you're looking for when getting your real estate education.
Basic Course
The basic course offers the essentials, including all the Washington pre-license courses and the practice exam questions. The course is DOL approved, with instructor support and online exam proctoring. The normal cost of the course is $269.00, with a sale price of $215.00.
Deluxe Course
The deluxe course at Aceable Agent will provide you with everything in the basic course, along with digital flashcards, video lessons, and audio lessons. You can also expect deluxe real estate exam prep, and an exam prep ebook. The deluxe course costs $369.00, with a sale price of $275.00.
Premium Course
Aceable Agent's premium course includes everything that comes with the deluxe course, along with live webinars, an hour of private tutoring, access to the webinar archive, and live Q&A. With a price of $539.00 and a sale price of $375.00, this is the best deal out of the three options.
Aceable Agent Washington Real Estate Course Features
There are a lot of great features offered with the Aceable Agent course. Knowing what you're getting can help you decide which of the three course options is right for you.
DOL-Approved
Aceable Agent is approved by the Washington State Department of Licensing (DOL), and includes the complete 90-hour real estate course.
Lite Exam Prep
There are more than 800 unique Washington State real estate exam practice questions offered through the Aceable Agent course.
Instructor Support
You can email course experts anytime, to clarify issues or get answers to your questions.
Free Online Exam Proctoring
Taking your final course exam from home is easy and convenient.
Videos, Audio Lessons, & Digital Flashcards
You can explore must-know concepts in a fun and engaging way when you use flashcards, audio, and video lessons.
Deluxe Real Estate Exam Prep
With the deluxe exam prep, you'll get access to more than 3,000 additional practice questions.
Real Estate Exam Prep E-book
This ebook, with more than 100 pages, makes it easier than ever to study concepts and be ready for the test.
Private Tutoring With a Real Estate Expert
You can pick the schedule and topics, to get a full hour of private tutoring in any areas where you need additional support.
Live Webinars 5X Week
Nine of the core real estate concepts are presented in live webinars, where you and hundreds of other students can learn more and be ready for your exam.
Webinar Archive Access
If you can't make it to the webinar at the scheduled time, you can watch it later and get all the important concepts you need to know.
Live Q&A
On "Facebook Friday" questions will be pulled from social media and answered live.
Aceable Agent Washington Real Estate Exam Answers
Still have questions? Here's more about what makes Aceable Agent the right choice for your Washington State real estate education.
Is Aceable Agent the Best Washington Real Estate School?
A lot of past and present students think so. With nearly 5,000 reviews and a 4.9/5 rating, it's clear that Aceable Agent is a popular, quality choice.
Is Aceable Agent Accredited in Washington?
Aceable Agent is DOL approved, which is the requirement for a valid real estate school in Washington State.
How Much Does Aceable Agent Washington Real Estate School Cost?
Aceable Agent costs as low as $215.00 for the basic course on sale. That course provides everything you need to pass your real estate exam.
How Long Does it Take to Finish Aceable Agent Washington Real Estate?
When you take real estate courses from Aceable Agent, you learn and complete work at your own pace.
How Many Chapters in the Aceable Agent Washington Real Estate Course?
Aceable Agent offers the complete 90-hour Real Estate Course, which is 60-Hour Unit I & 30-Hour Unit II.
How to Sign Up for Aceable Agent in Washington
It's easy and convenient to sign up for Aceable Agent in Washington. A few clicks, some information, and you'll be ready to start on your real estate educational journey.