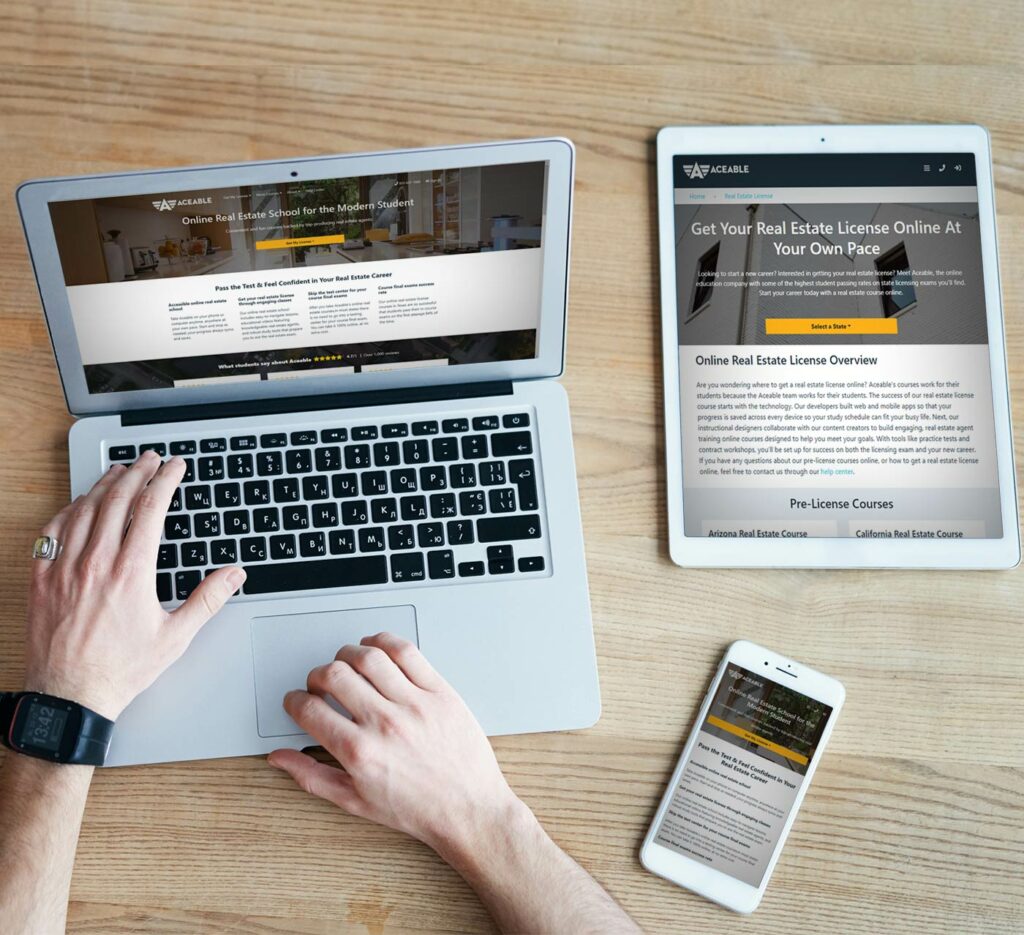 Aceable Agent provides an Arizona Department of Real Estate-approved 90-hour online real estate course. It enables you to study at your own speed while also taking your state test as part of the course. We appreciate that they provide a Pass or Don't Pay Guarantee, which guarantees that you will cross the finish line – and that 92% percent of their students obtain their AZ real estate license. Aceable Agent is Lead Agent's #1 choice for real estate school in Arizona.
Aceable Agent Arizona Reviews

4.9/5 AceableAgent Average Course Rating
4800+ Total Reviews
If we want to know how practical a course is, we look at the reviews. For Aceable Agent Arizona, the majority are positive. This strong AZ real estate course gets an average of 4.7 stars out of 5. They currently sport over 1,000 reviews.
Students like the style of the course, stating it is broken down into easily digestible segments. They also love that it is available as a mobile app so that they can study anytime and anywhere – even a mother of two who has precious little time for study.
Pass or Don't Pay Guarantee
Students at Aceable Agent don't just sign up and get videos and reading materials sprinkled with the occasional quiz. We are confident that this real estate school will assist them till they obtain their state license. That is the Pass or Pay Guarantee.
Aceable Agent guarantees that you will pass the state licensing exam after attending Arizona's real estate license seminars. If you do not pass the AZ online real estate licensing course exam after three attempts, you will receive your money back.
Online AZ Real Estate School on Your Schedule
We believe that the beauty of online education is its flexibility. You may complete the lessons and examinations in your own time and with any device. You can work throughout the day as you have time, or you can complete all of your studying after work or after the kids have gone to bed. There are also audio recordings available, so you may study while walking the dog, doing housework, or exercising.
Aceable Agent Pass Rate Arizona Real Estate Exam
We look closely at pass rates when deciding what real estate course has the best learning options. A high pass rate indicates that their pupils are learning what they need to know to pass their examinations and advance in their careers.
Aceable Agent has a 92% nationwide pass rate.
Aceable Agent Arizona Real Estate Courses
With a national pass rate of 92%, it is apparent that Aceable Agent students are learning with this course. They also provide several levels of study, ensuring that potential students receive the exact degree of instruction they want at an accessible price.
Basic Course
The Basic Course teaches you all you need to know to pass the test and work in real estate. The cost is an affordable $529.00 $419.00, and it includes Arizona Pre-License Courses plus 300 practice exam questions. At this level, you get limited exam prep and email access to teachers.
Deluxe Course
The Deluxe learning course takes it up a notch by including everything in the Basic course and deluxe real estate test training. For $719.00 $539.00, you also get extra study tools, including videos, audio courses, and digital flashcards, plus a 100-page real estate exam prep e-book.
Premium Course
The top-tier learning option includes everything from the Basic and Deluxe courses and perks like live webinars and one-on-one coaching. You choose the subjects for your one hour of personalized coaching with a real estate specialist. It's similar to having a digital mentor.
You'll enjoy the live seminars covering essential topics like math and vocabulary. If you cannot participate, you may still view the webinar archive for additional learning resources. Every Friday, the premium tier also includes a live Facebook Q&A. The Premium Course is the most expensive, costing $719.00 $619.00.
Aceable Agent Arizona Real Estate Course Features
It's the features at Aceable Agent Arizona that make this course stand out when compared to others.
ADRE Approved
This course has the full support of the Arizona Department of Real Estate (ADRE).
Instructor Support
A real estate course instructor is always available to answer questions.
Lite Exam Prep
Aceable Agent Arizona provides more than 300 questions specific to the state.
Videos, Audio Lessons, & Digital Flashcards
Enroll in the Deluxe or Premium course to get even more learning tools.
Deluxe Real Estate Exam Prep
The Deluxe and Premium courses offer 1,600 plus additional practice test questions – five times more then the Basic tier.
Real Estate Exam Prep E-Book
This e-book offers you an easy-to-use learning resource to help you pass your exam.
Private Tutoring with a Real Estate Expert
Premium-level students benefit from exclusive teaching sessions with real estate professionals.
Live Webinars 5X Week.
Learn more at the Premium level with live webinars.
Webinar Archive Access
Premium students can also view previous webinars for additional study material.
Live Q&A
Premium students can participate in live Q&A every Friday.
Aceable Agent Arizona Real Estate FAQs
Is Aceable Agent the Best Arizona Real Estate School?
We think so, yes. We picked it because it has characteristics that ensure your success, such as the Pass or Don't Pay promise. That is not always the case at other schools.
Is Aceable Agent Accredited in Arizona?
Aceable Agent is ADRE accredited – something you want if you plan to take the AZ real estate license.
How Much Does Aceable Agent Arizona School Cost?
Depending on your learning tier, you can expect to spend anywhere from $419.00 to $619.00. It is very affordable when you consider what you get with this course and its easy-to-use structure. They also offer that Pass or Don't Pay guarantee, which means it won't be money wasted.
Is Aceable Agent The Best Real Estate School in Arizona?
We've looked at many, and this school stands out, especially for the price.
How Long Does it Take to Finish Aceable Agent Arizona Real Estate?
There are 90-course hours included. You can take your time and finish it at your own speed.
How Many Chapters in the Aceable Agent Arizona Real Estate Course?
There are 90 hours of study in total. You also will complete a 6-hours writing course, which is part of the package at Aceable Agent Arizona.
How To Sign Up For Aceable Agent in Arizona
If you want to start a career in real estate, I believe Aceable Agent makes the most sense. You may sign up right now on the Aceable Agent Arizona registration page.