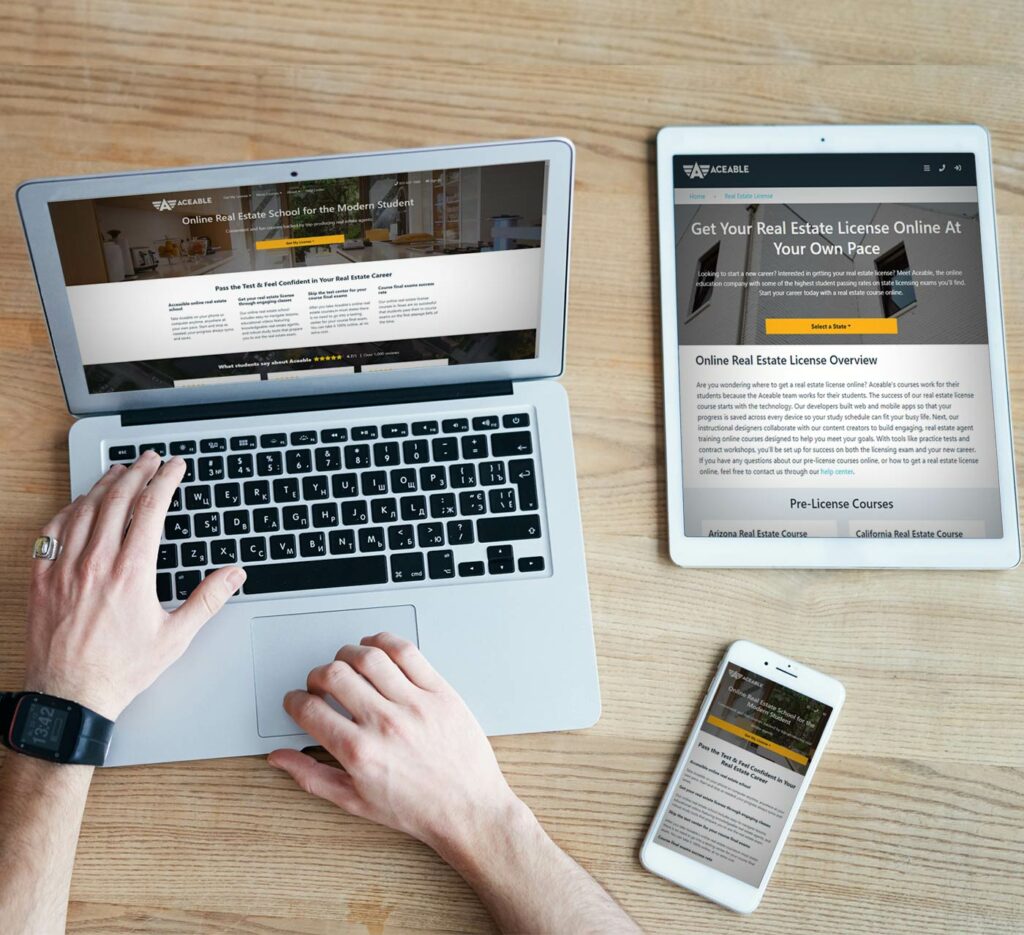 If you want to get your real estate education and license in the state of Colorado, Aceable Agent is LeadAgent's top pick for a real estate school. Here's what you need to know about what makes this school stand out from the rest.
Aceable Agent Colorado Reviews

4.9/5 AceableAgent Average Course Rating
4800+ Total Reviews
One of the most notable things about Aceable Agent is their reviews. With thousands of online reviews, they have a 4.9/5 rating. It's really hard to get a rating that good, and with the high number of reviews you know that students are really happy with their choice for getting a real estate education.
Pass or Don't Pay Guarantee
With Aceable Agent, you can get a full refund if you complete all the coursework and don't pass your real estate exam. The pass of don't pay guarantee shows you they're taking what they offer seriously, and that they stand behind their educational resources. That gives you the support and information you need, to feel confident taking your real estate exam.
Online CO Real Estate School on Your Schedule
Being able to take your courses at your own pace, at home, and on your own schedule can make a big difference. Even if you're busy with work, family, or both, you can work around all that to take your courses at times that work for you. There's no reason to put off your real estate education any longer, because Aceable Agent makes it easy.
Aceable Agent Pass Rate Colorado Real Estate Exam
With a 92% national pass rate, you can feel confident that you can meet your Colorado real estate education and licensing needs by working with Aceable Agent. The vast majority of students who take their real estate courses pass their exams, which can help you move forward with peace of mind.
Aceable Agent Colorado Real Estate Courses
There are three different courses you can take with Aceable Agent in Colorado, so you can choose the basic course, a more deluxe option, or the premium course, and get the level of information and support you need.
Basic Course
The basic Colorado Aceable Agent course provides all the essentials you'll need to pass your course, with an DRE-approved, self-paced online PDF format. You get instructor support for the 168-hour course, and a 30-day money back guarantee. This course costs $369.00 normally, and $295.00 on sale.
Deluxe Course
The deluxe course gives you everything you find in the basic course, along with 75 videos, digital flashcards, and 70 audio lessons. You can also expect a real estate exam prep e-book, and more than 200 practice questions. For this course, the cost is $519.00, and $389.00 on sale.
Premium Course
The premium course adds to your level of support, including everything in the deluxe course, along with a one-hour private tutoring session on topics you choose. You'll also get live Facebook Q&A access, live webinars 5x per week, and access to the webinar archive, so you can watch or rewatch any webinars for additional guidance and information. The premium course costs $699.00, or $487.00 on sale.
Aceable Agent Colorado Real Estate Course Features
It's important to have the right features in the Colorado real estate school you choose. With Aceable Agent, you can expect plenty of great features to make sure you get through the lessons with a good understanding of the material, and then tackle the test.
CO DRE Approved
The Colorado Division of Real Estate (DRE) has approved this course, so you can feel confident that it meets the requirements for real estate education and licensing in the state.
PDF Format – Self-Paced
With a self-paced course in PDF format, you can study on any device, at any time that's convenient for you.
Instructor Support
Ask questions and get additional information from a real estate instructor you can rely on, when you aren't sure about something in the course material.
30-day Money Back Guarantee
Not happy with the course for any reason? The money back guarantee is available to you if the course doesn't meet your needs.
Videos, Audio Lessons, & Digital Flashcards
With videos, audio lessons, and flashcards, you have several ways to learn and retain the material, so you can be ready for your exam.
Deluxe Real Estate Exam Prep
More than 200 practice test questions help you get ready for the exam, and understand the kinds of questions you can expect.
Real Estate Exam Prep E-Book
With over 100 pages of information, the exam prep e-book gives you one more great resource to use in your studies.
Private Tutoring With a Real Estate Expert
On your schedule and covering the topics you choose, a one-hour tutoring session can help you address any concerns you have.
Live Webinars 5x Per Week
Five times a week, you can watch live webinars to get even more information and training before your exam.
Webinar Archive Access
If you can't watch the webinars live, or you want to go over them again, access to the archive helps you do that easily.
Live Q&A
With the live Facebook Q&A every Friday, you'll get more questions answered and feel more prepared for your exam.
Aceable Agent Colorado Real Estate FAQs
Is Aceable Agent the best Colorado real estate school?
With a 4.9/5 rating, the students who use Aceable Agent for their real estate education think so.
Is Aceable Agent accredited in Colorado?
Aceable Agent has CO DRE approval, meaning it means the criteria for real estate education in that state.
How much does Aceable Agent Colorado school cost?
Aceable Agent costs as little as $295.00 for the basic course, currently on sale.
Is Aceable Agent the best real estate school in Colorado?
Thousands of students think it is, contributing to its 4.9/5 rating.
How long does it take to finish Aceable Agent Colorado real estate?
You can complete the Aceable Agent course on your own time, and at your own pace.
How many chapters in the Aceable Agent Colorado real estate course?
The course is 168 hours, which is the required amount of education for a Colorado real estate license.
How to Sign Up for Aceable Agent in Colorado
If you're ready to begin your Colorado real estate education today, sign up with Aceable Agent and get started on your journey to becoming a real estate agent.