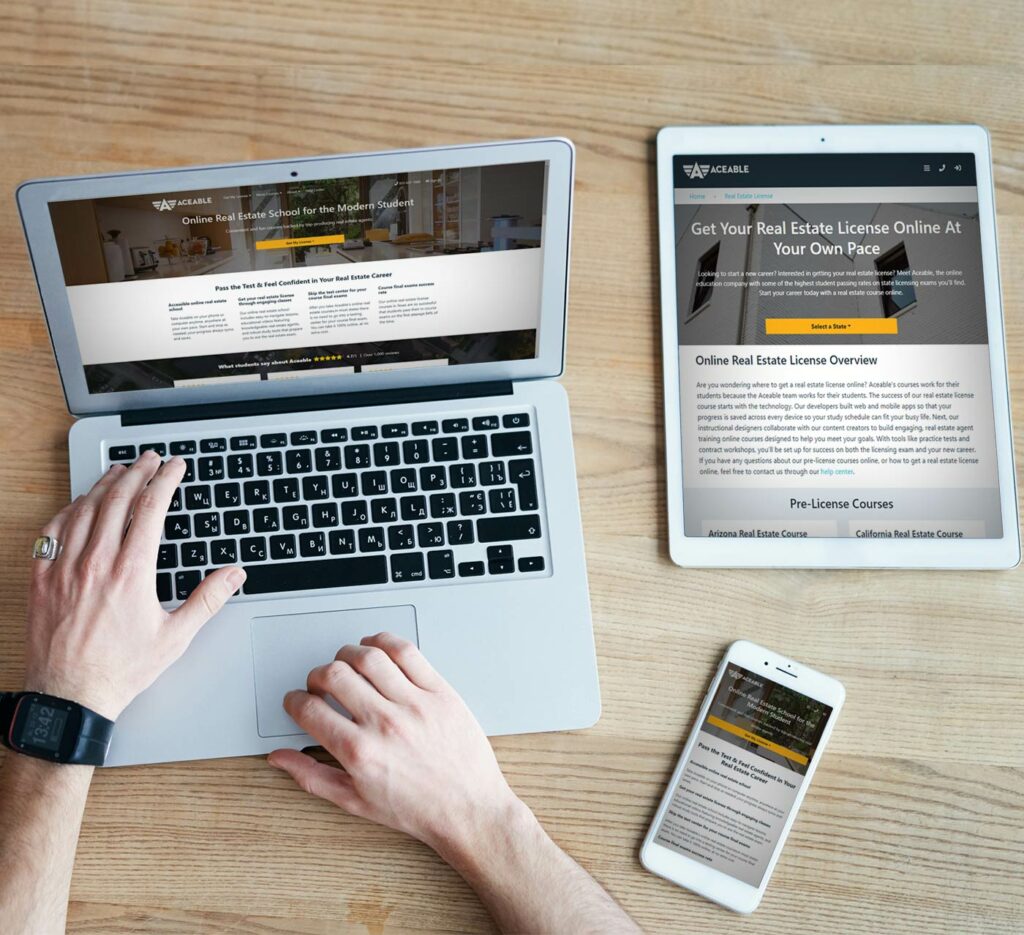 If you want to get your real estate license in Virginia, it's important to get trained from the best school possible. Getting your real estate education and training from a reputable school will help ensure success and put you off to the right start as a real estate agent.
AceableAgent is LeadAgent's top pick for real estate school in Virginia because it offers 60 hours of training that's fully approved by the Virginia Department of Professional and Occupational Regulation (DPOR). AceableAgent offers a "pass or your money back" guarantee, a low starting price for their basic package, and excellent customer support.
AceableAgent Virginia Reviews

4.9/5 AceableAgent Average Course Rating
4800+ Total Reviews
AceableAgent Virginia gets 4.9 out of 5 stars out of thousands of reviews from satisfied students. The reviews don't lie – students love AceableAgent's many features, money back promise and comprehensive packages offering support for students with different learning styles.
Pass or Don't Pay Guarantee
Students who take their training with AceableAgent and who are unable to pass the test in three tries enjoy access to AceableAgent's refund policy. Read up on it to learn more.
Online VA Real Estate School on Your Schedule
AceableAgent Virginia has designed its curriculum to be self-paced, which means students can take all 60 hours of training at their own speed. Some students complete the training in as little as a week.
AceableAgent Pass Rate Virginia Real Estate Exam
AceableAgent is so effective that it boasts a 92% national pass rate. For students who are concerned about passing their test on the first try, AceableAgent's pass rate is an attractive statistic.
AceableAgent Virginia Real Estate Courses
AceableAgent offers three tiers of courses.
Basic Course
AceableAgent provides a 60-hour DPOR-approved real estate course, audio guide for all lessons and a Lite Exam Prep feature that includes more than 200 practice questions. All students have access to instructor support and may email for assistance at any time. The basic course is available for $169.00 $135.00.
Deluxe Course
Students who pay for the Deluxe package have access to all the features in the Basic package, plus 70 audio lessons, 75 videos, 1,500 practice test questions, digital flashcards, and an e-book with additional preparation information for the real estate exam. This package costs $299.00 $224.00.
Premium Course
The Premium course includes all the features of the Deluxe package, plus access to live and archived webinars, an hour of private tutoring and a live Q&A session for additional support. This package is available to students for $449.00 $314.00.
AceableAgent Virginia Real Estate Course Features
DPOR-Approved
AceableAgent's courses have been fully approved by the state of Virginia DPOR.
Fully Narrated – Audio Guided Lessons
All lessons are fully narrated and include audio guides to help students who learn better by listening than by reading to themselves. These narrated and audio guided lessons can be taken at whatever pace works best for the student.
Lite Exam Prep
The Lite Exam Prep option offers students over 200 practice test questions to help them prepare for the exam. The Lite Exam Prep feature helps students prepare for the exam by trying their knowledge on test questions that are very much like the real thing.
Instructor Support
Instructor support is available to students who take all three package tiers. Email support is available 7 days per week.
Videos, Audio Lessons, & Digital Flashcards
The videos, audio lessons and digital flashcards create a dynamic and interactive experience for students who need additional support and practice to prepare for tests. These videos and digital flashcards help students get their learning via different methods.
Deluxe Real Estate Exam Prep
The exam prep book includes additional information for a more thorough real estate education experience. This book is included with the premium and deluxe packages.
Private Tutoring with a Real Estate Expert
For students who sign up for the premium package, an hour of private tutoring offers an opportunity for anyone who needs to strengthen their understanding of specific subjects. Students may pick the topic.
Live Webinars 5X Week
AceableAgent produces live webinars five times per week. Students who sign up for the premium package may attend these webinars to brush up their skills and strengthen their knowledge of real estate topics.
Webinar Archive Access
Previous webinars are available in an archive to Premium package students. Students can sort through previous webinars to find the subjects that offer the most value to them.
Live Q&A
The Live Q&A sessions give Premium package students an opportunity to get answers to frequently asked questions – and learn what questions other students have.
AceableAgent Virginia Real Estate Exam Answers
Is AceableAgent the Best Virginia Real Estate School?
AceableAgent has been selected by LeadAgent as the best real estate school in Virginia. Their good reputation comes from their reasonable prices, their tiers of instruction and the many features available to students.
Is AceableAgent Accredited in Virginia?
AceableAgent has been approved by the state of Virginia DPOR, the office responsible for regulating occupational licensure.
How Much Does AceableAgent Virginia Classes Cost?
The lowest price classes at AceableAgent cost $135.00. The cost increases for packages that offer more features. The highest price course is $314.00.
Is AceableAgent The Best Real Estate School in Virginia?
AceableAgent is a highly reputable real estate school with a 92% national pass rate and a 4.9 out of 5 star average review. For many students, it's the best real estate school in Virginia.
How Long Does it Take to Finish AceableAgent Virginia Real Estate?
AceableAgent offers a 60-hour course that can be taken at the student's own pace. Some students pass the class in as little as a week.
How To Sign Up For AceableAgent in Virginia
AceableAgent has an easy sign up process for students who want to get started with their real estate education in Virginia. Simply view the AceableAgent website to decide which package is right for you, then click the "get my license" button.