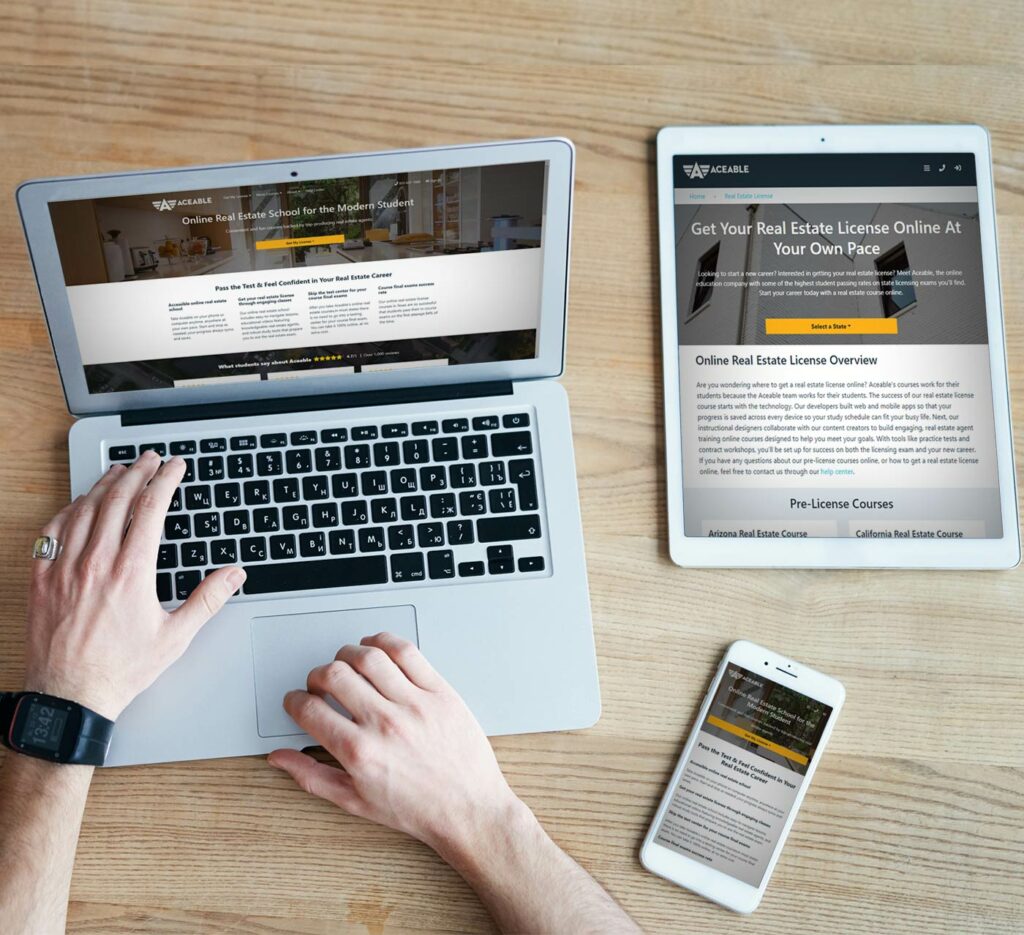 AceableAgent is LeadAgent's top pick for real estate schools in Michigan, because this 40-hour real estate class has a "pass the test or get your money back" guarantee, and allows test takers to get their license at their own pace. The prices are reasonable, and the final exam is proctored online, so there's never a need to enter a testing facility to get your real estate license. The platform also offers customer support 7 days per week, so you're never left without help when you need it.
AceableAgent Michigan Reviews
One of the many reasons that LeadAgent selected AceableAgent as one of its top picks is because of the average 4.9 star rating (out of 5) among the thousands of reviews left by previous students.

4.9/5 AceableAgent Average Course Rating
4800+ Total Reviews
Pass or Don't Pay Guarantee
AceableAgent is such an effective platform that it even comes with a "pass or don't pay" guarantee. If you aren't able to pass the licensing exam after three tries, AceableAgent will refund your money. To fully understand this policy, review the refund policy before signing up for AceableAgent.
Online MI Real Estate School on Your Schedule
AceableAgent has laid out Michigan real estate classes in a self-paced program, so you can take your classes at your own pace. Some students are able to finish more quickly than others – and some get through all their classes in just seven days. If you're comfortable taking your classes at a quick pace, you could be ready to take your real estate license in just seven days.
Take Your Michigan Real Estate Exam Online
This is a big bonus for students in Michigan: AceableAgent can proxy for the Michigan real estate exam, which means that students can take the exam online at home instead of in a testing facility. This makes taking the test more comfortable for the student, and much easier as well.
AceableAgent Pass Rate Michigan Real Estate Exam
AceableAgent has a 92% national pass rate, which means that if you're putting in the time to learn the material, your chances of passing the test are good! With Aceable's pass or don't pay policy, you're well protected when you work with this real estate school.
AceableAgent Michigan Real Estate Courses
Classes with AceableAgent are divided into three tiers. Costs are based on level of service, with the basic course costing the least. If you need little help passing exams, the basic course may be for you. If you need more help passing exams, a deluxe or premium course may be more appropriate.
Basic Course
The basic 40-hour course is approved by the Michigan Licensing and Regulatory Affairs office (LARA) and includes the pre-license courses and practice exam questions. The basic course includes access to 80 practice questions, 7 day per week instructor support, and the free online exam proctoring, so you can take the official Michigan test from the comfort of your home. This package costs $199.00 $158.00.
Deluxe Course
The Deluxe course includes everything from the basic package, plus 70 audio lessons, 75 videos, 1,600 additional practice test questions, digital flashcards and a real estate exam prep e-book that's over 100 pages long. Expect to pay $299.00 $224.00.
Premium Course
For $449.00 $312.00, the premium course includes everything included in the other packages plus an hour of private tutoring, access to live webinars five days per week, access to the webinar archive, and access to a live Q&A on Facebook.
AceableAgent Michigan Real Estate Course Features
LARA Approved
AceableAgent's course is approved by the state of Michigan Licensing and Regulatory Affairs (LARA) office, which means it's been pre-vetted by a government agency and it's compliant with requirements for taking the Michigan exam.
Lite Exam Prep
Even with the most basic package, students are able to access practice test questions to decide whether they're ready to take the official Michigan test.
Instructor Support
For students who find themselves grappling with questions about the study or practice material, instructor support is available.
FREE Online Exam Proctoring
Students who sign up for AceableAgent are able to take the Michigan state exam free online from the comfort of their own home. This is a big bonus for students who suffer from test anxiety, because they can take their test from a comfortable and familiar environment.
Videos, Audio Lessons, & Digital Flashcards
AceableAgent makes learning fun and interesting with videos, audio lessons and digital flashcards. This is important for anyone who has different learning styles.
Deluxe Real Estate Exam Prep
The Deluxe real estate exam prep includes over 1,600 practice questions, for students who need extra help and preparation before taking the big test.
Real Estate Exam Prep E-Book
The real estate exam prep e-book includes an additional 100+ pages of content for students who want to learn the content backwards and forwards before they proceed with their career.
Private Tutoring with a Real Estate Expert
For those who often have questions about classroom content, the private tutoring available through the premium package provides extra support and information.
Live Webinars 5X Week
Live webinars reinforce the lessons from AceableAgent's online self-paced course.
Webinar Archive Access
If the live webinars aren't enough, students who pay for the premium package also have access to Aceable's webinar archive.
Live Q&A
Finally, a live Q&A session is instructive for students who need additional information and who seek support outside the other supports provided by Aceable.
AceableAgent Michigan Real Estate Exam Answers
Is AceableAgent the Best Michigan Real Estate School?
AceableAgent is LeadAgent's top pick for Michigan real estate schools – for good reason. Their affordable packages and support for students provide everything you need to pass the Michigan real estate test.
Is AceableAgent Accredited in Michigan?
AceableAgent is approved by LARA (Michigan's office of Licensing and Regulatory Affairs).
How Much Does AceableAgent Michigan Classes Cost?
Packages cost anywhere from $158.00 to $312.00, depending on which package you sign up for.
Is AceableAgent The Best Real Estate School in Michigan?
AceableAgent is LeadAgent's top pick for real estate schools in Michigan.
How Long Does it Take to Finish AceableAgent Michigan Real Estate?
AceableAgent's course is 40 hours, self-paced.
How To Sign Up For AceableAgent in Michigan
If you'd like to get your real estate license in Michigan, start by taking the test with a reputable trainer. To sign up for AceableAgent MI see the AceableAgent MI page.