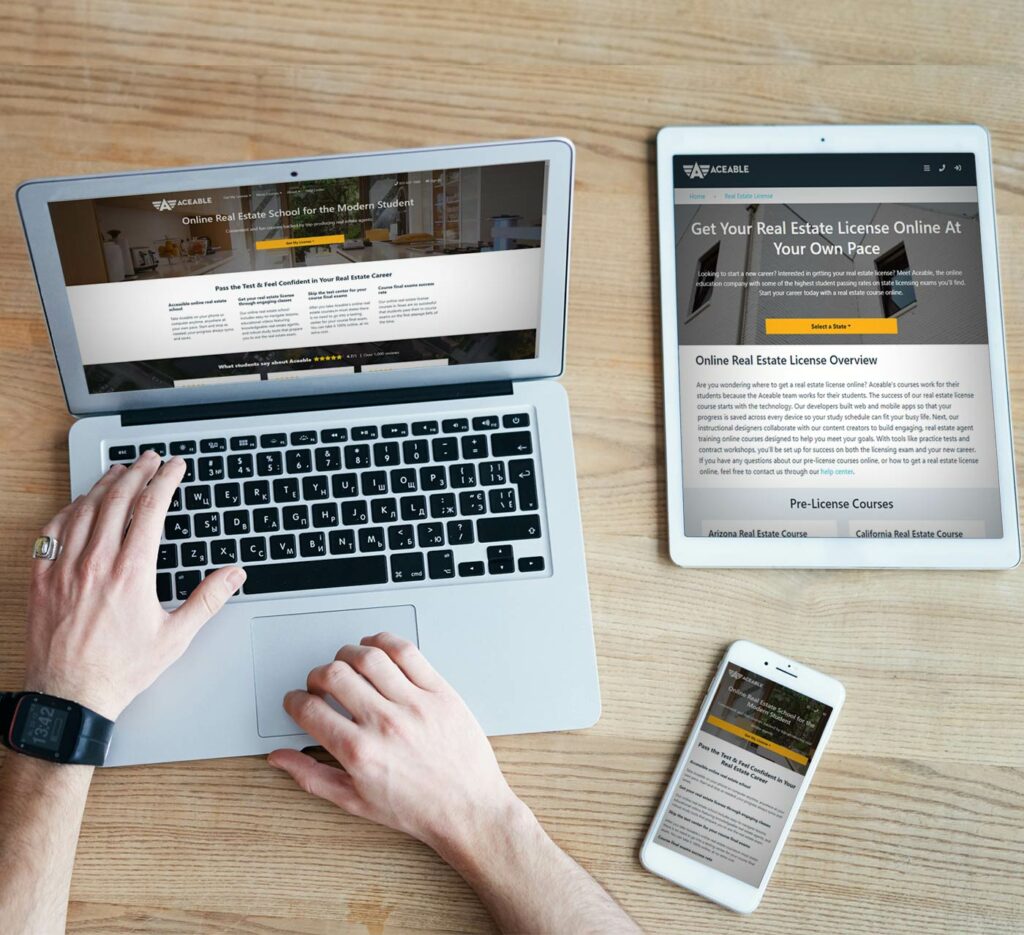 With the real estate industry booming, Aceable Agent's North Carolina online real estate course is experiencing skyrocketing enrollment rates. Being a real estate agent is one of the most exciting and lucrative careers you can get without a college degree and Aceable Agent makes it affordable, easy, and convenient. Complete classes at your own pace and feel confident with our "no pass, no pay" guarantee. That's right! You don't pay a dime unless you pass your final real estate exam!
Aceable Agent North Carolina Reviews
Their North Carolina online real estate program has garnered thousands of stellar reviews and maintains a 4.9/5 rating on popular review sites. Aceable Agent remains the most popular "go-to" educational establishment offering NCREC-approved courses that lead to earning a professional real estate agent license.

4.9/5 AceableAgent Average Course Rating
4800+ Total Reviews
Pass or Don't Pay Guarantee
Aceable is so confident in the high quality of our instructors and course content that students do not pay unless they pass the final real estate exam. In other words, when you enroll at Aceable Agent, you don't pay a nickel until you "ace" the test. If you don't pass the exam, you receive a full refund–guaranteed!
Online NC Real Estate School on Your Schedule
Whether you are currently working 20, 30, or 40 hours a week, you can fit courses into your schedule and complete them at your own pace in the comfort of your own home. Unlike university courses where semesters definitively mark the end of a particular course, Aceable Agent's online real estate classes in NC can be completed in as short or as long as a time period that is convenient for you.
Aceable Agent Pass Rate for the North Carolina Real Estate Exam
Aceable has earned their 94% pass rate. That means more than nine out of 10 students pass the final exam and earn their real estate agent license. No other NC online real estate school has such a high pass rate or such qualified instructors.
Aceable Agent North Carolina Real Estate Courses
We have three options potential students can select:
Basic Course
Includes instructor support, multimedia learning programs, and practice exam questions. This 75-hour course costs only $594.00 $475.00.
Deluxe Course
In addition to accessing everything in the Basic Course, students enrolling in our Deluxe Course receive 75 video and 70 audio lessons, 1500 practice exam questions, and our exclusive real estate test prep e-book. The total cost for the Deluxe Course is $767.00 $575.00.
Premium Course
The best value for your money and the most popular of our courses, the Premium Course includes all Basic and Deluxe content, live webinars, one-on-one tutoring, and access to our webinar archive so you can watch previously recorded webinars when it is convenient for you. The total cost of the Premium Course is only $964.00 $675.00.
Aceable Agent North Carolina Real Estate Course Features
NCREC-Approved
All courses offered by Aceable Agent are approved by the North Carolina Real Estate Commission. After passing the exam, students can apply on the NCREC website for their license.
Lite Exam Prep
Included in our Basic Course, lite exam prep consists of over 300 questions to help you prepare for the final real estate exam.
Instructor Support
Real estate instructors are available to answer any questions you have about subjects covered in our basic, deluxe, or premium courses.
Multimedia Learning Experience
One of the many reasons why Aceable Agent has such high exam pass rates is because classes don't consist of hours of lectures and note-taking. Instead, students can participate in webinars, listen to pre-recorded classroom instruction, and use visual aids to optimize their learning style.
Videos, Audio Lessons, & Digital Flashcards
Watch videos, listen to audio lessons in your car and improve your memorization skills with digital flashcards you can access whenever it is convenient for you. Learn at your own pace without worrying about making it to class on time.
Deluxe Real Estate Exam Prep
Included in the Deluxe and Premium Course packages, the deluxe real estate test prep consists of over 1500 additional practice exam questions not offered with the Basic Course package.
Real Estate Test Prep E-Book
Included in the Deluxe and Premium Course packages, our real estate test prep e-book contains 100 pages chock-full of information you'll need to easily pass the real estate exam. Available online for you to read and study using your cellphone, laptop, or tablet.
Private Tutoring with a Real Estate Expert
If a particular real estate subject is confusing you, just request a one-on-one tutoring session with a real estate expert who will be happy to provide clear and concise explanations to your questions.
Live Webinars 5X Week
Webinars are instructional seminars held online that allow viewers to provide input, ask questions, and interact with webinar presentations. Many of our students enjoy attending webinars because it gives them a chance to ask other students and webinar instructors questions about course topics and discuss real estate materials in general.
Webinar Archive Access
Since many of our students have full or part-time jobs, they can't always attend live webinars. That's why Aceable Agent provides access to recorded webinars any time it is convenient for you.
Live Q&A
Live Q&A sessions involve students asking instructors questions about course and exam materials. It's a great time for students to get more in-depth information about certain real estate topics they may know the basics of but want more instruction on the topic.
Aceable Agent North Carolina Real Estate Exam Answers
Is Aceable Agent the Best North Carolina Real Estate School?
With its "no pass, no pay" guarantee, affordable course rates, and nine out of 10 of its students passing the final exam, it's no wonder Aceable Agent is considered the best NC real estate school.
Is Aceable Agent Accredited in North Carolina?
Yes, Aceable Agent is accredited by the North Carolina Real Estate Commission.
How Much Do AceableAgent North Carolina Online Courses Cost?
They offer course programs to accommodate any budget. Prices range from $475.00 to $675.00.
Is Aceable Agent The Best Real Estate School in North Carolina?
Aceable Agent is one of the few NC real estate schools that offer one-on-one instructor assistance, live and archived webinars, audio lessons, test practice e-books, and a no pass-no pay guarantee that virtually assures all students eventually receive their real estate license. You won't find another real estate school as accommodating and helpful as Aceable Agent in NC.
How Long Does it Take to Finish Aceable Agent North Carolina Real Estate?
There is no established time that students must finish their courses. You can take as long as you like to complete the program or complete courses in as little as a few weeks. It's up to you!
How Many Chapters in the Aceable Agent North Carolina Real Estate Course?
Six chapters comprise each online real estate course.
How to Sign Up for Aceable Agent in North Carolina
Enrolling in one of our courses is easy and can be done from the comfort of your home. Just visit the Aceable Agent North Carolina real estate course webpage and read about the course, and enter the information requested before submitting. That's it! You've just taken the first step toward starting an exciting career in the real estate industry.