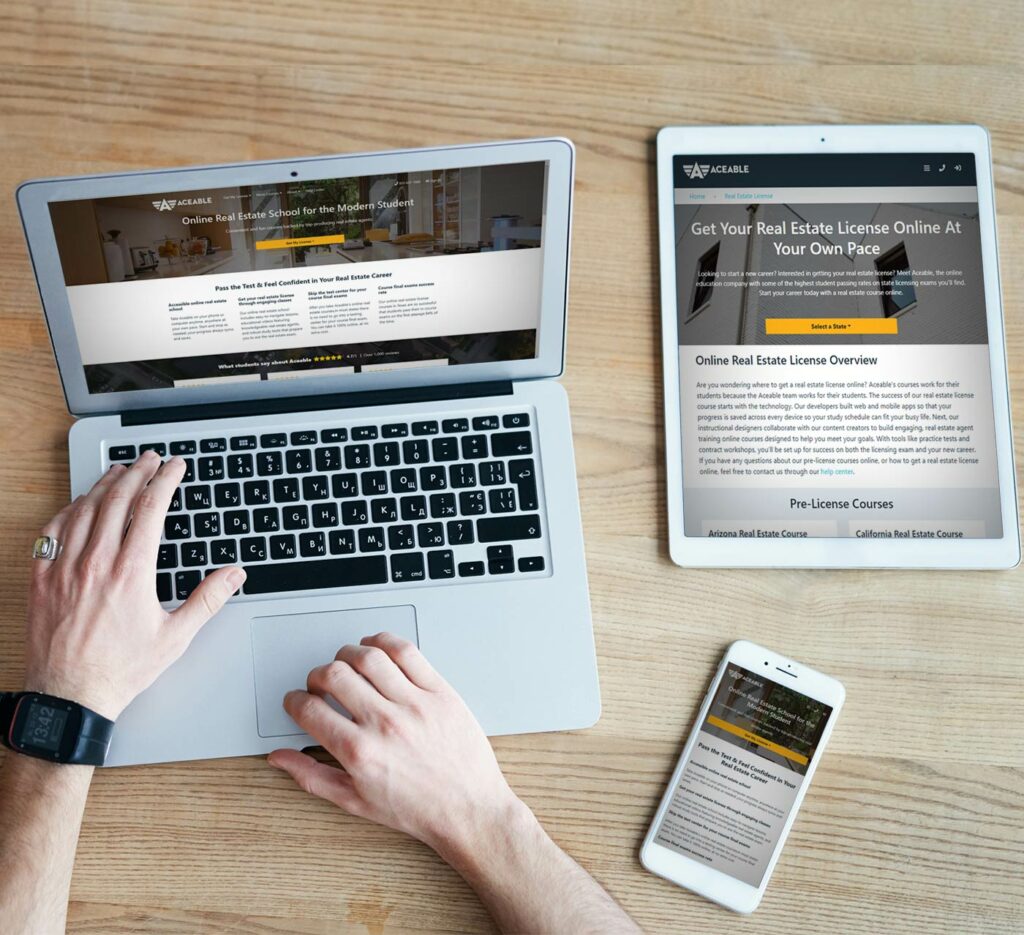 Becoming a Tennessee real estate agent may feel like a daunting process. In addition to learning all the required coursework, agents must also pass the real estate exam. Finding the right school that fits your daily work and life schedule can feel confusing based on what is available. Aceable Agent is LeadAgent's top pick when it comes to a reliable and dependable Tennessee real estate school. With its online course programs, high student passing rate, refund policy, and thousands of positive reviews, Aceable Agent is the popular real estate school for new agents.
Aceable Agent Tennessee Reviews

4.9/5 AceableAgent Average Course Rating
4800+ Total Reviews
When searching for a premier school, it's always advisable to check out what previous students are saying about the program. Aceable Agent has a 4.9/5 rating among students. We also have garnered thousands of reviews about how our program courses provided them with the materials and superior instruction from expert real estate professionals.
Pass or Don't Pay Guarantee
Aceable Agent stands behind the coursework, real estate exam prep materials, and knowledgeable instructors. In fact, the school is so confident that students will pass the real estate exam after using the course program that you have access to the Pass or Don't Pay Refund. This policy is the school's guarantee that if you don't ace the exam, you don't have to pay for the program.
Online TN Real Estate School on Your Schedule
The Aceable Agent Tennessee real estate school offers online courses. So the program is perfect for people who may have other life obligations such as work, taking care of the kids, or going to school for other classes. You can use any type of device that connects to the Internet including your phone, tablet, or PC. You can take the courses at your own pace right in your home.
Aceable Agent Pass Rate Tennessee Real Estate Exam
Potential Tennessee students can feel confident that the program will teach them everything they need to pursue a career in real estate. In fact, Aceable Agent has a 92% national pass rate. This high pass rate illustrates how comprehensive and detailed the course work is for students.
Aceable Agent Tennessee Real Estate Courses
Aceable Agent Tennessee real estate school offers various program course bundles tailored to the student's needs. Not only does this allow you to learn at your own pace, but you also get the program that best fits into your budget.
Basic Course
$244.00 $195.00 as it features the TREC-Approved 90-hour real estate course, instructor support, Lite exam prep with 800+ unique practice questions, and multimedia learning resources.
Deluxe Course
The Deluxe course is $367.00 $275.00. It offers everything that is included in the Basic course offerings along with 1,5000 Deluxe prep practice questions, 75 videos lessons, 70 audio lessons, digital flashcards, and the real estate exam prep book.
Premium Course
The Premium course is $536.00 $375.00 and includes all the materials from both the Basic course as well as the Deluxe course. You also get live webinars 5x a week, a live Q&A every Friday, a 1-hour tutoring session with a real estate professional, and webinar archive access.
Aceable Agent Tennessee Real Estate Course Features
Learn more about the specific program materials you'll gain when signing up to this online real estate school.
TREC-Approved
The TRECT-approved program courses follow all Tennessee Real Estate Commission requirements by offering 90-hour real estate course programs that is requisite in receiving a real estate license in the state.
Lite Exam Prep
The Lite Exam Prep features 800+ unique real estate practice questions to help students memorize the coursework in preparation for the real estate exam.
Instructor Support
Real estate experts provide instructor support as you are able to email the experts at any time for help with the program.
Multimedia Learning Experience
The Aceable Agent Tennessee real estate school features videos, interactive games, and infographics that are designed to help you better learn the real estate information.
Videos, Audio Lessons, & Digital Flashcards
You gain 75 videos, 70 audio lessons, and digital flashcards that make the real estate concepts fun and engaging so you better retain the information.
Deluxe Real Estate Exam Prep
The Deluxe real estate exam prep offers 1,500+ unique practice test questions to prepare you on what may be found on the real estate license exam.
Real Estate Exam Prep E-Book
This exam prep e-book has over 100 pages of real estate concepts that you can read on any device in your home.
Private Tutoring with a Real Estate Expert
You receive private tutoring sessions with a real estate expert to go over specific topics based on your home and work schedule.
Live Webinars 5X Week
Tune in with hundreds of other pre-license students to discuss the nine core real estate concepts in sessions that are conducted 5 times a week.
Webinar Archive Access
You gain access to an extensive webinar archive that allows you to view hundreds of hours of educational videos whenever you need them.
Live Q&A
Tune in to Facebook Friday where a webinar host takes questions from all over social media and provides answers to them to students during a live session.
Aceable Agent Tennessee Real Estate Exam Answers
Is Aceable Agent the Best Tennessee Real Estate School?
From what I gather, Aceable Agent offers everything that a student needs to pursue a real estate license. The course offers extensive materials and access the real estate experts. It also offers students a return policy if they don't pass the course
Is Aceable Agent Accredited in Tennessee?
Yes. The school follows the guidelines established by the Tennessee Real Estate Commission for TREC-approved coursework.
How Much Does Aceable Agent Tennessee Licensing Course Cost?
I noticed that the school offers three different programs with varying prices. You may sign up for the Basic course at $195.00, the Deluxe course at $275.00, or the Premium course at $375.00.
Is Aceable Agent the Best Real Estate School in Tennessee?
One of the great things that I found during my review of the school is that it offers a pass or don't pay policy if the student fails to gain their real estate license after taking the program. Aceable Agent also has a 92% national passing rate for students and a 4.9/5 review rating along with thousands of positive reviews.
How Long Does It Take to Finish Aceable Agent Tennessee Real Estate?
There is no set time frame because students learn at their own pace. So you can take as much time as you need if you plan to take the program course part-time while working or taking care of family obligations.
How Many Chapters in Aceable Agent Tennessee Real Estate Course?
The program features 90-hours of education with over 100 pages in the real estate exam prep book. The online course features the Tennessee real estate principles as well as the Tennessee course for new affiliates.
How to Sign Up for Aceable Agent in Tennessee
Sign up for the Aceable Agent Tennessee Real Estate school is simple. Visit the Aceable Agent Tennessee page, choose the course that's right for you, and follow the steps to become registered in just a few minutes!