AceableAgent claims to be the fastest way for students to get or renew their real estate license online. Their courses have several features, including interactive video, compatibility with mobile and tablet devices, high passing rates, and a money-back guarantee. Sounds very promising, but is AceableAgent the right course for you?
Courses aren't cheap, so you'll want to do your research before you sign up for one. You'll need to decide what's most important to you. Does the course have to be online and flexible, or do you need a structured classroom setting with live instructor? Does video help you learn better, or do you learn by reading?
There's many options and features to consider, and we'll cover them all here.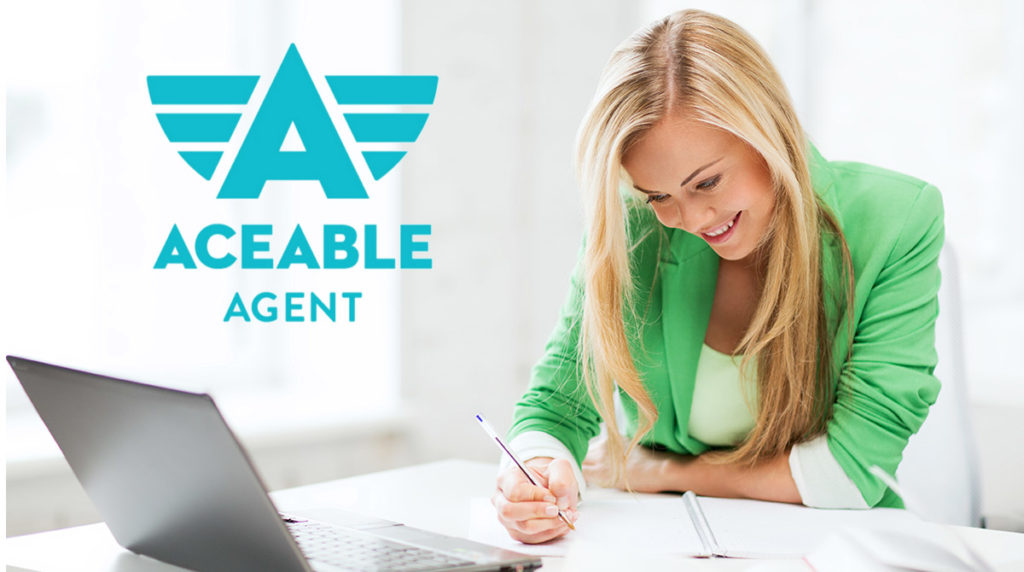 AceableAgent User Rating Average
Seeing if AceableAgent is right for other people might help you decide if it's right for you. Even though AceableAgent is relatively new to real estate education we found over 1,500 reviews from trusted sites and app stores.
AceableAgent Online Reviews

4.87/5 AceableAgent Average Rating
11888 Total Reviews
Trustpilot: 4.9/5 (5140 Reviews)
Google: 4.4/5 (259 Reviews)
Facebook: 4.4/5 (45 Reviews)
Apple App Store: 4.9/5 (6,000+ Reviews)
Android App Store: 4.4/5 (444 Reviews)
What Positive Reviews Said About AceableAgent.
First, let's talk about the good. AceableAgent has an impressive 4.8 out 5 star rating average from all review sources. Its lowest rating is 4.1 stars in Google with 15 reviews, which is still pretty good.
The following positive comments were common reasons people gave for leaving a high rating for AceableAgent Real Estate Courses.
Courses were easy to follow.
Course content was fresh and engaging.
Best videos available.
Some comments thought the price was very reasonable.
One of the most positive reviews from a Trustpilot user "Russell M." mentioned that AceableAgent "Above All. Outstanding, Top Notch. The Best!" and "Their support staff is the best".
What Negative Reviews Said About AceableAgent
No real estate school is perfect, and AceableAgent does have its warts. while there weren't many complaints, some users did have issues. The following problems were mentioned up by some of the lower rated, negative reviews.
Limited availability. As of January 2022, certified in 13 states.
(If your state isn't mentioned below check back soon. I spoke with an employee who assured me AceableAgent is preparing courses for more states and they're working on getting certified.)
Sometimes wording and grammar can be confusing.
There were some errors with the information, especially sections about Government FHA loans.
A few users found that it took longer than they thought it would to complete the course.
One user found that questions and answers had information that was not correct, then had trouble contacting AceableAgent to get it fixed.
It's easy to understand that you want to be 100% sure the school you choose is the right one for you. Unfortunately there is no pre-certification courses that have zero issues. Lead Agent has reviewed several online real estate schools. The complaints found with AceableAgent are actually pretty common.
Reviews not enough for you to make up your mind about AceableAgent?
Don't worry, Lead Agent has done its homework. Read more below about:
State test passing rates
Pricing
Instructors
Video
…and their money back pass guarantee.
Find AceableAgent Courses In Your State:
Why You Should Be Excited About AceableAgent
AceableAgent earned a reputation for building a remarkable education product for online driving courses. As a result, they have had a remarkably easy time raising capital from investors. Instead of lining the pockets of executives, the funding has been used to develop their courses for online real estate license training. AceableAgent has already demonstrated early success, so expanding into more states is only a matter of time.
Now AceableAgent is bringing their proven coursework model to real estate license training. If they are able to replicate the same level of quality of their defensive driving courses it's possible they will set a new bar in the industry.
Why AceableAgent?
Nearly every online real estate school has been around longer than Aceable, but many have done a poor job of updating their course material. Formats are limited, don't work on all devices, and several lack video. Ones that did add video to their course just made a narrated version of their textbooks.
AceableAgent has engaging video courses, works on mobile phones and tablets, and has graphics, animations, and rich content in addition to text. This is a much needed shot in the arm for the online real estate training industry that has lacked innovation for years.
Find AceableAgent Courses In Your State:
Is AceableAgent Right For Me?
If you've read this far it's a safe bet to say you're serious about real estate. The following information will help you find availability, pricing, passing rate, and more to help you decide if AceableAgent is the right choice for you.
Availability In Your State
The first thing you need to know is whether or not AceableAgent is available in your state. Pricing, passing rates, and customer service doesn't really matter if there isn't a course that's certified in your state. Currently, AceableAgent is available in the following states.
Arizona – Just Released, Pass Rate Not Available
The pre-license course for Arizona is an ADRE approved curriculum that covers the full 90 hours required. Complete courses at your own pace a tablet or computer. Get extra prep work study guides, digital flash cards and video. Take the first step now for $529.00 $419.00.
California – 92% Pass Rate
The AceableAgent online course for California is a 135 hour curriculum approved by the DRE. In addition to the self-paced PDF format, you'll also receive instructor support and a 30 day money back guarantee. Try risk free today for $149.00 $119.00.
Colorado – 92% Pass Rate
Get everything you need to meet the CREC approved requirements to become a Colorado real estate broker. The 168 hour course has everything you need, including supplementary exam prep to help you pass. Learn more here, starting at $369.00 $295.00.
Florida – 96% Pass Rate
The AceableAgent Florida real estate online course lets you get your license at your own pace, on any device. The course is 100% approved by the FREC, and your final exam is conveniently proctored online. Pass or don't pay – Start today for $129.00 $116.00.
Georgia – 84% Pass Rate
The AceableAgent license curriculum is approved by Georgia and covers everything you need to meet the education requirement of 75 hours. This includes a proctored test and sending AMP the proof of course completion. Start today for $279.00 $251.00.
Michigan – 76% Pass Rate
AceableAgent is a licensed LARA real estate school. Their course covers the 40 hours of mandatory education you'll need to get your Michigan real estate license. You can sign up today for $199.00 $158.00.
New York – 94% Pass Rate
The Aceable premium course package is accredited by The NYS Board of Real Estate. It has 75 hours of the education required by NY for you to earn your real estate license. Sign up today for $269.00 $215.00.
North Carolina – 94% Pass Rate
Aceable is a NCREC approved real estate school. Their online course provides 75 hours of essential lessons and exam prep to help you get a North Carolina real estate license. Sign up here for $594.00 $475.00.
Pennsylvania – 92% Pass Rate
Aceable provides everything you'll need to meet the requirements for the state with their Pennsylvania approved curriculum. The 75 hour course includes both Real Estate Fundamentals and Practice, as well as a proctored test. Start here for $289.00 $231.00.
South Carolina – 92% Pass Rate
The AceableAgent online South Carolina real estate course helps you get your license faster and easier. The 90-hour course is approved by the SC LLR, learn at your own pace on any device. Pass or don't pay – Sign up today! $569.00 $455.00.
Tennessee – 92% Pass Rate
The AceableAgent Tennessee real estate online course lets you get your license at your own pace, on any device. The course is 100% approved by the TREC and like all Aceable courses, Pass or you don't pay – Get started today for $244.00 $195.00.
Texas – 77% Pass Rate
Aceable Agent is based out of Austin, so it only makes sense that their first course would be for Texas. Their course package is TREC accredited and the 180 hour of class time will prepare you to get a Texas real estate license. Get started today for $529.00 $419.00.
Virginia – 92% Pass Rate
Aceable is a Virginia board approved real estate school. They offer a premium package course that has all 60 hours of the Principles & Practices of Real Estate required by Virginia to receive your salesperson license. Sign up here for $169.00 $135.00.
Washington – Just Released, Pass Rate Not Available
The 90 hour real estate course for Washington is an WA DOL approved curriculum that covers everything you need to learn. Finish courses at your own pace a tablet or computer. Endorsed by top-producing KW agents. Take the first step now for $269.00 $215.00.
Why are the prices so different? Every state requires different minimum hours of pre-licensing. Longer courses require more work to develop, create video content, and proofread. Long story short, more course hours = more money to make.
Find AceableAgent Courses In Your State:
AceableAgent Prices
AceableAgent offers more than just Pre-License Exam Courses. Continuing Education Bundles and Individual Courses designed for real estate agents to develop professionally are also available. All of the courses available are listed below with their current prices.
Pre-License Exam Courses
Continuing Education Course Bundles
New York Real Estate Salesperson CE Package: $29.00
Texas Agent Bundle: $89.00
Texas Legal Update Bundle: $45.00
Professional Development Training Courses
Million Dollar Real Estate Team: $99.00
Proven Path: $197.00
Listing Appointments $79.00
Be the Neighborhood Expert: A Video Course with Jason Edwards $247.00
92% National Pass Rate
When I originally posted this review in 2019 Aceable was brand new to Real Estate. Finding information for passing rates of each exam was difficult to find. Now, 3 years later, there is passing rate information for nearly all the states that courses are offered in. Arizona and Washington are the only two states I don't have the rates for. However, I do have the passing rates for the following pre-license courses:
California 92% Pre-License Pass Rate
Colorado 92% Pre-License Pass Rate
Florida 96% Pre-License Pass Rate
Georgia 84% Pre-License Pass Rate
Michigan 76% Pre-License Pass Rate
New York 94% Pre-License Pass Rate
North Carolina 94% Pre-License Pass Rate
Pennsylvania 92% Pre-License Pass Rate
South Carolina 92% Pre-License Pass Rate
Tennessee 92% Pre-License Pass Rate
Texas 77% Pre-License Pass Rate
Virginia 92% Pre-License Pass Rate
AceableAgent actually has the highest pass rate of all schools with a significant amount of students – 92%. There were 3 schools with 100% pass rate, but of these schools the largest enrollment was 4 students. Not really significant enough for comparison.
I believe it's safe to say that AceableAgent real estate training courses have delivered some impressive results in a short period of time.
Instructor Assistance
Since my initial review AceableAgent has done a great job of building a great team of master instructors who are all experienced industry professionals. These instructors are available to all students 7 days a week by email. Students also receive support from career mentors that can help you understand the licensing process for your state.
Video Training
Online real estate license schools have been slow to adopt videos. Mostly because of the time and expense to properly make them. AceableAgent has video training available for their courses. Numerous users have commented in reviews how well done they are, informative, and at times even humorous.
Device Compatibility
Most Online Real Estate Training Courses have adapted their programs to work with tablet and mobile devices. AceableAgent is one of the first real estate course providers to build their courses for all devices from the ground up. If you're type of person who is on the go and needs to move from to device to device AceableAgent is probably the right choice for you.
Ace The Test Guarantee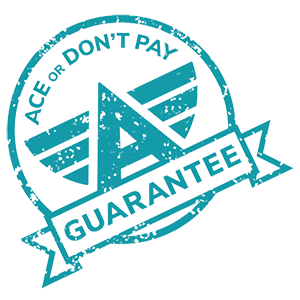 The AceableAgent support pages have the "Ace The Test Guarantee". If you take the state exam 3 times and don't pass, they'll refund your money. There are 3 requirements to be eligible for a full refund.
All AceableAgent courses and the Ultimate Exam Prep must be completed.
You have to score a minimum of an 85% on at least 1 practice test from Exam Prep.
All 3 attempts at taking the state exam must be within 90 days of finishing the Ultimate Exam Prep course.
Where AceableAgent Needs Improvement
Right now there is no such thing as the "perfect" real estate course. AceableAgent is one of the newer players in the game but has already established itself as a leader in the space. Once AceableAgent has courses available in more states it won't be surprising if they become the hands down favorite. Right now, there is still room for improvement.
Limited State Availability
Easily the biggest issue with AceableAgent's Real Estate Training Program is a lack of availability. At the time this article was published they only offer their real estate courses in 13 states. AceableAgent is adding new courses regularly and we'll be updating this page to reflect that.
Hands On Instructors
UPDATE – When I originally wrote this review in 2019, a lack of support from real instructors and people was a common complaint. It looks like this has been improved. Aceable has added industry veterans and career mentors to help guide students towards earning their real estate license.
Accuracy of Information, Proofreading
It's worth reiterating that there is no course that is perfect right now, but if AceableAgent wants to be the clear-cut industry leader, being at least 99% accurate should be the goal.
Limited Customer Service Hours
A common issue is the lack of after hours phone support. Aceable offers students a telephone line if they need assistance, but the hours are 8:30 – 5:00 M,W,F and 8:30-3:00 T,Th, both CST. For many students who are taking courses in addition to a full time job the lack of real-time support outside business hours may be frustrating.
Is AceableAgent The Best Choice For You?
I can't tell you outright what's best for you. Everyone learns differently, needs different levels of support, and more. I am confident that if you are lucky enough to live in one of the few states that AceableAgent offers online real estate courses, then you can do a lot worst than the course material they offer.
How To Sign Up For AceableAgent
You've researched, compared prices and now you're ready to get started, congratulations! Taking a new step in your career is really exciting.
Getting started is actually pretty easy, it's not much different than starting most online accounts. It will only take you a few minutes, you can click here to get started.
If you want to search by state simply choose one of the available states in the drop down menu below. Finally, good luck!
Find AceableAgent Courses In Your State:
5 Star Reviews From Real AceableAgent Users
You don't have to take my word for it. The reviews below have been aggregated from popular online website, app stores, and more. All reviews are 5 star ratings left from actual AceableAgent students.

Using this program made the process of getting my real estate license quick, simple, and fun. Enjoyed working at my own pace and the guidance this gave. After this program, I felt that the state and national exams were much more obtainable than had I used another program! I felt completely prepared just using their program and nothing else and passed on my first attempt!

ASHLYN PEDERSON

Absolutely loved this program! It was well written and had funny little references that made it even more enjoyable. And the app feature gets a big gold star. Thanks to AceableAgent I passed my exam on the first try!

SHANA MAXWELL

Well done! They have done a great job designing the course to be informative, interesting and easy to learn. Very user friendly. Mixed with humor and tips to help remember important details. Quizzes along the way help you see what you are retaining and where you need work. Videos bring clarity and practical application of concepts. Would definitely recommend!!

LUCY CHARLIE

I have nothing but good things to say. Was uncertain at first what online school I was going to go with. After alot of research decided to go with the new kids on the block. Super glad I did. The coarses are Very interactive, easy to understand, very well put together even super funny at times. Also has one of the highest state exam passer ratings. I would beyond recommend these online classes to anyone.

JUSTIN CLARK

Love AceableAgent. It makes learning easy and fun. The content varies between text, videos, questions to ensure your picking things up and end of section tests to make sure you grasped the key points. Lots of repetition of the key points which I love. Glad I chose this course over the others out there.

ADELE BROWN

Passed first time no issues. Great online school with the ability to work at your own pace. Some of the modules are long but it provides clarity to certain concepts.

MARY DOVER

It far surpassed what I thought this course was going to be. All the borning text is broken up by fun videos (that actually teach you something) and they have interactive quiz's and games. If you can't get the concepts from the interactive quizzes, Real Estate is probably not right for you. I'm serious, it forces you to learn the material and it's fun!

BEN CAROLEN

This program has been very easy so far. I am half way through and couldn't be happier. I love doing it at my own pace and that I can work on it from anywhere with my phone. I would pick this over a class room any day

ANGELA SATTER

Great idea! The only thing I would add is an audible edition to the course.

ELIZABETH B HALL

I spoke with a women named Jewly on the phone and she helped me with any questions that I had and the teaching is excellent on all the courses!

BLAKE WILSON

Highly recommend this real estate class. I went through all 6 courses in 4 months. You work at your own pace. Very user friendly and informative. I felt very prepared for the state and national exams. Go over all the practice tests and the ultimate exam prep guide at the end of the course. The most reasonably priced course around. I passed the exams the first try. They have the highest state exam pass rates. Great job AceableAgent!

JUSTIN KENDAL ASH

Highly recommend this online course! Prepared me for all 6 course exams and the National and State Exam (Texas) which I passed the first time!! Great customer service even when the dreaded timer was added but I understand why TREC felt the need to have it. Great material, delivery, functionality and accessibility, 5 ⭐️ !

RASHAD CULVER

Took all my pre-licensing courses here and cannot recommend them enough!

SPENCER BATCHELOR

This app is user friendly and the courses are very informative.

LEAH NORA

This program is so convenient, the app is easy to navigate. I feel it's very thorough and I love the little mini quizzes throughout each chapter

ANGELA RODRIGUEZ

Just finished the course "Be the Neighborhood Expert" by Jason Edwards. Very helpful and engaging. A few aha's and takeaways' Principles of Marketing Plan, Linked In reviews, market to absentee owners and a better way to utilize Just Listed/Just Sold postcards.

TAMMIE SLAY

Curriculum and the ability to be mobile is a high plus! My biggest recommendation for AceableAgent is to get a study guide for each section to pass the test. The information is really good but not easy if you can survive power point slides. The State and National review is very weak I highly recommend using someone else's review material until they fix it. Overall I would not have passed my test in my opinion without taking AceableAgent. I would recommend taking them for the on the go personality.
Thanks AceableAgent for helping me pass on my first try!!!!

BRANDON WATERS

I was only about 1/4 of way through the course when I unexpectedly needed to get a refund due to a relocation from Texas. First off, the course is awesome. The UX design is perfect for anyone who is easily bored with a slide-show type course.. in AceableAgent, you get reviews after each chapter and can utilize your knowledge in random memory games. If I was staying in TX, I definitely would have finished! Highly recommend to anyone who wants the flexibility and needs a different way to learn.

SOPHIE KALANDROS

What a cool platform and fun company! Shakin' up the Real Estate education World!

RENEE MILLER RANGEL

I signed up for AceableAgent to help me hey my Texas Real Estate license. The courses were easy to follow and mostly interesting. Honestly, it's a tough job to make leageleze interesting! Anyway, I passed all six classes in short order. And, as of tonight, I passed my real estate exam! Now I just need to sign on with a broker!
Thanks AceableAgent!

MACK MACHACEK

Even after reading all of the great reviews, I was still a bit skeptical. These days, you really never know. However, Aceable definitely had more consistently good reviews from people like me who are genuinely impressed with their online training course. I have been thoroughly impressed, having done online training many times, with how everything flows and is sectioned-out. My wife is an instructional designer, and even she has been impressed with the training I've shown her. At any rate, this is definitely the most modern and updated course material you'll probably find anywhere. If you're on the fence like I was, don't hesitate or look any further.

DAVID CARROLL

This course was made with millennials in mind!
So at first I was skeptical to try a new company other than Kaplan or Champions BUT this software is super cool! It doesn't feel like a boring class. I'm actually retaining the knowledge because of the quizzes in between the book as well as the software being very 21st century and fun to use. Everything is online and sometimes I use my phone to study! I recommend this school!

ROCHELLE MARIE

Above All. Outstanding, Top Notch. The Best!
The material is great, the company is awesome and the staff is outstanding. It is doubtful that you will find a better way to get your Real Estate license.

The material is presented in such a way that the knowledge sticks in your head. This is obviously beneficial when it comes time to take your tests. Aceable also presents the material in light-hearted and humorous ways to keep it easy going and not so deep or dry. If you like witty or sometimes even dry & intellectual humor, you will enjoy this course.

Speaking of tests… Your tuition with Aceable covers up to 2 proctored tests for each of the 6 units! That's pretty awesome, as I've noticed many of the competitors require you to either pay for your tests each time, or they cut corners and provide their students with low budget testing services. With Aceable's test proctor, test-taking time availability is wide open. I've noticed other companies use the lesser quality testing services offer fewer prime-time slots for their students.

Many complained online that their budget companies are only offered test times in the wee hours of the morning! Imagine only being able to take a unit test between 2:00 and 5:00 in the morning! That's what some of Aceable's competitors offer! You don't have to live like that. AceableAgent is the way to go.

Also, the first pass average (for the wanna-be TX real estate license holder) is somewhere around 45%. At the time I write this review, the following fact is true. For all Real Estate Education Providers that have educated 10 or more students, AceableAgent ranks #1 in Texas with an 86% pass rate! That is phenomenal. What that means for the average person wanting their R.E. license, you will have the best chance of success with AceableAgent!

Their support staff is the best. Literally, every time that I have had a problem, they took care of it – fairly, quickly, cheerfully and professionally. Their staff is always positive and extremely cheery. Every Aceable employee that I've encountered genuinely appears to be happy working there. You will have no doubts about that when you call. But more importantly, they care about their clients and fix their problems.

I recently had an issue that involved a programming change on their part. I was absolutely stunned when I logged back in to continue my course-work and saw that they made the change. Top Notch Unbelievable! I owe them a huge thank you for listening to my input and making the change!

Please pass my thanks onto those that read my previous input, forwarded it up the chain and made the decision to improve the programming variable that I previously presented. I am extremely impressed!.

As a former Sr Exec, I have rarely seen companies exhibit such quality traits as AceableAgent. Trust me, unless you lead your life as the constant, unsatisfiable – Negative Nanny, you will be extremely impressed with this company.

I highly recommend using it to get your real estate license.

I've already gone on long enough in this review so I'll just close with this:

If I could give AceableAgent 7 or 8 stars in this review, I would. Unfortunately, 5 is the limit.

I highly recommend to anybody to use AceableAgent as their Real Estate Education Provider. It's foolish not to.

RUSSELL M.

I've taken numerous online and in class…

I've taken numerous online and in class courses and never had a course as good as this one. The way the material is presented in increments enables you to grasp the concepts throughout the study. I love the facts of the feather feature and the practice tests. They have enabled me to pass both my first two final exams in the 90% range.

Chad and his videos are motivating and I especially liked the "6 yes's". What a great idea. Ace the Robot's humor keeps me laughing and I lost it over the "Texas Pimpleback". (must have been getting a little slap-happy). Great job of educating and I highly recommend this professional course to anyone who is serious about entering the Real Estate Profession.

APRIL CORDELL

I am in Section 6 currently and have not had any issues with the five previous sections. Connectivity has been good throughout the class. The information is presented in an easy to understand format and is repeated in most sections for easy retention.

My exams were a bit challenging due to the English being very broken and hard to understand, but proctor and I were always able to work through it.

KEITH COBURN

So far, everything is running smoothly. I love how things continue to get revisited. If there is a concept you are not understanding, it will be explained in more detail in future lessons. I love that I can work at my own pace

FED G.

The course is easily structured to fit the needs of those who are busy and still want to take the course also its fun learning in the process.

ANTHONY GILL

I really like the way the course flows. It is not boring and the reading and short quizzes at end are very helpful.

CYNTHIA RALEY

I've been in the real estate business for many years and I'm just beginning my career in Texas. Having to start the classes again for a new state's license has been very daunting (especially since I've taught them in the past in other states). I was dreading the classes as I personally know how boring and old school most real estate schools present material.

I was very excited to find that AceableAgent offers a modern classroom experience with an easy to use interface that permits me to jump in and out of the sessions freely via my mobile devices and laptop. The ease of use along with the extremely entertaining presentation is exactly what I needed. Thank you for revolutionizing real estate education.

I hope to see you add more class options as well as certifications so that I never have to go anywhere else for continuing education.

DVNPT