Formerly known as OnCourse Learning, Mbition Real Estate is an online learning platform for people seeking careers in finance and real estate. While their finance offering is excellent, we're going to be focusing on real estate, and one of the best ways to judge any product or service is via online reviews.
Overall, approximately 92% of reviewers recommend the Mbition Real Estate platform. This metric is one of the industry bests (in terms of pursuing a real estate license online), and the well-respected Better Business Bureau grades Mbition to Learn an A+. The key, however, to judging a quality product or service is the number of online reviews coupled with the number of distinct sites the reviews appear on. You can find Mbition to Learn reviews across a multitude of sites across the nation. They are on local, state, and city-specific websites as well as regional and nationwide sites. Tens of thousands have reviewed Mbition Real Estate real estate programs, and the consensus is that it is an exceptional program, through and through.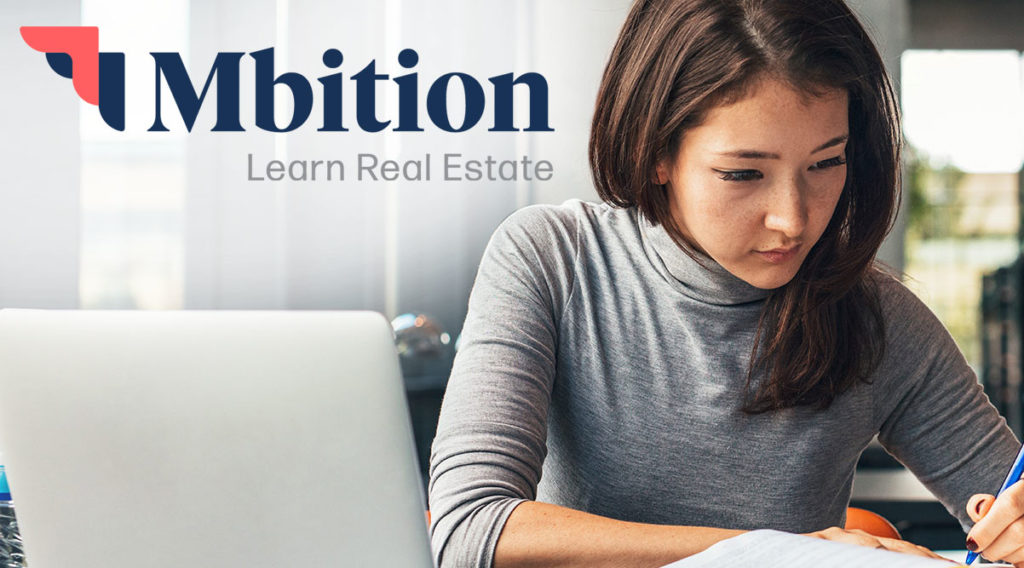 Average User Rating for Mbition Real Estate
Nearly everything in life has its pros and cons. When selecting something, the final decision rests on what you are seeking as an individual. As a result, only you know the things or characteristics that hold value, and real estate schools are no different. Multiple, positive Mbition Real Estate reviews point to flexible class hours, good career preparation, good teachers, and affordability. In terms of the positives, these four items would likely rank high on most people's lists.
Transitioning to the cons, some agreed that the content was a bit dry at times, and the exams were difficult. Ironically enough, a host of people praised the hard exams as useful in preparing them for the state real estate exam. Lastly, another con that popped up frequently was the tracking function on the platform was unfortunately messy and counter-intuitive.
Again, there are positives and negatives to anything. Overall, Mbition to Learn received 4.0 out of 5 stars and a multitude of great comments. Pros and cons are useful to analyze, but cons on their own should not be a deal-breaker.
Mbition to Learn Online Reviews (Formerly OnCourse Learning)

4/5 Mbition to Learn Average Rating
147 Total Reviews Online
Mbition Real Estate Preview
Determining The Quality of Online Real Estate License Schools
A common mistake that many make when first entering into the online education arena is comparing it directly with traditional, in-person classes. There are no "in-person" instructors, just as there are no specific times you will need to be in class. So comparing these two to understand the quality of an online real estate program does not apply. Instead, focusing on the materials, the quality of the instruction, and how quizzes and tests are given are areas worth investigating.
Many online schools, unfortunately, do not update their materials all that frequently. License exams might be outdated, and because real estate is such a dynamic career with many moving parts, staying up to date on industry trends and requisites is challenging.
The quality of video instruction is another area to compare across schools. You will see vast differences sometimes, and this is something to keep an eye on. If you are expected to learn from a video, having a teacher who is boring, or graphics, and imagery that is uninspiring and does little to add to the learning process are big red flags.
And lastly, how quizzes and tests are given is essential. The beauty of online learning is quizzes and tests can be applied in a much more dynamic manner. But unfortunately, many online schools rely on the standard text-only documents that are quickly going out of fashion.
Mbition to Learn has tackled these three issues head-on. As a result, they recognize that their reputation depends on them constantly innovating, remaining up-to-date, and delivering a cutting-edge, educational product that exceeds the industry standard.
Is Mbition to Learn Right For You?
While Mbition Real Estate is one of the larger online real estate schools in the US, it is unfortunately not present in every state. The first thing to consider is what state you want to practice in and whether Mbition Real Estate offers a licensing program there.
Second is your learning style. Online learning is exceptional for many people due to several factors. However, one of those critical factors is discipline. If you are self-motivated and don't require a teacher breathing down your neck to wrap up a project or prep for a test, online learning is a good option. If, however, you need those extra pushes, you might want to reconsider in-class learning.
State Course Availability
The best way to find whether Mbition to Learn is available in your state is by perusing the following state offers. Each state is listed alphabetically below with the requisite information concerning Mbition Real Estate licensing (per that specific state), plus some attractive offers solely for readers of this site. This is the most complete list you will find and a go-to resource for jumpstarting your real estate career with Mbition Real Estate.
Alabama
Mbition Real Estate packages have everything you need to kick-start your career in real estate, all mandatory Alabama real estate license classes are included. Sign up today for $299.00.
Arkansas
Complete the full 60 hours of pre-license training for Arkansas with Mbition Real Estate packages. Everything you need to fulfill the 60 hours required by AREC. Sign up today for $368.00.
California
Mbition is accredited by the CA DRE to offer the three 45-hour courses (135 total hours) needed for all potential licensed real estate agents. Sign up today for $129.00 $83.85.
Colorado
Mbition to Learn is licensed real estate school with the Colorado Division of Real Estate. Their classes meet the full 168 hours of required education you'll need to get your real estate license in CO. Sign up today for $499.00.
Florida
All FL real estate courses offered by Mbition Real Estate contain everything you need to start your career, including all 63 hours of pre-licensing material required by the Florida DBPR. Sign up today for $129.00.
Georgia
The new license curriculum offered by Mbition Real Estate is approved by GA and covers everything required for you to meet the needed 75 education hours set by the Georgia Real Estate Commission GREC. Sign up today for $239.00 $155.35.
Hawaii
Everything you'll need to meet the requirements for the Hawaii approved curriculum is provided by Mbition Real Estate. The course is 60 total hours and meets the mandatory requirements of the DCCA. Sign up today for $375.00 $243.75.
Iowa
The Mbition Real Estate packages are accredited by the Iowa PLB. It has 60 hours of the education required by IA for you to get the real estate license you need to be a salesperson. Sign up today for $309.00.
Louisiana
The Mbition curriculum is approved in Louisiana to help you meet all the requirements to get your license. Sign up today for $259.00.
Michigan
Mbition Real Estate is a licensed LARA real estate school. The courses offered cover the mandatory 40 hours of education needed to get your Michigan real estate license. Sign up today for $209.00 $135.85.
Mississippi
The Mississippi Real Estate Commission, or MREC, has approved Mbition to provide students with the 60 hours of state required education for students to be licensed in MS. Sign up today for $199.00.
Missouri
The 72 hour course covers all the required education mandated by the Missouri Division of Professional Registration. Mbition is a licensed MO school. Sign up today for $229.00.
New York
The Mbition Real Estate real estate education is approved by The NYS Board of Real Estate. It has 75 hours of the education needed by New York for you to receive a real estate license. Sign up today for $229.99.
North Carolina
The North Carolina Mbition course package provides students with the required 75 hours of quality content, including quizzes, videos, and assessments to help you gain the knowledge you need to pass the NC State exam. Get started today for $355.00 $230.75.
Oregon
The 150 hour course for Oregon will give you everything you need fulfill the education requirements and pass the exam. Includes online courses, instructor and technical support, exam prep toolkit. Enroll now for $429.00.
Pennsylvania
The Real Estate Fundamentals and Practice are both included in Mbition Real Estate's 75 hour Pennsylvania course. Mbition will provide you with everything you need to get your license to practice real estate in PA. Sign up today for $399.00.
Tennessee
Mbition course packages have everything you need to launch your real estate career, including all required Tennessee real estate license classes. Get instructor support, mathmaster tools, and 5 star customer and technical support. Enroll today – $309.00.
Texas
All course packages are approved by TREC, and provides the 180 hours of Texas real estate classes need to get your license. Instructor and technical support is always available so you're never on your own. Sign up today for $489.00 $317.85.
Virginia
Mbition Real Estate has 3 real estate packages to choose from that approved by the VA Real Estate Board. You'll get the full 60 hours of education, including the Principles and Practices of Real Estate that VA requires to get a license. Sign up today for $210.00
Washington
The Washington real estate courses provide you with everything you need to fulfill the WA DOL requirement of 90 hours. Get the fundamentals and practice courses, instructor support, and exam prep toolkit. Enroll today for $229.00.
Wisconsin
Jump start your real estate career with an online education packages from Mbition Real Estate. Get everything you need to meet the 72 hours of class requirements to get a Wisconsin real estate license. Sign up today for $309.00.
Instructor Support
Instructor support at Mbition was generally reviewed quite high. Instructors were rated as "top-notch, very professional, and natural teachers" by many reviewers. Mbition appears to spend a lot of time researching potential faculty and onboarding new faculty in a very detailed and thoughtful manner.
Some reviews pointed to a desire by students for more instructor interaction. This can be tricky with online schools because there is no "normal classroom environment." But despite this, students did call for more one-to-one time with instructors on multiple occasions.
Mbition to Learn Real Estate Video Training
An area where Mbition Real Estate really excelled was with the quality of their video training content. Yet it wasn't merely the content; it was the entire package – the graphics, production quality, and the pace at which teachers presented the material. Moreover, the videos allowed for pauses in the lectures so students could better absorb the information.
Making a quality training video is hard work. Mbition reviewers seemed to understand this and praised the school accordingly. They also enjoyed the variety of the videos and that there was no "cookie-cutter format" followed.
Tablet & Mobile Device Support
Mbition to Learn is transparent on its website, stating that "course functionality may not work on all tablets and mobile devices." However, there were not many online reviewers that openly disliked this aspect of the school. This is likely because most online students still connect from a laptop or desktop computer.
With that said, as tablets increase their processing power and functionality in terms of external keyboards and other accessories, integrating with tablet use will be vital moving forward. Eventually, this will likely occur with mobile devices as well.
Mbition Real Estate Pass Guarantee
Mbition Real Estate is so sure confident you'll pass the state exam on the first try that they've literally put their money where their mouth is. The pass guarantee program stipulates that if you do not pass the state exam on the first try (and you had achieved a score of at least 80% on the in-course exams and the study plan progress), InCourse will refund the state licensing fee.
The reviews were not overly congratulatory on this point. Many liked the guarantee, but it did not appear to sway anyone from attending Mbition as opposed to another school. It is a nice value-added.
Mbition Real Estate Program Pricing
Affordability is paramount with most things. Nobody wants to pay more than they need to for a product or service. Online school, like regular school, has its fees. In terms of affordability, roughly 45 reviews mentioned Mbition was reasonably priced compared to similar schools. This is a decent sampling, and across the greater online schooling arena, Mbition ranks among the more affordable options.
Another plus with Mbition is flexible pricing plans. If you are not able to pay the full amount for one reason, Mbition will work with individual students to arrive at a solution.
Courses for New Real Estate Licenses
What Is The Best Program For You?
Mbition Real Estate offers three levels of courses, and students choose from Real Estate, Appraisal, or Home Inspection. First-time students focus on one of these while many return for a second or even a third course. All three are excellent courses that together add value to any career in real estate, no matter your focus.
Understanding how a home is appraised, for example, is essential when representing a buyer or seller in a potential sale. Home inspection is also a critical part of the buying and selling process and can either reveal some unfortunate or fortunate surprises that will affect the market value of the home.
How To Sign Up For Mbition Real Estate
To get started, the first thing to do is to choose your state from the Mbition to Learn website. Next, choose between Real Estate, Appraisal, or Home Inspection. A drop-down menu will appear with the prices, any relevant promo packages that might be applied, and the requirements for that level.
Depending on the level, there are a series of pre-requirements to check off, and then there are the courses required to become licensed in that specific area (Real Estate, Appraisal, or Home Inspection). Each level is different, and the estimated time to complete the program also varies.
What To Expect From Mbition Real Estate
Mbition Real Estate is a leader in the real estate arena. While online school is indeed different from traditional, in-class school, you can expect rigorous coursework, an engaging faculty base, space to interact and exchange ideas with peers, and career advice support moving forward.
This is an exciting next step and one that should be lucrative for all graduates entering into the real estate field. But do take advantage of all Mbition Real Estate has to offer. Outside of the classwork, there are other features and services the school provides, so please make the most of it!
Areas That Need Improvement
Every great product or service still has some areas they need to improve on. If we were all perfect, then what's the use in trying to get better!
Mbition to Learn is a great school. However, there are three areas that surfaced that the school recognizes it can improve. The good news is people are providing constructive criticism, free of aggression, but rather the desire that the school considers them and think about future generations moving forward.
Too Many Quizzes
Few people enjoy taking quizzes. But this doesn't mean they don't have good intentions. Many Mbition Real Estate reviewers agreed with this position, however, and found the program had an excessive amount of quizzes. In line with the quantity, there were also complaints concerning the minimum score needed on a quiz before being allowed to advance.
This might be a valid complaint for some, but again, a plus for others. Some folks might not like quizzes, but do appreciate them to keep them studying and plugged in with the course.
Inability to Ask Questions
Mbition is not alone with this critique. This is perhaps the number one negative people point to with online learning. While Mbition has made great strides in this area, connecting students to faculty in a more interactive manner remains a sticking point.
Some schools, Mbition included, have experimented with faculty/student virtual rooms where interaction is more fluid and organic. More than one reviewer found this issue to be frustrating and would like to see more energy placed in remedying the lack of one-to-one interaction and its barrier to the typical question/answer format.
Lack of Mathematic Sections
Real estate is a career driven through interpersonal relationships. Good relationships equate to trust, and eventually, the purchase or sale of a home. However, in line with relationships is the mathematics behind the physical sale and purchase of properties.
A handful of reviewers would like to have had more mathematics courses directly related to the finances behind the sale and purchase of a home. These are critical areas, but areas where apparently Mbition still has some work to do.
Is Mbition Real Estate Real Estate Programs The Best Choice For You?
Learning online is not "having your cake and getting to eat it too." Many assume that you can simply roll out of bed, keep the pajamas on, connect on your iPad, and next thing you know, you're earning six-figures selling homes. Nothing could be further from the truth.
Yes, you will be able to connect according to your schedule. And yes, you could attend in your pajamas. But seasoned online instructors recommend attending online classes in the same way you would participate in in-person classes. Structured times for attendance, study, and study groups is highly recommended, as is a quiet place to connect and do your work. Attending courses in your bed or on the subway on the way to a dentist appointment is not the idea. Self-motivation is key to success here, so if you have it, then Mbition Real Estate is the school for you.
5 Star Real Estate Express Reviews From Users
The following are real users that completed Mbition Real Estate successfully and submitted a 5 star review.

Mbition Real Estate has a terrific program with easy to follow courses. Each course has a test at the end which helps you now what information you need to study and it ensures you are soaking in the info. Highly recommend!

Indeed.com User

Flexible training allowing time to absorb and think about the materials. Also, the training was very applicable to my jobs as a caregiver and memory care provider. It was also presented in a very interesting manner.

Indeed.com User

Log on to the website training on my computer and read presentation slides all day. Also read the book and take test on the computer all day into each specific category. I learned how much studying can pay off and help you so much for your future. The hardest part were failing the test which you have to receive a score of 80 percent or more; 79 percent will not pass. I enjoyed actually taking the course two times and it all worked out.

Indeed.com User

Good info! The courses were pretty straight forward. Really dedicate time to do the work and study. The test exams are great and get you ready for the state exam

Indeed.com User

This training taught me how to accomplish goals retain clients and customers. It taught legalities, client retention, residential and commercial properties, exchanges, investments and networking.

Indeed.com User

Best training I ever had I learned a lot about customer service and clients. Learned a lot about mortgage and loans. Federal and state programs. Conducted mock offers and interview fellow students about wants and needs in desired home business or vacation rentals.

Indeed.com User

The best thing about using this tool is that you can learn from other people's experiences to avoid leadership failures and management errors. These are things that are often overlooked and do not complement the formal study and development, this will take you in the right direction.

G2.com User