Real estate is like any other career. The majority of the successful folks put time and dedication into their craft. They study not only market conditions, but also form fruitful working and personal relations with clients.
Before choosing a real estate school, it is essential to get feedback on the institution. The beauty of online real estate schools is everything from their content to reviews from current and previous students is easily located. However, don't judge a school by a handful of bad reviews. If they aren't all glowing, that's completely normal. But do look for patterns.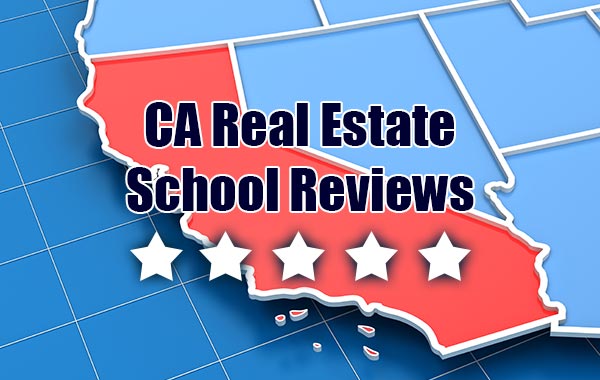 Before jumping into a California online real estate program, you must be at least 18 years of age. You also need to be a citizen of the US and pass a background and fingerprinting check. From there, you are off to the races, and an exciting new career awaits.
4 Great Tips for Online School Success
Just because your classes are online doesn't mean you can eat ice-cream, and watch videos on your iPad all at the same time. Online schooling requires discipline. When you're online, it's just you and the material. As such, we're going to review some tips for online school success.
1. Treat Studying Like A Job – Studying is as important as work, if not more so. A career rests on new skills and abilities, and seriously learning them is crucial. Make a daily schedule and stick to it. Also, if you are thinking about connecting for 3 hours per day, make sure it is the same 3 hours every day. Treat this new venture like a job, and be on time every day.
2. Eliminate Distractions – Eliminating distractions is one of the most challenging things to do with online learning. While it might be tempting to set up your workspace on the couch, or outside near the pool. The problem with this plan, however, is on a summer day that pool will invariably draw you in. The same can occur inside. The couch could become infested with pets or kids. Pick a spot that's quiet and free of distractions.
3. Take Notes – Taking notes didn't end when you graduated high school. Folks engage in this throughout life, so get used to it and embrace them. Watching a video and taking notes is distinct from being in a classroom. Don't be afraid to divide the video into portions. You can stop and start, so if you miss something while attempting to take notes, you can always come back to it.
4. Connect with Others – And finally, connect with others. Just because you are in a virtual classroom does not mean you shouldn't connect with fellow students away from the courses. Online portals are common, where students post discussion questions and comments, and interaction occurs. Some schools also encourage students to form chat rooms outside of school to progress with homework or similar classwork.
Assessing California Real Estate Schools Online Reviews
One of the most significant barriers to purchasing anything is a lack of information. The seller will always tout their product or service as "best in class." If they didn't, they likely wouldn't be in business.
California Real Estate Schools Online Reviews

4.83/5 Average Rating of California Schools
12803 Total Reviews
When reviewing online reviews, it's important to keep in mind that a reputable school will have good and bad reviews. If an institution claims a 100% satisfactory score, something is off. This isn't to say that a school shouldn't have good rankings. However, even the best institutions will have more than a handful of 4-star and 3-star reviews, and also 2 and 1-star.
Second, filter for the 2 and 1-star reviews. You will quickly notice if they are "legitimate" reviews. If the grammar is poor or the commentary is not constructive, these are red flags and said reviews are likely not legitimate.
And finally, there could be frauds on the extreme positive side of reviews. If a school has 50 straight 5-star reviews where each review either says the same thing or the commentaries are very brief, these might be fabricated reviews. Look for good reviews where the reviewers have real, thoughtful analysis.
Getting Online Reviews for California Real Estate School from Several Sources
Now that you've decided to enroll in a California online real estate school, make it a good one!
Top 3 California Online Real Estate Schools
The following three online schools (in no particular order) are at the top of their game. They are all excellent choices and have their strengths and weaknesses, but have been exceptional performers year-in- and year-out.
---


4.87/5 Rating (11888 Reviews)
AceableAgent is known for a lot of things, but their calling card is they are the fastest route to getting a California real estate license online. With nearly 100% of 5-star ratings, the pros of AceableAgent are the fresh content, the ease of the courses, video quality, and the price.
Those with negative comments mentioned the grammar and wording on the site could sometimes be confusing, and there were some errors when it came to the sections on government FHA loans.
Nearly 92% of California students end up passing and earning a real estate license with AceableAgent, and the quantity of courses is also a strong point.
---


4.4/5 Rating (768 Reviews)
Colibri Real Estate has been around the proverbial clock. One of the reasons folks opt for Colibri Real Estate is the instructor assistance. They're available by email, and some even by phone.
Online reviewers also enjoyed the exam prep master. This helps students prepare for the test, featuring an array of tips and tricks. Another student praised the flexibility of Colibri Real Estate. They did a good job of fitting the content into her schedule, and according to her pace.
An area that did not perform as well was the student forum, where questions are posed, and faculty or other students answer. The problem here, according to some, is the virtual room was nearly empty. There wasn't much interaction, and that led to even less engagement.
---


4/5 Rating (147 Reviews)
Mbition (formerly OnCourse Learning) is an online monster. The site offers a mind-boggling 7,000 plus courses and nearly 14,000 hours of academic content. Everything from sales to financial services, and yes, even real estate.
Mbition positive reviews are related to the platform's affordability and flexibility. Affordability is a big plus, and frankly something everyone is looking for, regardless of the program. Flexibility is an advantage for the industry as a whole. But, Mbition appears to receive more positive reviews here compared to other schools.
On the negative side, some folks had issues with the school's customer service department. A handful of people either did not like the program or had to exit due to outside circumstances. The customer service response was not the best.
---
What To Do After You're Done Online California Real Estate School
After you have completed the online course, you will apply for your California real estate license. If you do not pass the first time, you may retake the final exam. It is important to note that eventual success after the California real estate course depends on the mentor broker you have chosen as well as the professional relationships you develop in the field.
Real estate is a career that can be as lucrative as you like. An online school will prepare you to succeed, but the real work after that is up to you.