Virginia has it all. The countryside is breath-taking, and with southern Virginia bordering North Carolina, Tennessee, and Kentucky, the entire landscape is something out of a fairytale. Virginia homes are spectacular, and the nature that surrounds them is priceless. Moving north and cities like Alexandria, Falls Church, and Arlington are home to people and families working in our nation's capital. This is some of the most expensive real estate in the US and an agent's dream destination.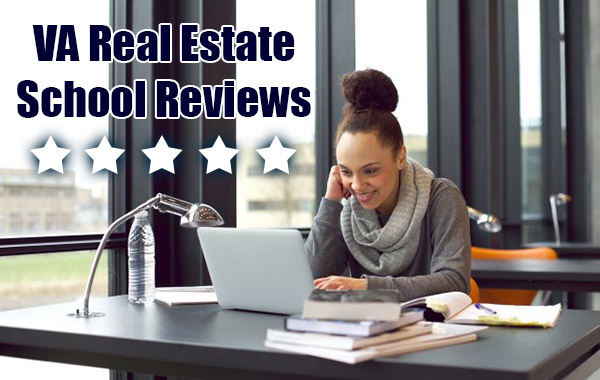 Online real estate schools in Virginia prepare budding agents to work in a market where earning six-figures is an achievable reality. Home prices are well into the seven figures, and people from around the globe flock to Virginia due to its cosmopolitan make-up and natural beauty. Picking the right online school for a career in real estate is fundamental. But before that, we're going to review some surefire tips to ensure you have a successful online schooling experience.
4 Surefire Tips for Online School Success
Online schooling surely isn't a typical classroom setting. Many times that setting is your living room, a kitchen table, a home office if you're lucky, or even a patio table near the pool. But before setting up a shop, consider the following four tips.
1. Have Dedicated Study Blocks – Some folks can count on a quiet patio or a tranquil living room. If you live with one other person or alone, this is indeed possible. Yet, for others, family life takes hold, and the home can be a chaotic place, full of distractions around every corner. No matter your situation, you'll need to define when your study blocks are. Carve out a quiet space, reach an agreement with the family, and dedicate weekly, uninterrupted (the keyword) study blocks.
2. Break Down Tasks – Committing to an online school adds more tasks to an already full plate. We're all busy, and because you now have more responsibilities, it does not mean you won't have the time to handle them. Instead, break the tasks into manageable chunks. It will be easier to manage your time and get through the program successfully by breaking down tasks.
3. Take Breaks – Just because you are cruising 3 hours into a study session and feel great, doesn't mean you shouldn't take a 30-minute breather to rest your head and get some fresh air. Online courses can feel never-ending because they are all on our schedule. You can theoretically keep going, class after class until you pass out. The problem is this isn't healthy, and your capacity to absorb the information diminishes. Taking breaks is healthy, so be healthy.
4. Beat Deadlines – There is nothing worse in life than a looming deadline. When something is due, it nags at you. You can't even enjoy the other things in life because you know you should be addressing that looming deadline. But, this is an easy fix – beat the deadline! Deadlines can be beaten. To do so you need to place another deadline in front of the real one. If something is due on Tuesday, bump it up to Monday on the calendar. Get in the habit of beating deadlines, so they don't end up killing you.
Judging Virginia Real Estate Schools Online Reviews
If your mother, best friend, cousin, and the guy that delivers your milk all recommended something, you'd likely buy it. That's how online reviews work. Granted, reviewers aren't all personal connections, but if you read enough (fabulous or not) about something, you'll come away with an informed decision.
Virginia Real Estate Schools Online Reviews

4.83/5 Average Rating of Virginia Schools
12803 Total Reviews
While the example above is true, the problem with online reviews is knowing whether they're legitimate. You know your mother, cousin, best friend, and the guy that delivers the milk. These people are part of your life, and your trust them. Yet, you surely don't know Carolyn in Memphis, Dave from Dallas, Tony from Spokane, or Linda in Boston. Online reviewers are simply names, their ratings, and where they live, but nothing more.
Any product, service, or in this case, school, can feature online reviews. They can be sourced organically, or campaigns designed to hype a product or destroy it can also be employed. If something is ranked with an excessive number of negative stars, and for some reason the product keeps selling, something is off. Also, obtaining all the reviews about a product or service from just one source can skew the analysis. Some sites are easily manipulated, revealing reviews that were planted instead of naturally left.
Online real estate schools suffer the same fate. Many reviewers are legitimate, but there is still a percentage that is not. Sourcing reviews on online schools from multiple sites is the best way to tease out the fake reviews. The end result is a more accurate view and opinion of the school, which will help make an informed decision.
How to Use Several Sources for Virginia Online Real Estate School Reviews
Again, multiple sites, multiple reviews, and comparing the good with the good and the bad with the bad are smart steps to take. Numerous sources for anything provide better insight. Moreover, trustworthy sources give the best insight, and there are a host of reliable sites online that provide exceptional space for reviewers to express their opinions, regardless of the number of stars they assign or stance on a product or service.
Top 3 Real Estate Online Schools in Virginia
Virginia, like many states, counts on a plethora of great online real estate school options. It is not uncommon to have new students perplexed as to which institution to choose. The three we are going to review today are all incredible. They each have specific pros and cons that will match better with some compared to others. But, as institutions, they are leading real estate schools with top-notch faculty and great programming.
---


4.87/5 Rating (11888 Reviews)
The beauty of online schools is they have the leeway to experiment and advance technologically that many other institutions cannot do. By nature, online schools need to be the savviest schools out there, and AceableAgent checks all the boxes on this one. Students rave about the AceableAgent school platform and tech support. Their video quality, according to many reviewers, is second-to-none. Moreover, if you are cooped up in your bedroom, taking online courses, great video makes all the difference.
On the negative side, more than one reviewer commented on the mediocrity of the school's written instruction. There are errors, and editing does not occur at the frequency that some would have liked. This is understandable, and AceableAgent has addressed the issue.
---


4.4/5 Rating (768 Reviews)
Colibri Real Estate scores big over its competitors in one specific area – communication. The real estate, educational monster understood that learning online would always be at an inherent disadvantage to classroom learning when it came to personal interactions. You can play all sorts of fancy online games with video rooms and virtual communication, but it will never be one-to-one.
Colibri Real Estate accepted this, and reviewers were exceptionally positive with their ability to connect teachers via email and the phone to students. On most online platforms, teachers can chat with students via the class chat, but few will release teacher phones. There's value here, however, and Colibri Real Estate leads in this sphere.
On the negative side, while students connect with teachers via email and the phone, the student forums where students get-together and interact are not fully developed. The problem – nobody shows up. This is not an easy fix, mainly because students don't feel any value in these forums. Only time will tell if Colibri Real Estate remedies this issue.
---


4/5 Rating (147 Reviews)
Online real estate school with Mbition to Learn is centered on real estate. But providing students the space to take a finance or marketing courses was well-received by former and current students alike. On the negative (there is always at least one negative), some people pointed out their inability to withdrawal from the program. Apparently, it is not easy to enroll and then decide you don't want to continue with Mbition. The process of leaving is complicated, and more than one student commented the same.
---
What You'll Need to Do After You're Done With Online Virginia Real Estate School
Virginia real estate websites are jam-packed with fabulous properties on the market. It is a buyer's and seller's paradise, and once you finish school, it will be tempting to jump right in. Yet, the first thing to do, and don't forget, is apply for your license. Second, be sure to lean hard on the mentor broker you've selected. Mentor brokers provide new agents promising leads, marketing materials, and the tools to begin forming relationships and eventually closing deals.
Virginia is an exciting market, and real estate is an ever-evolving world. Online schooling propels you to fulfilling your dreams faster than ever!