Fifty years ago, Arkansas was off the radar for most folks not already living there. This is not a knock on this southern state, a place rich in history and full of beautiful cities and neighborhoods. But Arkansas has always maintained a rather low profile, and as such, remained off the radar.
Over these last fifty years, however, Arkansas has made some big leaps. Businesses have relocated, industry has flourished, and the housing market is growing in parallel. Arkansas real estate agents have been earning big bucks, but don't tell anyone – they don't want the secret to get out!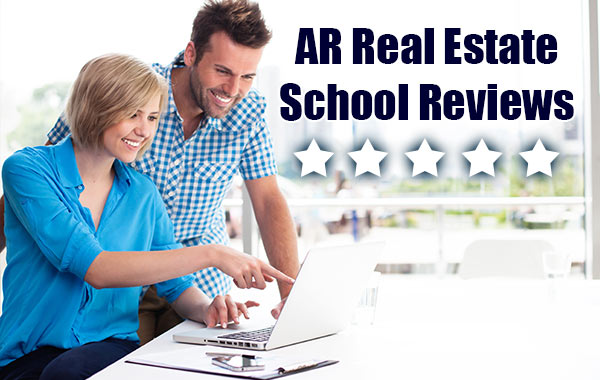 The first step to jumpstarting any real estate career is a license, and getting a license online is a fantastic option these days. Online, Arkansas real estate schools, have been expanding lately, attempting to meet a flourishing demand for new agents. A six-figure career is possible, but there are some things to keep in mind before jumping in headfirst.
4 Helpful Tips to Study for School Online
Excelling online is not a "click and watch" proposition. Like in-person classes, there is content to be absorbed, work to be completed, and of course, studying. All of these require discipline and commitment to the course. Here are four surefire tips to get you started.
1. Connect with Others – Online learning is flexible, adaptable, and extremely personalized. However, a glaring downside is the connection with your fellow classmates. Many online schools try and bridge this gap with study forums and even meet-ups outside of class with the student body. This is very important. Connecting with others outside of class (online or in-person) will make a world of difference to your educational experience.
2. Set a Major Goal – A person without goals is a floating organism in space. We aren't on this planet for long. If you don't have a long-term goal in life, something to work towards and spend your time diligently striving after, try and define one. In this context, an important goal that is aligned with your future real estate career is the most appropriate. A written goal, posted and visual to you every day, is a must.
3. Find a Quiet Space – We can't think of anyone that enjoys (or even could) studying in a noisy space. Some folks love studying or involving themselves in work/study with music. This is fine, but when you're in class online, you're going to need a quiet space. Even the most cramped apartments have quiet spaces. Before enrolling in an online class, it is imperative to define that quiet space and reserve it!
4. Be Mentally Engaged – And finally, plug in, and stay plugged in! This is what we mean by being mentally engaged. A lot of times, one might assume we are "paying attention," but that's not always the case. In conjunction with finding a quiet space, being mentally engaged is critical to success in the real estate game. This is not an industry where the details can be casually managed. It's a "detail" profession, and mental engagement is fundamental.
Analyze Reviews
The best way to learn about anything is from someone else. The reason why is because, as human beings, we experience things in very similar ways. If ten people went to an ice-cream shop, all tried the shop's vanilla-twist, and 8 out of 10 enjoyed it, odds are you'd enjoy it too. If, however, 6 out of 10 enjoyed it, you might have some doubts about whether you'd like it.
This is the beauty of online reviews. The more you can pull, the better, because you increase the sample size and eventually arrive at a definite opinion about anything – online real estate schools included.
Arkansas Real Estate Schools Online Reviews

4.54/5 Average Rating of Arkansas Schools
7479 Total Reviews
The worst thing you can do with online reviews is simply count the number of stars or rankings and average them out. There are several problems with this strategy. First, there are bots that leave fake reviews on behalf of products, services, and even schools. Sounds crazy, right? Well, there are some suspicious characters out there with questionable objectives. These bots will leave either extremely congratulatory or highly negative reviews in attempts to sway consumer decisions. Thankfully, you can usually spot a fake review by the manner in the way it's written.
There are then those who seek to do the same, are real people, and have motives above and beyond merely leaving a truthful review. These can also be spotted as overly congratulatory or extremely negative. The trick with reviews is to amass a large amount, remove the suspicious ones, and focus on the remaining 90%. From here, you will spot trends and some constructive comments if you review enough of them. Online reviews can provide the best glimpse into a school before choosing to enroll. This is fantastic data to call on and guide your decision.
Using Several Websites for Arkansas Online Real Estate School Reviews
Being able to ascertain whether something is trustworthy or not is tough. Some reviews might sound incredibly genuiune but simultaneously harbor some alternative motives. It is challenging to tell fact from fiction sometimes because we cannot confirm the source of many reviews. This is why it is vital to source reviews from multiple places to compare across sources over a large sample size. Otherwise, you're stuck with 10 or 15, and who knows whether they are even half valid.
Top 3 Real Estate Online Schools in Arkansas
Online real estate schools in Arkansas are quite good. If anything, the hardest part of this journey to becoming a real estate agent will be choosing a great school among a host of great schools. The following three schools are at the top of their game. Graduates go on to do some fantastic things in Arkansas, and some have reached previously unimaginable heights.
---


4/5 Rating (147 Reviews)
If you're seeking the largest online school with the most extensive catalog, Mbition to Learn (formerly OnCourse Learning) is the option for you. The beauty with Mbition is you can take classes that might not be "100% real estate in nature," but will undoubtedly help you in your career down the road. This is valuable from the finance and marketing perspectives, especially. Positive reviewers commented on this, and most appeared very satisfied with their choice.
The negative surrounding Mbition was an issue that has appeared with other schools as well. Apparently, withdrawing from Mbition is not easy. It didn't seem to matter on the situation either. When folks needed to leave, Mbition did not make it simple. There are two ways to interpret this: one, most companies don't want to lose your business, or two, it can be rough for the company to process these withdrawals. From a customer service perspective, this is a clear area for improvement.
---


4.57/5 Rating (6564 Reviews)
The CE Shop is the most competitively priced of the three choices here. A highly respected online real estate school, the CE Shop has always been steadfast in their desire to keep prices accessible and students in seats (virtually). Online comments rave about the CE Shop's tuition costs and the help they provide for exceptional students who might not otherwise be able to afford the school.
The downside with the CE Shop is the same as OnCourse Learning. Once you're in, good luck getting out! This appears to be an issue across the broader industry. Perhaps similar to gym memberships, it's tough to get out of something you've already opted into. Let's hope both the CE Shop and OnCourse Learning can straighten this out for future real estate generations.
---
Next Steps After You Finish Arkansas Online Real Estate School
You're fidgeting a thousand miles a minute, waiting to hit that lucrative market and start bulking up your checking account. That's natural – wanting to put all that real estate knowledge into practice is the idea. But a step that some forget, and that you simply cannot forget, is applying for your Arkansas real estate license. This is vital because, without it, any property you sell will not be legally recognized. This equates to no commission, or worse. So focus on applying for your license immediately after you complete your coursework and the state test.
Second, the relationship you form with your mentor-broker is significant. You will need all the help you can get in the early years. Breaking into real estate with cold leads and a limited marketing budget is rough. The more help you can get in this area, the better. Moreover, a mentor-broker will be with you for life. If you cultivate the relationship, it will generate valuable fruit.