Thanks to the explosive growth of the Metro-Atlanta area, getting a Georgia real estate license online is an easy decision for anyone looking to change careers. There is no shortage of Georgia real estate courses to choose from and it can be hard to determine which one is best. It might be hard to believe, but are over 330 Georgia real estate courses to choose from. It would be nearly impossible for any individual to research that many.

Here are some benefits of working in the Georgia real estate industry:
Diverse opportunities for commercial and residential sales, especially in Atlanta.
Progressive state income tax ranging from 1 percent to 5.75 percent.
The Atlanta metro is well-ranked among the fastest-growing large cities nationwide.
If you're serious about building your contacts, you can easily network your way to a six-figure salary. You can also choose to work under an experienced broker while you're learning the ropes.
Are Online Courses as Good as Classroom Courses?
There are two ways to get your real estate education in Georgia. Consider the pros and cons of classroom and online programs before deciding what's best for you.
In a traditional classroom setting there are more opportunities for group learning, social interaction and academic conversations. An instructor can quickly adjust the format for you and explain nuances of real estate law and contracts. The biggest downsides are the commute and being forced to learn at the pace of the instructor.
Online based schools give you the flexibility to work at your own pace, access courses anywhere and most importantly eliminates the hassle of a commute! The lack of face time with instructors and other students as well slow feedback are the biggest drawbacks.
Online Real Estate School Advantages
The most important benefit of getting your Georgia real estate license online is the flexibility. If you already have a job or children setting your own schedule is critical. Just taking a moment to review the programs offered by schools like AceableAgent or Real Estate Express and you'll understand why online education has grown as quickly as it has.
Top Georgia Online Real Estate License Schools
With so many schools available trying to research them all can make head spin. These three schools all have great features, well designed courses, and high pass rates.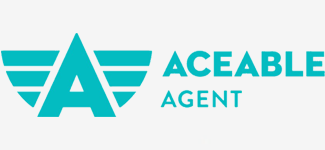 Starting at $251.00
Pass or Money Back
Support 7 Days/Week
Get started right away with everything you need to know to advance your career in Georgia real estate.
How to Get a Real Estate License Online in Georgia
Deciding to enroll in a real estate course online is exciting! This is a big career change. Regardless of which real estate school school you choose, the process and requirements for the state of Georgia are the same.
1. Meet Basic Georgia Real Estate License Requirements
Each state has different ways to obtain real estate licensure. These are the licensing requirements per the Georgia Real Estate Commission (GREC):
Be at least 18 years old. If you're 17 you can start real estate education and even take the exam, but you cannot be licensed until you turn 18.
Hold a high school diploma or general education credential.
Pass a criminal background check and offer proof to a testing vendor.
2. Complete 75 Hours of Required Georgia Real Estate Pre-Licensing Courses
Georgia requires that everyone complete 75 hours of training with a real estate licensing school that is approved by the GREC before taking the state exam. However, there are other stipulations that may qualify you.
You finished 10 quarter hours or six semester hours of coursework from a major university the United States or Canada.
Provide proof that you completed at least 75 hours of real estate courses approved by a real estate commission in another state or Canada.
3. Pass the Georgia Real Estate License Exam
The exam is made up of two parts, the national portion, which is 100 questions, and the state section of 52 questions. For you to pass the test you must score 75% or better for both parts combined. There is a $121.00 exam fee for each time you take the test.
Real Estate Express offers an exam prep course to help you pass on your first try or you get your money back.
4. Pick up your real estate license
Once you have confirmed that you passed the exam for the Georgia real estate license, you can pick up your license at one of 4 official PSI test centers. You can apply and get your license at these testing centers as soon as 2 pm on the day you passed. If you want longer than 12 months your passing exam grade will expire and you will have to retake it.
5. Research and find a broker to sponsor you
In order to get your license you must work with a Georgia real estate broker that is willing to sponsor you. The broker must be current and active in the state to be eligible. It's important to find the right broker to work with, since it will heavily determine your success in the industry.
6. Complete 25 hours of post-license education courses.
Georgia requires that you enroll and complete a post-licensing course of 25 hours. You'll need to complete the course before the end of your first year as a licensed salesperson, otherwise your license will become inactive.
How Long Does It Take to Get a Real Estate License in Georgia?
At a minimum, Georgia real estate training calls for 3 to 9 weeks of your time. If you work at a slower pace, becoming a salesperson who can work in this state might take longer. An accelerated course could require only 2 weeks of rapid learning, but you might require up to 3 weeks to schedule the test. Testing centers have varying availability.
Georgia Real Estate License Video