Getting a New York real estate license online is a no-brainer for anyone looking to start a new career. This is a state that, between Manhattan, Brooklyn and beautiful countryside of New York state – it's one of the best places in America to live. People from all over the United States and the world are in the market to buy New York real estate.
While the market is very competitive, any intelligent, driven person should be able to make six figures per year. Every agent and salesperson has to start somewhere, and that starting point is getting your New York real estate license online.

Take Your Classes Online or in a Classroom
There are pros and cons to both physical learning and instruction online. Choosing the right type of education depends on you. Think about what type of environment do you learn best in. Some people need the stability of a classroom and instructor, while others learn better at home on their own.
Neither format is effective without a well designed curriculum that is up to date. Every year more people are finding that interactive, online lessons are the right choice for any professional training program.
Online Real Estate School Benefits
New York online real estate schools have several advantages or the traditional classroom setting. If you take a moment to review the features and tools from AceableAgent or AYPO it's easy to see why more people are choosing to get their New York real estate license online.
Schedule flexibility
Learn & study in a casual atmosphere
No commute!
…many more!
If any of these benefits have convinced you that online is the right path for you, great! The next step is choosing the online real estate school that is your best fit. More expensive doesn't always mean better, while the cheapest option doesn't save you money if you fail the exam. The following three schools all have proven track records, offering great features and support to their students. Click Learn Now for additional information.
New York Top Online Real Estate License Schools
Doing research on your own and it won't take long to feel overwhelmed by the amount of courses available. Lead Agent has done the research for you, we've chosen the following 3 schools for our top online real estate schools in NY.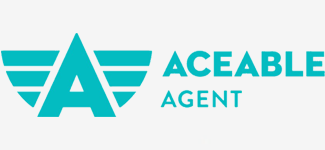 Starting at $215.00
Pass or Money Back
Support 7 Days/Week
Hit the ground running with everything you need to know to advance your career in New York real estate.
How to Get a New York Real Estate License Online
To get your real estate license in New York you'll have to meet the 5 steps outlined below. NY requires 75 hours from an approved course, taking and passing the real estate exam, and working with a sponsoring broker before submitting your real estate application.
1. Meet basic New York real estate license requirements
You'll need to be a minimum of 18 years of age before being issued a license
You'll need a clean criminal record, felons are not eligible for NY real estate licenses
Be able to prove you're a legal US resident.
2. Complete 75 hours of required New York real estate pre-licensing courses
NY requires a salesperson education course in real estate of 75 hours that is also approved by the NY Department of State. Enroll here.
NY Pre-Licensing Salesperson (75 hours)
After finishing the course material you'll be required to take the real estate exam.
3. Take & pass the New York real estate license exam
The New York real estate exam is a 90 minute test based on the content you learned during the 75 hour pre-licensing course. The exam is 75 questions and requires a score of 70% to pass.
Grades are given as pass or fail and numerical grades are not given. Once you pass your score will be valid for 8 years. If it expires you'll have to take the exam again before obtaining a license.
Exams are required to be taken while a proctor is present, so you'll need to schedule one in advance. Learn more about NY proctored real estate exams.
4. Choose a broker to sponsor you
To be licensed, you need to be sponsored by a current and active New York broker. It's important to find the right broker to work with, since this person will serve as your mentor as you start your new career in real estate.
5. Complete application for your New York real estate license
After completing the first 4 steps you'll be ready to submit a completed application for your New York real estate license online at eAccessNY. You'll need to submit the following in your applicaiton.
A Certification of Satisfactory Completion of an accredited real estate course, usually provided by the school you were enrolled with.
Examination notification
License fee
The name of the licensed NY licensed real estate broker you're working for.
How Long Does It Take to Get a Real Estate License in New York?
While the amount of time it takes to fulfill New York's requirements for a real estate salesperson license varies, most people need about 4 months. This includes all the steps, including education, exam, application with background check, fingerprinting and working with a NY real estate broker that is actively licensed and in good standing. Depending on your schedule, job, kids, and other factors it might take longer. The important thing to keep in mind is that any pressure you may feel comes from within. Take your time, learn the materials, and you'll be just fine.
Real Estate License Video: New York