Have you considered starting your real estate career in Indiana? Indiana is one of the real estate hotspots in the USA, and there are many reasons for that. Investors have been flocking the local real estate markets because of the availability of good jobs, friendly neighborhoods, and entertainment. You can never go wrong with a real estate career here.

As a hardworking and committed real estate agent in Indiana, you can earn a 6-figure salary. You can take home an estimated $48,000 on average annually. Wages range between $22,000 on the lower end and can go up to $105,000. You might think getting your real estate license in Indiana is nerve-wracking, but that's why we are here.
Get Your License Online or in a Classroom?
As you pursue your dream to get your real estate license in Indiana, you will have to choose whether to take the course online or go the classroom way. Your choice will entirely be based on your preference, schedule, and budget.
Think of the type of environment you would like to learn in. Some people prefer the stability offered by a professor and instructor, while others can do it by themselves at home.
What Are The Benefits of Online Real Estate School
Indiana online real estate school has many advantages that you will enjoy when you take the course online. Other than having access to relevant course material, you will also be equipped with the necessary skills to kickstart your real estate journey. The following are the advantages of online real estate school:
No commute- You don't have to worry about leaving behind some of your essential duties and responsibilities for school. You can take your classes at home, office, or wherever you may wish.
Flexibility- Online real estate school allows you to access learning material at any time of the day regardless of where you are. You can also use any device for your learning.
Learn at your pace- With an online real estate course, you will not be compelled to move at the speed of your professor or instructor. You proceed at the most comfortable pace as you spend the most time at the difficult modules.
These advantages show you that you can learn as you continue with your daily life. You can continue with your job and learn without interrupting your routine.
Top Online Indiana Real Estate License Schools
Choosing the most appropriate school is an important step that might take some time. However, we at Lead Agent have already done the dirty work for you.
The following are our top picks: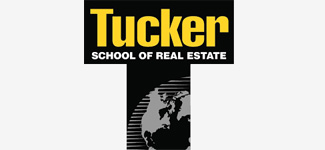 Starting at la_tucker_in_prelicense_price
Convenient
Fully Approved
Buy the classes today and study at the pace you prefer. Move as fast or as slow as you want.
How to Get an Indiana Real Estate License Online
Now that you have already seen the school that will be most appropriate, you will have to go through the following steps to earn your real estate license in Indiana. Note that the steps apply whether you take the course online or in a classroom.
1. Comply with Indiana basic real estate requirements
To get started, you need to fulfill the following prerequisites:
Be of 18 years or older
Have a high school diploma or an equivalent
2. Complete 90 hours of Indiana approved real estate courses online
You will then have to complete an approved 90-hour pre-licensing course. This is a requirement of the Educational Real Estate License in Indiana.
3. Pass the real estate exam for Indiana
The next step is taking the Indiana Real Estate Licensing Exam. PSI administers this exam. The 125-question exam has two sections that cover the state and national requirements.
4. Find an active broker to sponsor you
Once you have passed the exam, you need to find an active and practicing Indiana real estate broker to sponsor you. You must lay emphasis on finding the right real estate broker because this is the person that will act as your mentor as you cut your teeth in the real estate industry. The right broker will have a hand in your successful career.
You need to consider a few guidelines in this crucial step. Look at their local and international reputation and also the kind of agent they are looking for. Ask whether they are advanced technologically and with the latest systems.
Also, do they support their agents with training and education? Consider the kind of commission structure and other benefits they offer. Also, check if they provide their agents with leads and marketing material. Most importantly, is there room for you to grow in the firm?
5. Submit an application for your Indiana real estate license
This is the final step of this process. You can now complete the application which you receive from the testing service after passing your exams. You need to be sponsored by a broker at the time of your application.
You should submit your application for licensure within one year of the date of passing the real estate exam.
How Long Does It Take to Get a Real Estate License in Indiana?
The amount taken to complete the Indiana real estate online license varies because of the number of steps involved. It depends on the amount of effort and time you put in to complete the 90-hour Indiana state-approved real estate online courses, pass the exam, find an active broker to sponsor you, and finish the application for the Indiana real estate license. Most people complete the process within a few months.
Video: Indiana Real Estate License