The hustle is real. That's a quote we've all heard in popular culture. Some folks can relate to it. Others don't. But the hustle is a part of all our lives, regardless of what we do.
To be a successful real estate agent, you need that drive and ambition. If you're an agent in Iowa, a fair degree of hustle will take you a long way. The housing market spans a wide geographic range. But there are pockets of high net worth clients, and those clients can help you earn six-figures annually.

A little hustle and a real estate license is all it takes. Following these steps will springboard you into an exciting, new real estate career.
Take Your Classes Online or in a Classroom.
Getting your real estate license in Iowa via traditional classroom learning is possible. It's the way agents got their licenses for decades. Many new realtors regularly explode onto the scene, closing exceptional deals in cities and neighborhoods like Waukee, Asbury, Bondurant, Grimes, and North Liberty.
While classroom learning continues to thrive, learning online in Iowa is steadily growing. Budding agents realize they have more options in terms of managing their own time when it comes to online learning. And best yet, the result is the same – a real estate license. While the personal, face-to-face environment alters, the online interaction is still vibrant and alive.
What Are The Advantages of Online Real Estate School
We would all love to pay less in gas. We'd also prefer not to endure more wear and tear on our car than we have to. Gas and quarterly mechanical check-ups can really add up. The other thing that costs us dearly is a bad use of time.
Sitting in traffic can eat up precious time every day. Road construction, accidents, and other delays put us in a bad mood and that affects the remainder of the day. A massive advantage of studying online is no commute. In a typical city, this saves roughly 2.5 hours per day. This is the first thing that attracts students to studying online.
The second advantage of being online instead of in a classroom is flexibility. Classroom learning requires a teacher to be at a specified place at a specified time during the week. They also aren't able to attend to more than 30 students at a time. With online learning however, the course is recorded and you can take it according to your schedule. There isn't anything more flexible than a personalized course to your schedule.
Our Picks for Iowa Real Estate License Schools
Top schools, companies, cars, etc. exist in every industry. Some folks rise above the competition, and the online real estate school market is no exception. The top 2 most well-respected online real estate schools are continually innovating, and boast amazing professors. These are Mbition and REsmarts Online Education.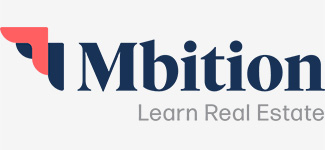 Starting at $309.00
Convenient
Fully Approved
Mbition (formerly OnCourse) includes all the required real estate license classes for Iowa in 3 convenient packages.
How to Get a Real Estate License in Iowa Online
Taking this next step to obtain a real estate license is exciting. A whole new world awaits – beautiful properties, satisfied clients, and a wealth of relationship-building in between. The first step in the process is qualifying for a license.
Iowa Pre-qualifications
As opposed to other states, Iowa does not place any restrictions on residency or citizenship status to obtain a license. However, you do need to be at least 18 years of age to apply.
Second, a background investigation is required. There will also be a criminal history component involved that makes this process a bit longer than typical licensing. To provide some context, a criminal history background check, in general, can take up to four weeks. They are valid for 210 days, so starting the process well in advance of submitting the license application is best.
Real Estate License Education Requirements for Iowa
After you've put the pre-qualifications to bed, it's on to the real estate license requirements. There are two components to this test. The first is a 60-hour pre-license course, and the second is three courses, each lasting 12 hours. All applicants must take a Buying Practices course, a Listing Practices course, and a Developing Professionalism and Ethical Practices course.
In total, the entire process is 96 hours. These courses can be taken in any order and completed within a one-year time frame from when the Iowa Commission receives your application.
Iowa Real Estate License Exam
Once the 96 hours are complete, it is time to put your knowledge to the test. The Iowa state exam is the last step, and once you receive your score, the results are good for six months. If you passed the exam on January 2nd, 15th, or the 29th, for example, the results are good until June 30th.
Test prep kits are always welcome, and the Real Estate Exam Prep Kit provides a wealth of additional support.
Broker Sponsorship
A good, mentor broker will not guarantee real estate success. What he or she will do however, is put you in a more favorable position. As a new agent on the market in Iowa, favorable positions are good. Brokers provide marketing materials, leads, support, and best yet, advice. Bad brokers throw new agents into the fire with no resources, are not overly helpful, and don't devote much one-on-one time.
Submitting Application for Iowa Real Estate Agents
Despite having six months to submit the application, it's advisable to submit as soon as you receive your results. Remember, the background check takes awhile. You might not have it yet. But if you do, get the application in as early as possible post the test results.
How Long Does It Take to Get a Iowa Real Estate License?
If you want to get this process done quickly, it will take roughly 50 days. The most significant barrier is the background check, as we mentioned earlier. But starting that early, so you have time to take care of everything else in between is the smart strategy. If you do that, an Iowa real estate license should be yours in 5 to 6 weeks.
Iowa Real Estate License Video