Real Estate Careers require just as much careful planning as any other. To become a licensed real estate agent in the state of Kansas, you must be 18 years of age, have a high school diploma or GED, and undertake a 60-hour course from an approved institution.
The sixty-hour course must include 30 hours of training on the Principles of Real Estate and 30 hours Kansas Practice Course. Even if you are not a resident of the state, you can apply for the Kansas Real Estate Sales person license by appearing in the state exam for the Kansas Practice Course only.
Students need to research the best study options for themselves after carefully evaluating all the choices available, from schools operating on ground as well as online schools. The most helpful and expedient solution is to study the online reviews of the school, which can give real insight into the usefulness and benefit of the course in achieving your goal because they come from students who have already studied that course.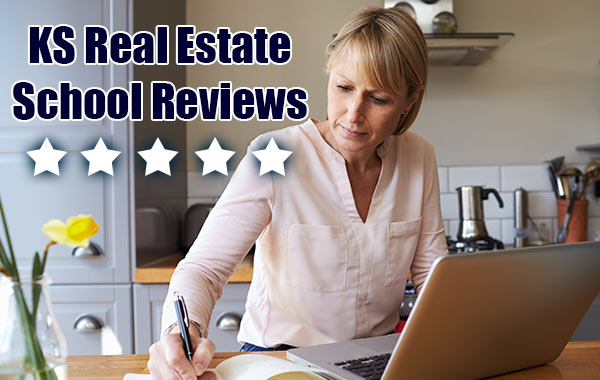 4 Guidelines to Prepare for School Online
Choosing an online school can prove to be a practical and convenient option. However, in order to study online, you must prepare yourself physically and mentally to remain committed to your ultimate goal of acquiring the Kansas Real Estate License
1. Ask Questions
During the course of study, the ideal strategy is to review your daily work and immediately clarify any confusions you might have by approaching teachers with the right questions immediately, because what is being taught in the first week serves as a foundation for the following week. Students feel reluctant to ask teachers as they feel they will understand by next week or month, however, that is rarely true.
2. Make a Study Plan
Online schools don't have fixed times for study, which is why your own ability to plan and organize yourself and your time comes in real handy. Create a study plan with detailed list of required reading for the course and assignments. Set out dates and times reserved for study and schedule a set number of hours per day or a week so you can remain on track with your course.
3. Limit Social Media
One major distraction in the current world is social media. Facebook posts, updates, friends' tweet, thumbs up signs, WhatsApp messages keep us engaged in an activity which is rarely fruitful. In order to build your concentration and minimize interruptions, turn off your social media accounts or set your phone to the DO not Disturb mode.
4. Browse Intelligently
Research is essential at higher levels of study and the best way to ensure success is to organize your research. You can use online apps that help you organize all the information you find online under a separate study topic with links to the original source for future reference.
Analyzing Kansas Real Estate Schools Online Reviews
A good idea is to study the reviews of an online course and its institution from a variety of sources. Independent third-party platforms are a good place to start after you've shortlisted the real estate schools which fulfills your needs.
Kansas Real Estate Schools Online Reviews

4.55/5 Average Rating of Kansas Schools
7646 Total Reviews
Reading online testimonials and endorsements of former and current students gives you the inside story of an institute and you get to understand the truth behind the words that make up an institute's claims and course descriptions.
While studying reviews, the points to consider after you've looked at the school's professional standing, fees and passing rates, are their claims regarding links with the professional industry and post-study employment rate. Is the institute delivering on its promise of preparing you for a role in the real estate industry or is it an exam preparation website which gives you notes but very little mentorship and finally whether the course content is sufficient to help you pass the Kansas state license exam. The skill level of the faculty and how helpful are the instructors is another factor to look for in reviews.
To identify the authenticity of the review, look up what or who is the source, then evaluate what they have to say about the course content whether it meets the industry requirements and whether it teaches you what you need to know. What kind of course structure and study aids do the schools provide and for how long do you have access to the material. Then analyze how that view measures up against other reviews of the same course. In doing this, you will develop a good idea of what the course and the institute is all about.
Using Multiple Sources for Online Real Estate School Reviews in Kansas
How reliable an online schools review is only possible by collecting data from multiple websites? Testimonials exhibited on the institute's web page are generally deemed heavily biased in the institutes favor. To counter this rosier picture, independent third-party platforms like indeed.com, yelp.com and Google my Business.com can give a more balanced view.
Alternatively, there are official reviews available from professional's website like LinkedIn or social platforms like Facebook. The main element to keep in mind is the trustworthiness of the sources as to how authentic the website is and whether you can verify the identity of its reviewers.
Top 2 Real Estate Schools Online in Kansas
The following schools are considered the best schools in the state of Kansas on the basis of their core strengths of providing strong opportunities for personal and professional development in the field of real estate. The CE Shop has strong links with the real estate industry and offers courses for continued professional development in the real estate industry. PDH Academy offers plenty of features while being our 3rd highest rated course in Kansas.
---


4.57/5 Rating (6564 Reviews)
The CE Shop is an exam preparation online school which is deemed ideal to take on niche specializations in 50 states. It offers real estate industry pre-licensing and post-licensing solutions to aspiring as well as established realtors looking for courses to update their skills in 31 states.
The course range encompasses diverse subjects ranging from marketing to gain leads, home buying for veterans, marijuana in real estate and so on. The pre-licensing course for the state of Kansas has three tiers; silver, gold and platinum. The Silver package covers the 30-hour course on Kansas Principles of Real Estate Math Master, Instructor and Technical support. The subsequent tiers add value with First time pass guarantees and exam preparation toolkit.
The CE Shop is appreciated for the range and flexibility of its program, positive environment and their bi Weekly Podcasts. It is recognized as being a truly helpful resource for the students.
The major negatives identified by reviewers consider the fees to be above average which means they are more expensive than their competitors and students have criticized the lack of access to instructors.
---


4.5/5 Rating (314 Reviews)
PDH Academy is a real estate online school with national presence in 17 states. Its course catalog features fully certified and accredited courses for aspiring real estate agents, brokers, while providing continuing education for existing professionals. Their range of courses is continually updated with new online courses for best practices.
PDH Academy offers two levels of learning packages. Each level keeps your desired level of study in mind. The basic pre-license package has 30 hours of courses, instructor support, e-books, and a lifetime access to training materials. There is also a self-study program where you can complete the course requirements at your own pace. The premium package has everything the basic does as well as 800 practice questions, quizzes, final practice exam and a pass guarantee.
The major benefit of PDH Academy is that is competitively priced while offering a full suite of tools to help you pass the Kansas real estate exam.
---
What You'll Need to Do After You've Finished Kansas Online Real Estate School
After completing the 60 hour courses covering the Principles of Real Estate and Kansas Practice course, aspiring realtors must submit the certificate to the Kansas Real Estate Commission within six months. The candidates must sit for the license exam within a period of 12 months. If you pass the exam with an 80 percent average, then you will receive an application for license. The Application for License must be filed within a six-month time period after the exam.
Before you submit the application, you need to apply for a criminal background check from the FBI or KBI. Secondly, you need to become affiliated with a broker who must testify to the applicants' honesty and trustworthiness. For further details, explore the Kansas Real Estate Commission website, https://krec.ks.gov/licensing/salesperson-license-requirements.