A career in real estate can be very rewarding, particularly if you feel you have the drive and the potential to build a strong profile in this industry. In order to become a real estate agent, you must understand the requirements that each state considers essential for becoming a licensed real estate agent.
In the state of Louisiana, any aspiring real estate agent must be 18 years of age, have a high school diploma or GED, and they must complete a 90-hour course from a school approved by the Louisiana Real Estate Commission (LREC).
An online school is a good option to complete the requisite 90-hour coursework. In order to select a good school, it is essential to study the schools' profile and read online reviews of the institution before making your final decision. Reading online reviews of previous and current students can really be helpful in getting an insight into how the institute operates and to gauge the true value of the courses offered by the school and its faculty.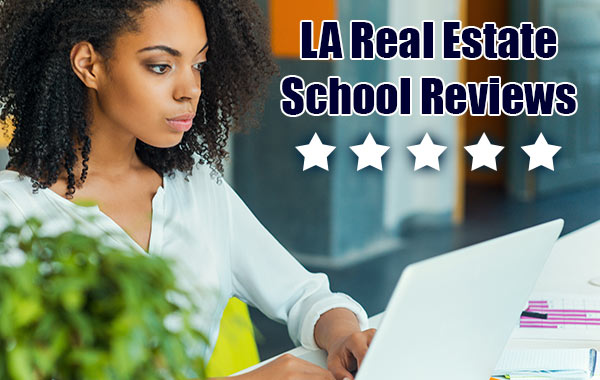 4 Useful Tips to Prepare for School Online
Studying online may appear to be a simple task requiring minimal commitment of your time, offering considerable freedom and mobility. However, online study needs the student to be self-motivated and more significantly self-disciplined. Some useful guidelines for online study are:
1. Establish Goals
Numerous distractions emerge out of nowhere to distract one from the task at hand. They pull us away from the assignments and quizzes that we are working on. At other times, it is easy to become overwhelmed by the task we've undertaken. In times like these, it is important to turn to a set of goals. So, establish your short term and long-term goals. These goals help you sustain your efforts as they remind you why you are doing what you are doing and what you set out to accomplish.
2. Set Up a Quiet Study Space
In order to deliver high quality of work, students need to create a quiet peaceful space for themselves where there are no distractions to break their train of thought.
3. Be Mentally Focused
Complete absorption in your work helps you study better. Working through industry jargon and legal terms can be exhausting, unless you remain engaged with the text and are willing to go over the material again and again until you fully understand the concepts.
4. Maintain your Health
To preserve your mental and physical health you must make a sustained effort. To begin with you must sleep well, at least 8 hours, then spend some time in the fresh air and set aside time for some exercise; maintain a healthy diet, and drink plenty of fluids to avoid dehydration; and finally, spend time with family and friends to relax and then return to your work refreshed and energized.
Automatically, you will find that making these small efforts your quality of work has improved considerably.
Weighing Louisiana Real Estate Schools Online Reviews
Locating a school and course that suits your requirements can be made easy by studying the student reviews of the school about how helpful or how comprehensive the school course is.
Louisiana Real Estate Schools Online Reviews

4.54/5 Average Rating of Louisiana Schools
7479 Total Reviews
Aspiring real estate agents need to carefully evaluate the reviews of each online Real Estate School to determine the school's viability for themselves. You need to outline what is a priority for you in the school, what features would make it worth your while to spend time at the institute. As you read the online testimonials and endorsements you get the inside story.
Elements that are most important to look at is the school's professional standing, fees and passing rates, links within the industry and post-study employment rate. The first thing to look at in a review is what or who is the source, then what they have to say about the course content whether it meets the industry requirements and whether it teaches you what you need to know to pass the state licensure exam. What kind of course structure and study aids does the school provide and for how long do you have access to the material.
Another significant part in studying reviews is what they have to say about the faculty. Questions to outline your research need to be centered around the idea of how qualified and experienced the teachers and professors are along with how accessible they are.
The ideal school would offer a blend of knowledge and industry experience. So that when you enter the professional world of real estate you don't feel handicapped or that you've wasted your time reading up texts and material which does not actually help you in the field.
Using Different Websites for Online Real Estate School Reviews in Louisiana
It is a good idea to collect reviews from a variety of sources. Sources may be the official review available to the LREC, or it may be a professional website or a social platform that carries the review. The main element to keep in mind is the trustworthiness of the sources as to how authentic the websites and its reviewers are. Ultimately, in order to remove all bias, study the online reviews from different websites/sources for greater insight before making your choice. Generally, people trust third party platforms like indeed.com, yelp.com and for study programs platforms like coursera.com where it is assumed that the reviews are from authentic sources and less biased.
Top 2 Louisiana Real Estate Online Schools
In the state of Louisiana, the top two online real estate schools are OnCourse Learning and the CE Shop. Each school is ranked based on their potential to help students achieve their goal of building a strong career in the Real Estate industry. These schools have been recognized for their well-rounded grooming for sustaining a real estate career and not just for preparing students to sit for the licensing exam.
---


4/5 Rating (147 Reviews)
Mbition (formerly OnCourse Learning) is a real estate online school with national presence in 41 states. Its course catalog targets aspiring real estate agents, brokers, appraisers and home inspectors. The major benefit of Mbition Learning is that it is affordable and uses interactive games to review the course content during the final stages. Additionally, candidates benefit from a strong career support program.
The cons that reviews highlight is the limited nature of the course as it gives little experience in real-life application of the content and those students who were looking for personalized study found that the institute doesn't have protocols in place to support their efforts. The school's strength lies in group trainings for exam preparation, specifically helping brokers prepare their staff for pre-licensure realty exam.
---


4.57/5 Rating (6564 Reviews)
The CE Shop is an exam preparation, specifically for the real estate industry offering pre-licensing and post-licensing solutions to aspiring and established realtors looking for continued education. In order to retain their status, real estate professionals need to continue to update their knowledge and skills. The CE Shop is considered ideal for niche specializations.
The course range encompasses diverse subjects ranging from marketing to gain leads, home buying for veterans, marijuana in real estate and so on. The pre-licensing course for the state of Louisiana has three tiers. There is the standard package which covers the 90 hour course requirement, Practice exams and an Exam preparation edge. The subsequent tiers are the value package and the Premium Package. The Premium Package offers greater depth with business building Course as well as a post-licensing package.
The CE Shop is appreciated for the range and flexibility of its program, positive environment and their bi Weekly Podcasts, as being a truly helpful resource for the students. It offers pre-licensing programs in 31 states, and continued Education courses in 50 states.
The major negatives identified by reviewers consider the fees to be above average which means they are more expensive then their competitors and objections have been raised at the lack of instructors.
---
What You'll Need to Do After You've Completed Louisiana Online Real Estate School
Once you've completed the course, you must appear for the state licensing exam. During the course of your study your progress is tracked by State Reporting; the official website where all salespersons register before they start their training to acquire the Louisiana State License. In order to sit for the license exam you must show the course work you've completed and you must be sponsored by a licensed real estate broker. In addition, all applicants are required to submit Errors and Omissions Insurance before they get their license.