Are you excited about a new career in real estate? Great! Thousands of people make the same decision all across the US every year. When deciding to take a real estate career, there are several regulations and requirements to consider. When all these are in place, then you can comfortably list and buy homes with confidence.

The real estate industry will give you a great opportunity to meet and help different people interested in selling or buying a home. You will also be in a better position to advise them on any issues they could be encountering in their search for homes and other real estate facilities. The average annual salary for a sales agent in Kentucky is $56,000, but the opportunity to earn over 6 figures is there.
Classroom VS. Online
You will need to earn your license before starting a estate career. Thankfully you now have the choice between traditional learning in a classroom or online courses. Do you learn better in a structured environment, or are you more independent? For many people, the right choice for time, cost, and flexibility is online.
Real Estate School – Advantages of Online
No Commuting – you don't have to travel to school to attend your classes. So your study location does not matter as long as you ensure all the coursework is covered appropriately and you are capable of performing well in your final examination.
Flexibility – Online studying offers the option of studying on your terms. It will ensure you are more disciplined in time management as you meet all your class requirements.
Easy to Focus – while studying online, you will spend time alone in your self-allocated space. You can avoid distractions and study in a serene and silent environment away from noise and distraction typical of a classroom environment.
Top Online Kentucky Real Estate License Courses
With the advancement in technology available, many schools have adapted their courses to videos and interactive sessions. 3 of our favorite online schools in KY are below.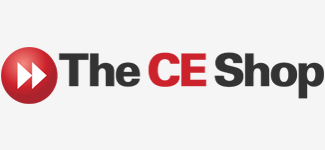 Starting at la_ce-shop_ky_prelicense_price
Convenient
Fully Approved
The CE Shop includes all the required real estate license classes for Kentucky to get your career started.
How to Get a Real Estate License Online in Kentucky
The state of Kentucky has a set of requirements and qualifications that are mandatory for anyone aspiring to start a career in real estate.
1. Complying with KY prerequisites
You must be of the legal age of 18 years old and above.
Earned a high school diploma or its equivalents
2. Fulfilling the 96-hour KY approved pre-licensing Education
The state requires all license applicants to complete a 96 hour mandatory pre-license education. This is normally verified before the license is issued. Every organization that offers education packages for real estate licensing online has pros and cons. Make sure the course style, features, and amenities fit your learning style.
3. Pass the final examination at the end of the course
After completion of the course, the applicant is expected to sit for a final exam and score a minimum of 75% to be considered passing. The examination session is supervised by a proctor. Before you schedule the final examinations you'll need book an appointment with a proctor and pay a fee of $25.00. You'll need to make your exam appointment at least 24 hours in advance.
4. Passing a background check
You are required to submit samples of your fingerprints to the Kentucky Bureau of Investigations. You can obtain fingerprint boards from your local real estate boards or education providers. Once the fingerprints have been verified, you have two options of getting the report; you may pay a $18 fee to the FBI to email your report or pay $33 to the Kentucky State police for them to email your report.
It is good to note that all FBI reports expire within 90 days of issuance. The Kentucky Real Estate Commission (KREC) cannot issue a license without a valid FBI report.
5. Pass the Kentucky State Real Estate Examination
This is the most important step in the process. Passing the exam will determine how well you know real estate in Kentucky. You won't be able to move forward until you pass. All exams are prepared and supervised by the PSI. It has 130 questions and is given in two sections, state and the national questions.
You will have 150 minutes to do the 80 questions national exam and 90 minutes for the 50 questions state exam.
6. Complete the application for the license
You'll have 60 days to apply for your KY license after passing the exam. You are required to fill in an application form for your real estate license once you have done your exams. The Kentucky Department of Professional Licensing will receive and verify your application before they approve it.
7. Obtain the Errors and Omissions (E&O) Insurance
The Errors and Omission Insurance is a basic requirement that the licensing department will verify before approving your license.
How Long Does It Take to Get a Kentucky Real Estate License?
Getting a real estate license in Kentucky depends on how motivated you are to finish. Once you complete the 96 hour class period, you can proceed to request for the final test. You'll need minimum passing score of 75%. Then you can take the Kentucky State exam in four hours, and the state of Kentucky will then issue you a license.
Video: Kentucky Real Estate License