Are you considering a career in real estate? With the Montana Estate License Online course, you would be putting a footstep at the door. Typically, a real estate professional earns between $50,000 and $100,000 annually. This implies a continued stable source of income, cash flow, investment, and the possibility of huge financial growth.

A career in real estate requires adequate preparation, hard work and smartness. Ideally, professionals looking to be licensed in this field must be ambitious and willing to take the risk. If you desire a six figure income in real estate, then this information is for you!
Is it Better to Go to a Classroom, or Take Courses Online?
Sometimes, it can be difficult choosing between the classroom or online courses. To choose a specific mode of learning, you would need to understand the requirement of each proposed method, the cost involved, the duration, and most importantly, your availability.
The onsite classroom although most common, requires your physical presence for the exam preparation plus active participation during learning hours. While the online rigorous training requires lesser or no physical presence to meet course requirements. This method offers a great deal of flexibility.
In general, it is recommended for entrepreneurs to take the onsite classroom training since their business affords them the time and flexibility, while employees may prefer to take the online rigorous training.
Online Real Estate School Benefits
Real estate school offers numerous benefits, and career opportunities. Some of the numerous benefits of investing in online real estate school includes the following:
Cost effectiveness- The opportunity to study online gives you extra income on savings, as you would be able to save money since there is no commute.
Time Saving- During your online course, you would be able to allocate time to other important tasks and use your time effectively.
Work Flexibility- It offers you flexibility as a student, working professional, or even if you run a private business.
Opportunities- While on this course, you may want to attend conferences, trainings, exhibitions or begin an internship in a real estate firm, or even start a new business.
Specialized resources- The course materials are well written and specific to suit your needs. They are made readily accessible, so you can study at your own pace and time.
Top Montana Online Real Estate License Schools
There are various online real estate schools in Montana. The schools given below are ranked in order of student satisfaction, reputation for delivery, learning outcomes, passing rates, feedback from employers, retention in the industry and excellent customer service to mention a few.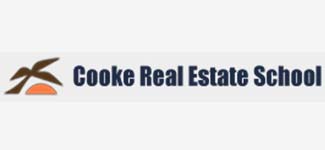 Starting at la_cooke_mt_prelicense_price
Convenient
Study Groups
Cooke Real Estate School is comprehensive prep course packed with everything you need to know.
How to Get a Montana Real Estate License Online
Getting a Montana real estate license online is pretty much easy. The requirements vary from one license to another; whether you are working as a sales person or as a broker. The minimum requirements place consideration on age, and qualification.
I. Meet the requirements for a Montana real estate license online
To get a license in Montana, Montana Real Estate Authority requires that you complete two pre license courses and meet the minimum requirements as given below:
Meet the age requirements of 19 years and above
Taken 2 years curriculum at a high school or equivalent
II. Meet the basic educational requirements for a real estate license in Montana
Minimum of tenth grade education
60 hours of pre-licensing instruction, approved and accredited from a real estate school
III. Schedule, take, and pass the Montana real estate exam
You are required to take the Montana Real Estate Exam and obtain a minimum score of 80% which is the uniform portion, and also achieve a minimum score of 70% on the state portion for consideration. It is required that the ideal candidate should pass the license exam within one year of writing it. There are also Real Estate Express exam prep kits designed to assist takers ace their exams. Therefore, it is required you register for a course through an approved school; which you must take online or in person.
IV. Affiliation with a Montana real estate broker
It is required for you to be an employee with a licensed Montana broker or alternatively be in an active contract, and have the endorsement of a supervising broker. This endorsement implies a direct sponsorship from him or her. Prior to the sponsorship period, you should have a list of preferred brokers you would want to work with. You should also remember to build a list of real estate companies and agencies you would want to consider, not forgetting to check out their reputation.
V. Complete and Submit application for Montana real estate license
After satisfying the requirements above, proceed to the application and attach your verified license from the various approved authorities. A background check would be carried out. If you have criminal convictions, restrictions or proceedings in the court of law which may affect your application, you are expected to disclose such during the time of filing the application; as failure to do so may eventually ruin your application.
How Long Does It Take to Get a Real Estate License in Montana?
The average person will get a minimum of 6 months to complete the course from the date of enrollment. As such, allowance to purchase extensions if needed are provided upon registration. The Montana Board of Realty requires that the course final exam is blocked until the 8th day after enrollment.
Montana Real Estate License Video