There is no limit to what you can achieve in your career as a real estate agent in Louisiana. The State has great room for growth and expansion in the real estate industry. Many people love to try a career that gives them room to grow and meet new people. A real estate career is more flexible than other jobs, which is an attractive benefit.

To make it in real estate, you have to work hard in the initial stages. You need to study the market, get out of your comfort zone, look for your target clients and devise ways to professionally engage with them. The average annual salary for a real estate agent in Louisiana is $35,860. You can achieve this and much more if you follow the simple rules and stay focused.
Get Your License in a Classroom or Online?
Online learning is a popular option to juggling work and class schedules you don't control. As a result, more schools than ever offer real estate license courses online. A classroom is a better fit for anyone who prefers in-person guidance. Ultimately you'll have to decide what gives you the best chance to succeed.
Benefits of Online Real Estate School
A big benefit of taking the real estate license course online is Flexibility. Students are free to decide when they want to study. They can balance work, study, and still have time for personal activities.
No driving. Students studying online don't need to go to a physical location to attend their lessons. You will save time and gas money since you attend classes at the comfort of your office or home.
Available support. Instructors are available to respond to your questions at the touch of a button. Most online platforms have the support option that connects you to even more resources. Qualified professionals accredited by the commission will conduct the courses.
Our Picks for Louisiana Real Estate License Courses
Louisiana has several great options for online real estate school. The following 3 choices are trusted and have built strong reputations in Louisiana.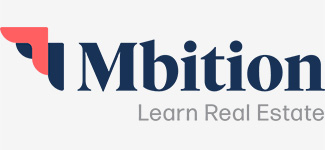 Starting at $259.00
Convenient
Fully Approved
Mbition (formerly OnCourse) includes all the mandatory Louisiana real estate license classes and requirements.
How to Get a Louisiana Real Estate License Online
The State of Louisiana has some basic requirements that an applicant must have before they are issued with a license to run a real estate business or career.
General license requirements
You must attain the legal age of 18 years and above;
You must possess a minimum of high school diploma.
Complete a 90-hour pre-licensing education approved in Louisiana
You are required to successfully finish 90 hours of coursework in an accredited online school.
Pass the final exam at the end of the course
Before taking your exams, Louisiana State requires applicants to make a registration and have their credentials verified at the statereporting.com website. They will issue you an application ID. You'll need it for recording and tracking your education at the time of issuing the real estate license number.
All the information concerning your study and coverage of the coursework will be stored at the portal. The commission will use your application ID to access your work. You will need to score at least 75% on your course exams to pass.
Background check requirement
Sending samples of your fingerprints to ClearBox, LLC is the next thing you need to do. ClearBox is a company that does real estate background checks for Louisiana. You'll want to complete this step with 120 days of passing the exam.
Pass the Louisiana State Examination
This is another exam that a license applicant is expected to pass before being issued with the license. The exam is given and supervised by the PSI. You are expected to book for the exams one day in advance. The examination fee is $85 that is payable at the time of booking.
The exam has both state and national requirements. The state section will take 135 minutes while the national section will take 75 minutes. You will need to pay $85 to retake the exam if you don't pass on your first attempt.
Send in your application
Fill out a Louisiana real estate license online application form. Send it to the commission for verification. They will go through your records and then make approval for you to receive your license.
Contract a licensed broker to help in the process.
It is a basic requirement to look for the services of a licensed broker who has experience in the industry. The broker will help you in the process of getting your license and in establishing your career in real estate.
Get Errors and Omissions (E&O) insurance.
All applicants should acquire an Errors and Omissions Insurance, a mandatory requirement by the state to cover all the activities under the licenses Act.
How Long Does It Take to Get a Real Estate License in Louisiana?
Once you fulfill everything needed, the state will process are the necessary paperwork. They'll confirm that all the coursework, exam, and application is in order. The whole process of getting your real estate license will take between 4 and 12 weeks. You will receive a notice from the commission when your license is ready.
Louisiana Real Estate License Video