Few states truly have it all. By "it all," this refers to major urban centers coupled with the great outdoors. Nevada falls squarely on this list. Las Vegas is a global destination. Once disregarded as simply "Sin City," Las Vegas today is home to fabulous restaurants, outstanding entertainment, and is also one of the fastest-growing cities in the country.
Home-building continues to thrive with a suburban expansion that owes a great deal of gratitude to its geography. The city is a desert with plenty of space, and real estate agents count on a never-ending supply of homes to sell.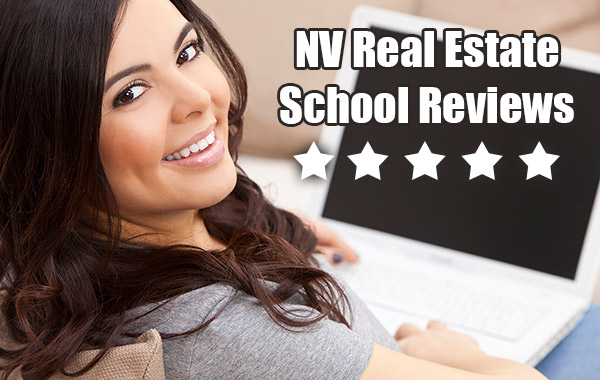 As a Nevada real estate agent, you have the opportunity to work in large cities like Las Vegas or out in the country or mountains, selling vacation homes and raking in six figures rather effortlessly. The first step to achieving all this is a real estate license, and completing the necessary steps online is a smart route to take.
4 Useful Tips to Study for School Online
Studying online isn't for the lazy. Just because you can theoretically do it in your pajamas doesn't mean you don't have to follow a structure and be organized. In fact, trying to do so without the proper structure in place can end in certain disaster. Consider the following four tips to place you on a path for online success.
1. Take Breaks – You might be cruising through your study session in between classes, and feel another 2 hours is doable. Put that triple espresso down, close your laptop, and take what your parents would call an "old-fashioned break." Breaks that aren't simply reviewing your Instagram are good for you. Disconnect, recharge, and doing it according to a pre-planned schedule is a prudent measurer to follow. Not taking breaks will lead to surefire burnouts.
2. Manage Time Carefully – Time management is one of the most important things you can learn in life. Away from online real estate school, once you hit your mid-40s, the days fly by. You've got family commitments, away-from-work commitments, work commitments, and perhaps even more commitments on top of that. Good time management is a muscle that's consistently exercised. Map out your week on the Saturday or Sunday before the week beginning and stick to the schedule.
3. Use Online Resources – Online resources for a student are your best friend. This isn't exclusive to online learning either. The Internet hasn't dismantled the library, but nearly everything in a library is now available online. With that said, there is some skill involved when perusing resources. Ensuring that the sources are legitimate is the first thing to consider. Second, there is lots of fake news out there, so even a seemingly legitimate source needs to be double and triple checked before accepting it as a quotable piece. The smart use of the Internet while studying is an absolute life-saver.
4. Beat Deadlines – Lastly, we have a piece of advice again for life, not merely online real estate school. Get in the habit of not only beating deadlines but annihilating them! Deadlines were not set to be broken, they were set to be met. Moreover, if you meet them ahead of time, all the better. During real estate school, if you have an assignment due on a Friday, mark it due on Thursday. Get in the habit of doing things early, and no nasty surprises will await.
Grading Nevada Real Estate Schools Online Reviews
Most websites that prominently feature products and services also have a space for online reviews. This is because online reviews drive consumer choices. When someone has 50 reviews staring them in the face from actual people who have consumed or experienced a product or service, that product or service suddenly becomes something of interest. But variety is vital because if all the reviews are from only one source, you risk some inherent bias.
Nevada Real Estate Schools Online Reviews

4.55/5 Average Rating of Nevada Schools
7392 Total Reviews
Bias is common in everything we do. We're humans after all, and every decision is guided by a preconceived notion or thought on what the result of our action will be. Many online reviews are honest assessments of someone's experience with something. Yet, those people are also humans, and maybe they were having a bad day when they rated something a 2 out of 5. Or perhaps their husband or wife works for a company they are reviewing a 5 out of 5.
There is no way to know for sure where the bias lies. The only way to combat this and achieve the most unbiased perception possible of an online real estate school is to collect a lot of reviews from many different sources. This will result in a larger sample size that you can then examine and identify trends. If you have a sample size of 100 reviews, and 30 points to weak teaching in first-year real estate courses, that is likely a problem. Using reviews smartly can help to arrive at informed decisions and where to ultimately study.
How to Use Multiple Sources for Nevada Online Real Estate School Reviews
Online real estate schools in Nevada are improving by the day. In the beginning, supply was somewhat limited. However, as more and more agents were coming on to the market, and students were looking for a more flexible way to study, online schools responded. Perusing the reviews of multiple websites for a given school is the best way to arrive at an unbiased opinion. You will come across a range of "fancy websites" with great graphics, but if you can't find reviews on multiple sites, it is likely the school is not as great as it appears.
Top 3 Online Real Estate Schools in Nevada
The top online real estate schools in Nevada is not an easy list to compile. Again, the state's real estate sector is a goldmine. People from around the country come to Nevada to jumpstart their real estate career, and online schools have been popping up much more frequently. With that said, however, the cream of the crop is still the cream of the crop. The following three schools are the best, if not some of the best in Nevada to become a real estate agent.
---


4.57/5 Rating (6564 Reviews)
At the end of the day, whatever school you choose will come with a price-tag. Just because you are allowed to enter does not make it economically feasible, nor easy. The CE Shop is another giant in the industry, but according to many reviewers, of the popular options, it is by far the most affordable. Moreover, the CE Shop also has flexible pricing plans for those students who require assistance in paying full tuition.
The knock on the CE Shop is nearly identical to the negatives that were mentioned with OnCourse. Withdrawing from this program is plain hard. Again, withdrawing from anything (a gym membership, a phone plan, a car lease) is laborious on purpose – the company does not want you to leave! But school should not be something challenging to drop if outside circumstances demand you must. Look for the CE Shop to remedy this moving forward as it continues to arise frequently on online reviews.
---


4.36/5 Rating (60 Reviews)
The Real Estate School of Nevada has changed lives for over 30 years. They have helped build careers in Las Vegas and throughout Nevada by providing classes in pre-licensing, post-licensing and continuing education. Their flexible courses are designed to fit all schedules whether in-person, or online.
The courses are designed for beginners interested in starting a new career. Their program is 90 hours of correspondence along with 30 hours of live instruction. The courses can be completed in only 10 days. Online class material includes digital content that is accessible by computer, tablet, or mobile phone, depending on what the student prefers.
---
Online Nevada Real Estate School Is Finished, What Are Your Next Steps?
The thought of selling a $1.5 million, 5-bedroom home just off the Vegas strip is exciting. Think about that commission! Well, that is within reach, but the first thing to do after completing the program and passing the state test is to apply for your license. Nobody is going to deliver a license automatically to your doorstep. You need to apply formally. Without a license, there is no sales commission, period.
Another critical step is the mentor broker relationship. This person or entity can either put you on the road to success or stall it entirely. A bad mentor broker is a terrible way to jumpstart your Nevada real estate career. Take great care in selecting someone who can provide you good leads, marketing materials, and practical advice.