A career in real estate is a perfect fit for any personality. Outgoing, gregarious personalities will love the human element. More introverted folks will dig into the numbers side. And lastly, the homes themselves are pieces of art. Every sale is different, and it's never a dull day working in real estate.

Tennessee real estate, like many markets, is very dynamic. Hard-working, diligent agents can make well into the six-figures. Agents working in well-to-do markets such as Nolensville, Arlington, Brentwood, or Collierville are top sellers. If you're willing to put the time in, a real estate future in Tennessee is rewarding and profitable.
Going to a Classroom or Taking Courses Online?
Classroom learning comes naturally to all of us. We grew up attending classes at local schools. Our friends did the same. It was routine, familiar, and predictable. However, the Internet has flattened communication. The world is more horizontal and highly connected. As such, online video streaming is beginning to replicate classroom environments. While it will never wholly replace in-person learning, it sure is getting good at it.
The Advantages of Real Estate School Online
The first notable advantage of taking a real estate course online is not leaving your house. Daily commutes in most cities are highly congested. For instance, most of us sit in traffic, on average, two hours per day. Some spend over three hours in traffic. The amount of time wasted commuting is extraordinary. As a result, eliminating a commute to a physical school is a considerable advantage of online schooling.
Second, flexibility, and being able to take classes according to your timetable is of great value. If you are single, you likely have more free time. However, if you are in a relationship or have children, time is precious. With this in mind, an online course provides more flexibility than a classroom setting. You can log in at your leisure, and work on the material when your time permits.
Our Picks for Online Real Estate License Schools in Tennessee
There are a host of online real estate license schools in Tennessee. The consensus top 2 picks are AceableAgent and Mbition
Aceable Agent is known for its excellent live support and instructional expertise. OnCourse Real Estate actively updates its course catalog, taking advantage of breaking, industry-related developments. Lastly, The CE Shop offers a range of exam prep and post-licensing courses. All three are fantastic choices to jump-start your real estate career.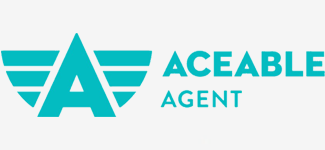 Starting at $195.00
Instructor Support
Pass or Don't Pay
Real estate course packages that have everything to jump-start your real estate career in Tennessee.
How to Get a Tennessee Real Estate License Online
The process of obtaining a Tennessee Real Estate License online is straightforward and fast. There are hoops to jump through, but they are incredibly easy to manage. Moreover, the best part of pursuing an online real estate license is you can do this all from the comfort of your couch.
Comply with Tennessee real estate pre-qualifications
The first prequalification to obtain a Tennessee real estate license online is to be at least 18 years of age. Second, having a high school diploma or something equivalent is required. Third, felonies and misdemeanor convictions will hinder your ability to acquire a license. However, if two years have passed since a sentence, incarceration, parole, or probation, then you may apply.
Complete 90 hours of a Tennessee approved real estate course
After successfully checking those prequalification boxes, next is the real estate course. The course varies from state to state. In Tennessee, the duration of the Pre-Licensing Affiliate Broker education course is 90 hours. Broken into two sessions, the first is a 60-hour Basic Principles course, and the second is a 30-hour New Affiliates course.
Note, if you possess a university degree with a primary focus on real estate, a real estate license from another jurisdiction, or are a licensed attorney, consult with the Tennessee Real Estate Commission. There are specific examination requirements for applicants in these situations.
After each course (60-hour and 30-hour), there is a final exam per course. Applicants must register a passing score of 75% or above to advance to the next step.
Schedule and pass the real estate affiliate broker licensing exam
The Tennessee real estate affiliate broker-licensing exam is a 120-question test. Applicants have six months to take and pass the exam. There are two portions – the national portion with 80 questions, and the state portion with 40 questions. A minimum passing score of 70% is required.
Submit application for your Tennessee real estate license online
A photo, fingerprints, and an errors and omissions insurance policy must be submitted to complete the application. The testing center must take the photo, and the fingerprints processed by a company specializing in background checks.
At this point, you're all set. The final step is to complete the online application, and a career in Tennessee real estate awaits.
How Long Does it Take to Get a Tennessee Real Estate License?
The average amount of time to obtain a Tennessee real estate license is 45 days. The timeframe can extend, however, to 60 or more days. Much depends on how quickly you can finish the required coursework and obtain the photo, fingerprints, and the errors and omissions insurance.
Completing the required steps and coursework online is cheaper and more efficient than in the classroom. The process is seamless, and the schools count on excellent reviews. Selling real estate in Tennessee is a lucrative career. The only step required is a "virtual jump" online.
Video: Tennessee Real Estate License